Wai-O-Tapu Thermal Wonderland: A tourist must see
Some links in this post are affiliate links. This means if you purchase something through my links I may make a small commission at no extra charge to you. See my disclaimer.
So you're considering visiting the Wai-O-tapu thermal wonderland on your trip to Rotorua in New Zealand. I don't blame you! It is a stunning natural site that has been well-preserved for humans to enjoy.
New Zealand is well known for having multiple volcanoes across the country. So it's no surprise that it has a few geothermal regions scattered across its islands.
The Okataina volcanic complex where Wai-O-tapu is located has Mount Tarawera as its main vent. It is located 24 km southeast of Rotorua. In 1886 Tawawera had one of the largest eruptions in New Zealand history.
Today, the region's volcanic activity causes the streets of Rotorua to smell like sulphur. This also makes Wai-O-tapu one of the most popular tourist destinations in all of New Zealand.
| | |
| --- | --- |
| Country: | New Zealand |
| Currency: | New Zealand Dollar / NZD |
| Do you need a visa to visit as a tourist? | Check here |
---
How to get there
Wai-O-tapu is a geothermal region on the North Island of New Zealand. Located in an active volcanic zone just 27km (about 20 minutes) from Rotorua at the south end of the Okataina volcanic centre. It is also part of the Taupo Volcanic Zone.
Driving
If you are planning to drive and travel independently, one of the best things you can do is get a rental car.
If Tauranga is where you are staying, it will only take 1 hour and 20 minutes to arrive.
If travelling from Auckland, it will take roughly 3 hours to drive by car. This makes it very easy to visit on a day trip.
When travelling from Wellington, it will take 5 hours and 20 mins on average. Too far to try and visit for a day trip, but definitely doable if visiting the area for a weekend!
Shuttle bus / public bus
If you're currently in Rotorua and don't have access to a car, there is a shuttle service available to visitors. You can find out more about those services here on the official website. The shuttle buses will drop you off at the car park of the Wai-O-tapu thermal wonderland entrance.
When arriving by public bus (such as intercity); be aware that the public bus stop is roughly a 10 minute walk away from the entrance.
Don't want to travel alone? You can join a tour group from Auckland here.
---
Arrival at the park
When you arrive at the Wai-O-tapu thermal wonderland, there are 2 car parks. The main car park is close to the visitor centre and the other is by Lady Knox Geyser. It is just a 2-minute drive away.
Many people who park in the geyser spaces are there in time to witness the geyser erupt. This seems to be on a schedule and happens at roughly 10.15 am most days.
Pro tip: If you are planning to use the car park, try to arrive prior to 10 am. Not only does this give you a chance to see the geyser, but there are more spaces in the car park at this time.
Once you go through the entrance, you'll receive a free pamphlet that gives you information about the features of the park. This gives you some basic information about the amenities, the 3 circuits and a brief intro to the geothermal site.
You can use both this pamphlet and the signs around the park to make your way through the grounds easily.
The easiest way to buy tickets is directly through the official website here. Tickets last 3 months from the day of purchase.
---
What to Expect
There is no set timeframe to get around the entire park. However, I found that 3 hours seems to be the average. Of course, if you only chose to do one or two of the three circuits then you could easily get done quicker.
I personally spent just under 3 hours on my visit and I did all 3 circuits of the park.
Across all 3 circuits available to take in the park, you will get a chance to see all 25 features. These features include:
The Craters
With roughly 12 craters to see you have a lot to fit into the first circuit. Each of them was caused by acidic steam from the underlying volcanic activity that rose to the surface. This steam melted away the earth's crust. This caused the remaining earth to collapse in on itself over many years, leaving these gaping holes in the ground.
A staff member informed me that one of the craters towards the end of the first circuit (named Rua Pumahu) was used to create sound effects from the crater to help make Mordor seem more believable in the movies of LOTR.
Want to visit some more Lord of the Rings locations around the world? Why not check out:
---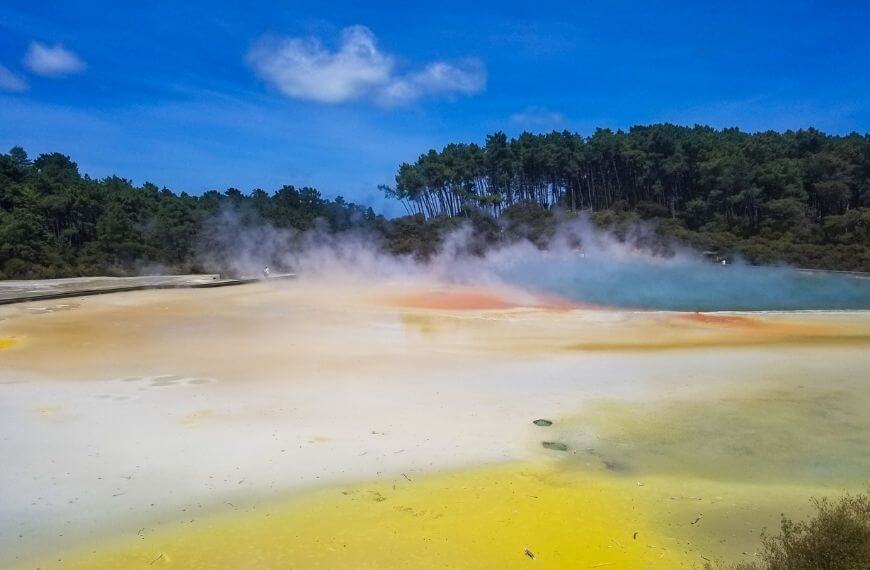 Artist's palette
Named the artist's palette due to the array of many colours, it's the most colourful feature in the park by far. This pool was created by overflow from the champagne pool and gets its bright hues from the varying minerals found within.
Red is caused by iron oxide, purple is manganese oxide and white is silica. Of course, there are many other colours but the area can change colour depending on how many minerals have risen from the earth beneath recently.
---
Champagne Pool
This is probably the most popular feature of the entire park. It was my favourite too. The "pool" is a vibrantly coloured hot spring with yellows, blues and reds and looks like something out of a fantasy novel. But it is in fact the result of a hydrothermal eruption roughly 900 years ago. The pool is over 60m deep and is a focal point of the park with a safety fence surrounding it and plenty of space for tourists to take a photo beside the crater.
Believe it or not, there are over 6.5 million search results for the question "Can you swim in the champagne pool in New Zealand" on Google.
I'm going to be brutally honest here. No, you cannot swim in there, you also wouldn't want to. Realistically you will probably die if you tried, based on the amount of sulphur and acid inside.
---
Devil's Bath
This was probably one of the more unique features of the Wai-O-tapu thermal wonderland. Just look at the colour! Believe it or not, the pool is actually this neon green shade and it's all thanks to the special minerals found in the water. This pool contains a highly dangerous mix of ferrous salts and sulphuric acid that create this bright hue.
The temperature of this pool is roughly 14C but don't be fooled, the acidity levels of the water alone are enough to melt your skin off. What's intriguing about this hot pool compared to many others in the park complex, is that this is probably the only pool you don't see bubbling and boiling.
---
Lake Ngakoro
This lake is one of the furthest points of the park away from the visitor's centre. It takes roughly 75 minutes to reach it on the circuit. It is a dark green colour and was formed during a volcanic eruption around 700 years ago. If you make it as far as the lake there is also a waterfall to see that is popular with visitors.
This picture above was taken from one of the viewpoints on another circuit, and on a clear day, you can see much of the Taupo volcanic zone in the distance.
---
Mud Pools
The mud pools are extremely hot and constantly bubbling. As gas and steam rise from the earth beneath, they create bubbles of mud. Once these reach the surface they eventually explode and create the mud pools you see today.
Some of the louder pools as you can hear the bubbling and gurgling of the volcanic liquid. These may not be as colourful and bright as some other features in the park but they're still a sight to see.
Lady Knox Geyser
Many visitors will start their day at the geyser by entering an amphitheatre-type structure to watch it erupt, before heading out to the rest of the park. In order to make sure that the geyser erupts around the same time every day, staff members help Lady Knox by throwing some soap into it.
This causes a chemical reaction and is what creates the eruption. On a good day, the geyser can reach a height of 20 metres!
Fun fact: Prisoners originally discovered the geyser and learned that adding soap to it would cause an eruption while trying to wash their clothes.
---
Amenities
There are no restrooms inside the geothermal park, so if you are likely to need one, it's best to use the toilets at the visitor centre before you enter.
If you get tired easily or have a low fitness level, you can rest assured that there are plenty of benches for visitors to use throughout the park. Many of them are located in great positions close to many of the park's highlights so you can sit up, relax and still enjoy the sights!
If you or anyone in your travel group need extra support while climbing stairs, there are also many handrails throughout the park.
Pro tip: When visiting Wai-O-tapu in the summer months, I recommend bringing a hat and suncream as there is not much shade in the thermal wonderland park.
---
Accommodation
So you cannot stay on the premises of Wai-O-tapu itself, so many people will travel in from Rotorua. Below I have highlighted a few great choices if you need somewhere to stay during your visit.
Rotorua Central Backpackers – A fun and sociable hostel in the middle of Rotorua. With the option of private or shared rooms, they have something for all guests. They have a large self-catering kitchen and common room to make it easy to meet other guests.
This hostel is within walking distance of many local amenities in Rotorua and is just a 25-minute drive to the Wai-o-tapu thermal wonderland.
Wai Ora Lakeside Spa Resort – For those who prefer to stay in more luxurious accommodations, this is a top choice. With a fantastic pool for guests and comfortable private rooms, this is a 4.5* hotel with extremely helpful staff.
This hotel is a 3-minute drive from Rotorua Airport and is within walking distance from Lake Rotorua. A lovely location for the warmer months!