Cathedral Cove walkway & what to expect on the walk
Some links in this post are affiliate links. This means if you purchase something through my links I may make a small commission at no extra charge to you. See my disclaimer.
Cathedral Cove or (Te Whanganui-A-Hei in the native Maori language) is a natural cove you can walk to in the Coromandel peninsula with a stunning walkway trail.
With multiple coves and viewpoints, you will have multiple opportunities to admire the New Zealand landscape.
This is often referred to as one of the most popular walks in the entire country and with good reason! This is a great trail due to its low difficulty level but high reward.
Follow this guide on how to apply to work in New Zealand!
| | |
| --- | --- |
| Country: | New Zealand |
| Currency: | New Zealand Dollar / NZD |
| Do you need a visa to visit as a tourist? | Check here |
How to get there
In order to access the trailhead, you will need to travel to the top of Grange Road from Hahei village. You can do this by foot, car, or bus.
When driving to the Cathedral Cove drop-off point, you can travel from multiple places. It'll take:
A 5-minute drive from Hahei
34 minutes from Whitianga
2.5 hours from Auckland
1 hour 12 minutes from Thames
Arriving by vehicle
If you plan on driving yourself, you will NOT be able to park on the Grange Road loop as this is a drop-off zone only between October and May every year. This is in line with the New Zealand summer.
But you still have a few options however so don't stress just yet!
You can leave your car down by Hahei Beach at the designated free car park here. There is a "park and ride" shuttle here that you can purchase tickets for to reach the trail. This is often the best choice for visitors who don't wish to walk to the Cathedral Cove trailhead from Hahei village
You can buy tickets for the shuttle bus here. Ticket costs for a return trip:
If you're travelling as a larger group and find the shuttle expensive, Or if you'd prefer to find somewhere just a little bit closer to park your car, I might have one more option for you!
Many of the residents who live on the hill on the lead-up to the trailhead, have found a need in the market and sometimes offer paid parking on their properties.
Chris & I found $10 full-day parking on a local's driveway only 2 minutes from the loop drop-off! This saved a lot of time on foot, and was actually cheaper than us taking the shuttle bus – had we parked at the Hahei Beach car park.
Tip: If you do find a parking sign outside a local house, always make sure you knock and check with the owner directly before leaving your car.
Walking to the trailhead
If you are on a tight budget, are a fitness fanatic or just prefer to walk places then by all means you can walk from the car park instead of using the bus.
Be aware it is a very steep hill and it could take you anywhere between 15 and 30 minutes to walk up – depending on how much stamina you have for steep elevation.
If you do plan to arrive by car, you can either park near the entrance to Hahei or you might be lucky and find one of the local homes on the hill with a "park here" sign.
We found a homeowner about halfway up the hill offering $10 parking on his driveway for the full day and of course, we took him up on the offer! It was better than walking up that hill considering how long you'll have on the walkway to Cathedral Cove from the trailhead.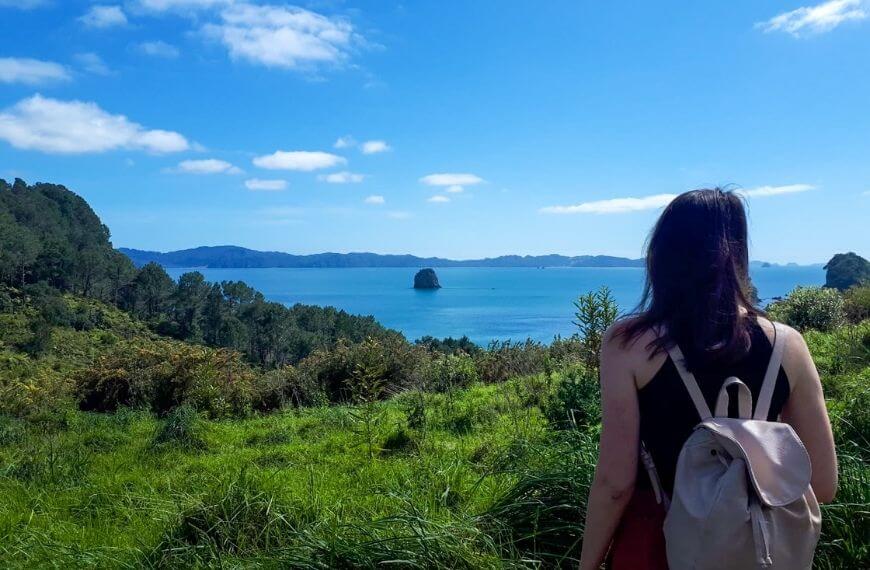 The Cathedral Cove walkway
You can follow the trail on one of my favourite hiking apps AllTrails, here.
Trail length:
4.5km / 2.7miles
Time to complete:
roughly 1.5 hours
Elevation:
226 m
The trail starts at the top of Grange Road in Hahei. Before you begin heading down the Cathedral Cove walkway you have the option to check out the first two viewpoints.
They're located on the right side of the loop road and have a few steps down to small wooden platforms. These platforms give you stunning views across the pacific ocean and the eastern coast of Coromandel.
Not only do you get great views, but there are a few small plaques with information on the local area and how the region got the landscape it has. All in all, it'll only take you a few minutes to read them all.
The multiple trails
This Cathedral Cove walk is rated as easy and is suitable for most fitness levels. It gets harder the closer to Cathedral Cove you get, but there are two easier, smaller beaches to access along the way.
As you can see by this sign above, the three beaches are as follows:
Gemstone Bay – Marine reserve with sea life close to shore
Stringray Bay – Marine reserve where you can often see Sting Rays
Cathedral Cove – The big triangle "cave" in the rock formation
What's great about these other two trails is they are just short tracks off of the main walking route. All you need to do is follow the signs to each beach and then reconnect to the original trail when you are done.
Regardless of which trail you head to, make sure you avoid the typical dangers of hiking by staying away from the rock face above you.
Tip: Not a fan of big crowds? Then it could be worth visiting these other two coves during the busiest parts of the day. Because let me tell you, Cathedral Cove can get busy!
If you're planning on spending some time at the first two coves, I highly recommend getting a snorkel for your trip.
You can purchase these at common stores like The Warehouse which have branches located in most cities. Or if you are less organised, there are a few places just off of Hahei beach that sell them too!
Reaching Cathedral Cove
Getting from the trailhead to the Cove is much easier than getting from the beach back the other way. But that is mostly because of the steep staircase.
Once you are on the beach you have a long, narrow stretch of sand to enjoy. To your left-hand side, you will see the world-famous cave that you've heard so much about.
Unlike other beaches, you don't need to worry about the tides here and even when the tide is high, you can still easily walk through the rock tunnel to the next cove. As you can see in my picture below, the water is just a little over my knees.
If you arrive during low tide then it's even easier. You could 100% walk from one beach to the other, through the cathedral cove cave without even getting wet!
Tip: Cathedral Cove is Instagram worthy so you will have heaps of tourists competing to get the best picture for the 'gram.
Amenities
Cathedral Cove does have a drop toilet available for public use. However, at the time of writing it wasn't the best looked after.
If you are in need of facilities, it's great to know that you are not too far from a bathroom, but be aware there is not a sink so make sure you bring hand sanitiser & some wet wipes!
As the beach is just that .. a beach, there are no places to purchase food or drinks down by the cove. If you are planning on being there for a while or have kids with you, it might be worth taking some snacks and plenty of water with you. This will save you from having to walk up and down the steep staircase multiple times!
Coromandel area
Cathedral Cove is located a long but easy walk from Hahei which is in the Coromandel Peninsula of New Zealand. It's a stunning place with countless beaches lining the coast.
If you're not too familiar with the Coromandel and need some recommendations, there are many natural hotspots you can check out in the region!
Some of these include:
Activities at Cathedral Cove
So, apart from sitting on the sand and enjoying a relaxing beach day, there are a few other activities you can enjoy in the Cathedral Cove area as well as the walkway.
Snorkelling & Scuba Diving – With almost crystal clear water, this is a popular spot to go diving and see the sea life beneath the surface. Although you will need to join a tour group to dive, you can do so through this company which is situated right on the beach!
Kayaking – Kayaking & canoeing are one of the most accessible activities for most ages due to their ease of use. If this is an activity you would like to try, you can rent kayaks here.
Scenic Flight – If you're an adventure junkie and want to see the coastline from above, this may be the activity for you. A Coromandel Peninsula scenic flight lets you witness the stunning New Zealand landscape from the sky. This scenic flight leaves from Whitianga airport and flies over Cathedral Cove – you can't access the flight from the cove itself.
---
Why not check out these other New Zealand hikes for inspiration:
Have you been to Cathedral Cove yet?