Battambang bamboo train: An interesting experience
Some links in this post are affiliate links. This means if you purchase something through my links I may make a small commission at no extra charge to you. See my disclaimer.
The bamboo train in Battambang was definitely one of the most unique things that I have experienced. Let's dive in so you can prepare for your own visit.
Battambang is a small town located in the northwestern region of the country. A city built around the Sangker River, and with a long French-colonial history, there is a lot going on in this quiet countryside town.
This place is known as "the rice bowl of Cambodia". It has arguably the most fertile soil in the country and is surrounded by endless rice fields.
This is a much less popular destination for many visitors to the country. It is often overshadowed by the UNESCO heritage site of Angkor Wat in Siem Reap.
Read this post to check out how you can see an Angkor Wat sunrise.
Maybe that is what gives this town its charm, it's not overrun, and it's still quiet. You will never be lost in a sea of tourists like many other destinations in the country.
| | |
| --- | --- |
| Country: | Cambodia |
| Currency: | Cambodian Riel / KHR |
| Do you need a visa? | Check here. |
---
Location
The bamboo train is located on the southern outskirts of Battambang. Although it is so close to the centre of town, it is very much surrounded by acres of green countryside and fields.
If travelling to the bamboo train from the Battambang town centre, it will take just 11 minutes by car, taxi or tuk-tuk. If you'd prefer not to drive, then it would only take you 50 minutes to walk from downtown to the train.
When arriving from the airport, it is just a 7-minute drive. Walking would take 41 minutes from Battambang airport to the bamboo train which is totally doable and would take you down a more scenic route.
If I'm completely honest, I hadn't even heard of Battambang until I had already started my backpacking trip through south-east Asia. Regardless, I am so glad I visited. It's a town with some real character.
As I always love finding new travel inspiration, I came across a short article about this unique mode of transport while scrolling through Pinterest. I had to check it out for myself and see what all the fuss was about.
There is just something about this town being off-the-beaten-track that really made me appreciate the stillness of the countryside.
If you're planning on travelling around Cambodia and Southeast Asia, I'd recommend checking out the banana pancake trail for inspiration and 12Go Asia for your transportation needs.
Spending some time in Cambodia? Check out these posts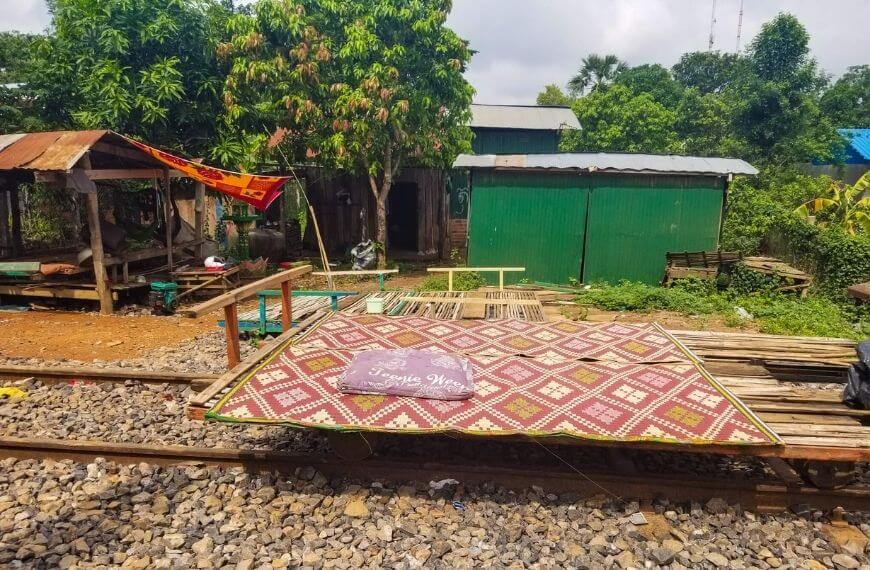 The Battambang Bamboo Train – what is it?
The bamboo train was undoubtedly the reason I visited Battambang. If it hadn't been for the Pinterest post I never would have found the inspiration to visit.
The train (known locally as a Nori or Norry) is an extremely simple mode of transport from the 1980s. After the Khmer Rouge, many thrifty survivors built the bamboo train using reclaimed items.
Some parts were taken from ex-military trucks that were abandoned and damaged, and the motors typically came from motorcycles.
In simple terms, the train consists of a flat wooden "bed" that travellers can sit on. There are also 2 sets of strong metal wheels and a motor.
Unlike a usual train, the bamboo "train" isn't really a train at all. It is just one cart that goes along the train track and back. There are multiple carts/flatbeds, however, they all travel individually and are not connected in an expected train-like manner.
This train can still travel between 40 – 50 km/h!
Tickets
A ride on this interesting train usually costs $10 USD per cart for a 1-hour long trip. This means if you are travelling as a pair or a group it will still only cost $10 if you all fit onto one flatbed. If you happen to have a large enough group that you need more carts, it will of course cost more.
The trip starts at the "station" which is simply just one end of the used train track. The train only travels in one direction from this point and all around you are green rice fields.
Included in your ticket you'll get a ride through the fields and jungle until you reach the "shops". You'll see a small line of market stalls run by locals with handmade items and snacks on sale. At the end of your time here, you'll be able to enjoy a ride back to the starting point along the same track you started on.
You can purchase your ticket in person at the station or you can purchase your ticket as part of a tour package like below.
If you would prefer to visit the Bamboo train as part of a tour rather than independently as we did, why not check out this high-rated day tour?
Full-day tour – 10-hour tour – This tour takes you to all of Battambang's highlights: the bamboo train, killing cave, bat cave, and villages plus you will get to try some traditional Khmer snacks!
The market pit-stop
I like to be as honest with my readers as possible about the experiences I try out – both positive and negative. I loved the bamboo train experience and enjoyed being in the quieter landscape surrounding Battambang.
The break was 15 minutes but the driver did not actually tell me anything. Once we arrived at the end of the track he told me to get off and he disappeared. We decided to have a look around the market stalls while we waited (probably 6 were up at the time).
I was happy to make a small purchase of drinks like I would anywhere. However, the market stall owners tried to make me buy 4 or 5 each plus a mountain of other items – something I did not need or want.
I am always more than happy to shop locally and immerse myself into a local culture. I'd rather this than a heavily populated tourist trap.
That's not to say every tourist's experience is like this, maybe it was just us. It certainly didn't ruin our experience, but it is something I would prefer to warn people about in case it happens again. But please don't let this deter you!
The 45 minutes of enjoying this jungle train ride definitely make up for the 15-minute stop. Plus it's a lot of fun racing along the tracks on a hot humid day, the breeze feels great!
What is nice about the pit stop though, is that there are bathrooms for passenger use, and it is a nice way to meet other travellers who are also enjoying this unique activity. We befriended a few other pairs of backpackers during our short stop.
An oncoming bamboo train headed our way
What I found extremely interesting about Battambang's famous bamboo transport, is that something unusual happens when you are on the track at the same time as an oncoming train.
Usually, you would imagine that there is another track running next to it. But in the case of this train that is not the case.
So what happens when there is another train heading right for you on the same track?
Get off the track of course!
The driver simply hits the break and once you stop, he asks all passengers to get off of the cart. Then he starts to dismantle it. As you can see in the picture above, that's me standing next to the dismantled bamboo train cart waiting for another cart to pass.
The wait doesn't take long as the carts are able to travel fast along this railway. Then just as easily and quickly as the cart was taken apart, it's put back together and you can get on your way!
The process of getting off and back on the tracks takes just a few minutes. You're only then waiting for the other cart to pass you.
Other activities in the area
If you're spending a while in the area, you might want to check out some other interesting activities too. Check out this list of activities that we did while visiting this country town. Hopefully, you find something that suits your travel style too.
Sunset & Bat Caves – There is a large bat population in Battambang so one interesting activity at nighttime is to visit the Bat caves and large trees that they frequent after dark.
Half-Day Battambang bicycle tour – A bicycle tour that leads you through the traditional villages in and around the Battambang region with a chance to meet with Khmer families.
---
Accommodations
What's great about Battambang is how small it is. So it really doesn't matter where you stay in the town as you'll always only be a short ride away from your destination! What I can do, however, is recommend a few backpacker and budget-friendly accommodations right in the heart of town. Take a look below:
The Place Hostel & Rooftop Bar – A hostel that is centrally located with you guessed it – a rooftop bar! It's got a large common area for backpackers to socialise in.
Plus it is only a short 2-minute walk to the riverside! There are countless activities you can reach on foot from this location. Museums, tourist sites & restaurants are all within walking distance. So you might not even need a tuk-tuk.
Lucky Hostel – This is definitely a more relaxed and chilled accommodation. That's not to say you can't meet other travellers. They have a large social area for guests to use.
There are pool tables and other means of entertainment. Plus, you have the option to stay in a private room if a dorm room isn't for you. Walking distance to local transport so if you do need to travel further afield, you're still only a few minutes away!