Most Popular day trips from Auckland
Some links in this post are affiliate links. This means if you purchase something through my links I may make a small commission at no extra charge to you. See my disclaimer.
Let's talk about popular day trips from Auckland. No, not Auckland in the UK, the tropical one in New Zealand!
A city with nearly 1.7 million people, it is the most populous city in the country. With clear blue waters, countless cuisines & volcanic craters along with outstanding city views. This is a unique place that everyone should visit in their lifetime.
Even the capital city of Wellington only has a fraction of Auckland's inhabitants, sitting at 213,000 people.
Since New Zealand is about as far-flung as you can get from most parts of the world (except Australia and the Pacific, of course), most people who travel here want to make the most of the trip and see as many of the top sights there are to see.
Auckland is a slow-paced city on New Zealand's north island. Many people use it as a home base when visiting New Zealand. There are so many trips from Auckland that are easily accessible by car or ferry in just one day.
After spending almost 18 months living and exploring this beautiful country, here is my list of the most common day trips you can go on while using Auckland as a base (in no particular order)!
| | |
| --- | --- |
| Country: | New Zealand |
| Currency: | New Zealand Dollar / NZD |
| Do you need a visa to visit as a tourist? | Check here |
Brits can get a working holiday visa to New Zealand for up to 2 years, working up to 12 months total! Click here for a guide on how to apply for the whv!
If you're planning on heading over on a work visa, check out the pros and cons of living in New Zealand.
---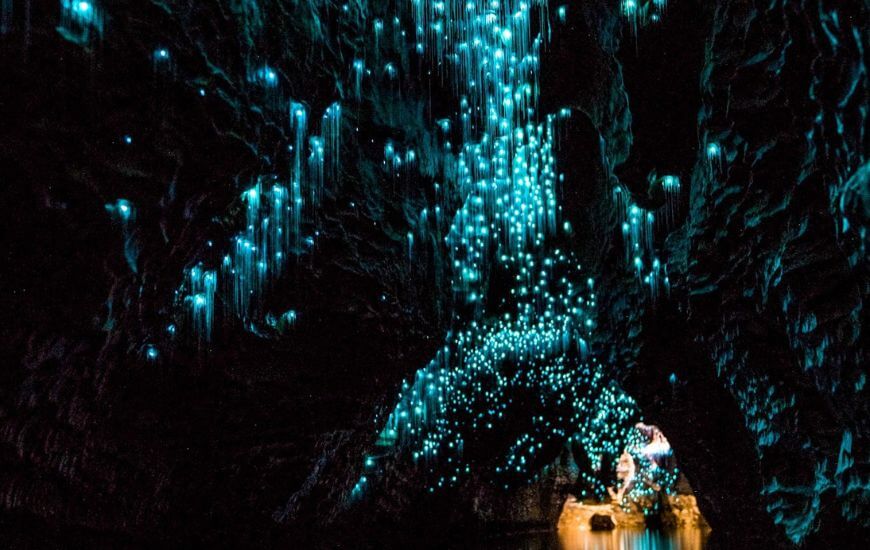 Waitomo Glow worm caves
Just two and a half hours south of Auckland by car are the caves known for the features hidden inside.
Waitomo caves are the home to thousands of glow worms that hang from the ceiling.
Due to this unique phenomenon, a handful of tour operators have created adventure tours that incorporate seeing the glow worms in all their glory.
There are various tours to choose from, including tubing, black water rafting, slow row boats, and rock climbing which will usually finish your time in one of the darker caverns that house the worms.
With all that is on offer, there is a tour for everyone to enjoy!
---
Rotorua & Wai-O-Tapu
One thing that makes Rotorua noticeably different compared to other New Zealand cities is the smell of sulphur that lingers in the air here.
Due to the active volcanic ground beneath the city, you will regularly see steam from the vents along the street.
There are many ways the locals have used this volcanic land to their advantage, including opening luxurious hot pools to relax in. Still, the most popular attraction to visit here is Wai-O-Tapu, a world-famous geothermal park known for the distinct bright orange and blue Champagne pool at its heart.
Although there are volcanoes throughout New Zealand, this is definitely the most active region at present and is just under a 3-hour drive from downtown Auckland, making it one of the perfect day trips.
---
Taupo
Home to one of the world's supervolcanoes, Taupo is not one to miss!
Located almost dead-centre in the middle of the north island, three and a half hour's drive from Auckland, this destination is the perfect place to be in summer, enjoying all the activities the region offers.
If you are a daredevil and decide to skydive above the lake, you can often see as far as both coasts from this location on a clear day.
Taupo is a watersports haven. Typical activities include sailing to see the famous Maori rock carvings, water skiing, parasailing and fishing. So why not head on down and try each activity out for yourself?
---
Hobbiton
One way to know that the Hobbiton movie set is one of the most popular day trips from Auckland is that people will visit the Shire without ever having seen the Lord of the Rings movies!
Arguably one of the best tourist attractions in the country, and only 2 hours from Auckland CBD, this is constantly rated as one of the favourite tours to go on when visiting the nation.
What was used as the movie set for Peter Jackson's screenplay about the LOTR universe is now a tourist attraction where you can learn some of the tricks used in cinema to create the Hobbiton illusion in the ever-popular movie franchise.
Why not check out this LOTR self-drive tour?
---
Piha beach
Only 45 minutes from downtown Auckland, Piha beach is something you can't miss!
Known for having black sand, these west coast beaches have high levels of iron due to being the remains of volcanic rock.
The sand here gets extremely hot due to the black colour absorbing the heat, so this is one place to take precautions.
Not only does the colour of the sand make this place worth a visit, but also the waves!
This is New Zealand's best surfing region and has quite a reputation. Although the best waves to ride take place during the Autumn season, there are consistent surf possibilities year-round at Piha beach.
---
Coromandel
There is something for everyone in the Coromandel Peninsula, from beaches to waterfalls and cute seaside towns.
If travelling during the daytime, a 2-hour 20-minute journey from Auckland can sometimes be just as good as the destination. The trip to Coromandel is very scenic and takes you along a coastal road.
With a long, windy road along the coast from the town of Thames, this is a scenic drive you don't want to miss!
Once you arrive, the Coromandel peninsula has many natural wonders that tourists love, including Cathedral Cove. It's a hike which takes you from the top of a hill that gives you panoramic views along the eastern coast down to the formatted rock archway on the secluded beaches below.
You also have more volcanic activity in this region, such as a hot water beach that sits on top of a volcanic hot spring, allowing visitors to sit in small, hot pools of water while admiring the coastline.
Check out: Sunrise Pinnacles hike in the Coromandel
---
Bay of Islands
Unlike the other destinations listed, the Bay of Islands is north of Auckland instead of south.
A 4-hour drive away, this is an excellent option for a day tour, although be prepared. The journey is the longest out of this entire list.
Here you can see the famous Waitangi Treaty Grounds, where you can learn all the history of the wars and the country's inhabitants.
There are also many boat and water-related activities in this area for the more adventurous types.
You could go for a paddle boarding experience in the sunshine. You could even join a sailboat to a secluded island to snorkel and see the vibrant fish species native to these waters.
---
Great barrier island stargazing
Now, this is a destination you can reach by either boat or plane from Auckland.
If you take the ferry, it's an average of 4 hours to reach the island – so a similar length of the journey to the Bay of Islands.
The island only has a small population which means minimal light pollution. This is a fantastic spot to do some stargazing!
With the option to stargaze from the dark sky sanctuary, this is something to tick off your list as your gaze upon the clear milky way above.
---
Rangitoto island
You can see Rangitoto Island from downtown Auckland, and it is one of the shortest day trips to take from the city.
With everything from a walking track that takes you up to the volcano summit to easy nature walks around the mountain's edge—an almost untouched island on Auckland's doorstep. There is so much to see on the island.
Only a 25-minute journey by ferry from downtown and you'll get a great view of the city-scape on your way.
But be careful as the ferries do not run all day. Try not to get stranded over there if you miss the last one!
---
Waiheke Island
Only 40 minutes from Downtown Auckland is the island known for the many vineyards and wineries it houses.
Waiheke Island is the perfect mix of restaurants and wineries for any occasion.
That is possible if you want to explore the island on your own without a guided tour! With regular bus routes on the ferry timetables, you can get around without having much of a plan.
Most wineries are open from 11.30 am until 7 pm, although some may have slightly shorter operating hours.
Your options include cycling from each property, taking a helicopter ride to enjoy the wineries from above, and taking private taxi tours to each place you wish to check out.
No two visits to the island are the same. With around 30 wineries to mix and match your tour, this is not a place to miss!
Are you looking for some more New Zealand inspiration? Check these out!
---
Final thoughts on day tours from Auckland
There you have it, a simple list of some common day trips from Auckland. Each is accessible within a day and offers completely different experiences on a New Zealand itinerary. Which ones will you try?