Walk the Mount Maunganui volcano: All you need to know
Some links in this post are affiliate links. This means if you purchase something through my links I may make a small commission at no extra charge to you. See my disclaimer.
Mount Maunganui is a small volcano you can walk up at the end of a small suburb on the Tauranga peninsula. The town has a laid-back and relaxed vibe and is surrounded by beautiful landscapes.
It is most known for the extinct volcano of the same name which offers panoramic views over the region as well as multiple footpaths to reach the summit.
Although Mount Maunganui is sometimes classed as its own small town, it is mostly known as a suburb of Tauranga. Many visitors to the Tauranga region make a stop here to enjoy a relaxing walk along Main Beach or the Maunganui Mount hiking trail.
| | |
| --- | --- |
| Country: | New Zealand |
| Currency: | New Zealand Dollar / NZD |
| Do you need a visa to visit as a tourist? | Check here |
Location of the Mount Maunganui walk
The "mount" as New Zealanders like to call it, is located in the Bay of Plenty on the east coast of New Zealand's north island.
Since many places are close together on the north island it's relatively easy to get from one town to another.
From Rotorua, it's less than an hour by car.
Hamilton would take 1 hour and 35 minutes.
From Auckland, it would take 2 hrs 40 minutes.
Mount Maunganui itself is located at the very end of the coastal peninsula. If driving you can easily access the peninsula by one of two bridges from Tauranga – Tauranga harbour bridge which brings you out by the airport and Maungatapu Bridge which goes around the Rangataua bay.
If you are walking around the area on foot you will need to pass both Maunganui Beach on your right and Pilot Bay beach on your left.
If you'd like to visit Tauranga independently, consider getting a rental car.
Parking
Although the Mount doesn't have its own designated parking area, there are 3 local car parks within walking distance. Each of them are available for public use with no limit on hours used in the day, but you cannot park in them overnight.
If you are caught parking here overnight you run the risk of getting a parking ticket and in more extreme cases having your car towed away.
| Car park | Address |
| --- | --- |
| Pilot Quay car park | Pilot Quay, Mount Maunganui 3116, New Zealand |
| Pilot Quay Beach parking | 10-16 The Mall, Mount Maunganui 3116, NZ |
| Public car park | 18 Marine Parade, Mount Maunganui 3116, NZ |
Tip: If you plan on visiting during spring or summer you need to arrive EARLY as the parking spaces are snapped up very quickly. Weekends are also much busier than the week.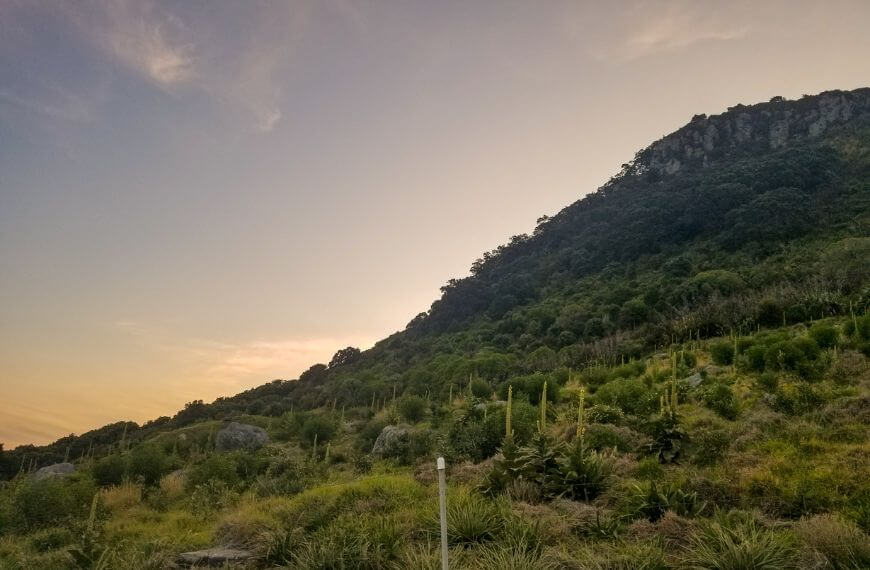 Trail stats
Trail length:
6.4km / 3.97 miles
Time to complete:
45 mins – 1 hour
Elevation:
253m at the summit
One thing that makes the mount so great is that there are multiple ways to climb to the summit. They all meet at the same point at the top but take a slightly different route from the base of the (extinct) volcano.
If you take the "sheep route" as it's known you'll likely be doing a more strenuous workout than the other routes available to you.
The sheep route takes you along the eastern side of the mount past the sheep that graze on the hill. To your right-hand side, you'll see endless views of the Bay of Plenty and Pacific Ocean. The trail will take you up staircases and a constant uphill incline in a loop.
Make sure to stay on the trail as the mount has some steep drop-offs. You need to be aware of cliff edges to avoid injury while hiking.
Accessibility
Because most of the track has a paved trail it's safe for everyone and people of all fitness levels to use. It is also deemed accessible for children's pushchairs and wheelchairs.
Please note: However there are some short sections that are fairly steep so you should always use caution.
There are a few small openings in the foliage at the edge of the trail that lead to a steep drop down the mount. If you are not careful you could quite easily fall. It is always advised to walk only on the paved trail.
The Mount Maunganui walk
As you walk along the Mount Maunganui trail you will travel gradually around from one side of the volcano to the other. Some parts of the trail are covered over by foliage and trees and others are completely uncovered and in the direct line of the sun.
As you may be aware, the sun above New Zealand is much stronger than you may be used to due to the hole in the ozone layer. This means you should take extra care and use sunscreen if spending a lot of time outside!
The entire loop can take around 1.5 hours of continuous walking.
Stunning views
One of the most iconic views from the top of the Mount Maunganui walk is the view of the peninsula and the beaches on either side. This can be seen when facing southeast or facing the direction that you started the frail from.
Once you reach the summit there are a few picnic benches for you to sit and relax on while you take a break from walking. On a sunny day, this area can get busy so don't be surprised if the summit gets a bit crowded.
This has to be one of the best effort-for-ratio walks in the region. In under an hour, you get this fantastic view and you'll barely break a sweat!
It's no surprise that locals talk so highly about the walk around Mount Maunganui.
Want to do some more hiking in New Zealand? Check out these trails:
Activities in the area
Water sports – Paddle boarding and kayaking are two of the best activities to do in the area. You can stay close to the shore if you're new to the sports and you can take to the water at your own pace.
Have a beach day – The peninsula has multiple long beaches for visitors to enjoy. Take a dip in the water or lounge around on the beach. It's up to you!
Wildlife cruise – If you want to see sea creatures in their natural habitat then this is a great tour to embark on. You'll get to spend a half-day on a boat exploring the Bay of Plenty and photographing local wildlife.
Swim with dolphins – Enjoy this half-day swimming with dolphins tour. What's great is the dolphins are wild and not in captivity. This tour will take you to an area where dolphins naturally swim and you will snorkel nearby.
Skydive – You can enjoy a 12,000ft tandem skydive and see Mount Maunganui and Tauranga from a new perspective. This takes guts!
---
Accommodation
If you like to stay in hostels for a social experience, then I always recommend using Hostelworld to find the ideal place to stay. You can easily narrow down the search by filtering amenities and features that are important to you.
If instead you're driving a self-contained vehicle and would like to stay in that, you can use the New Zealand Rankers app to find suitable freedom parking & paid camping spots available in the local area. Not only that but the app will also give you a map of local camping and DOC sites for visitors to use.
You can download the app here:
---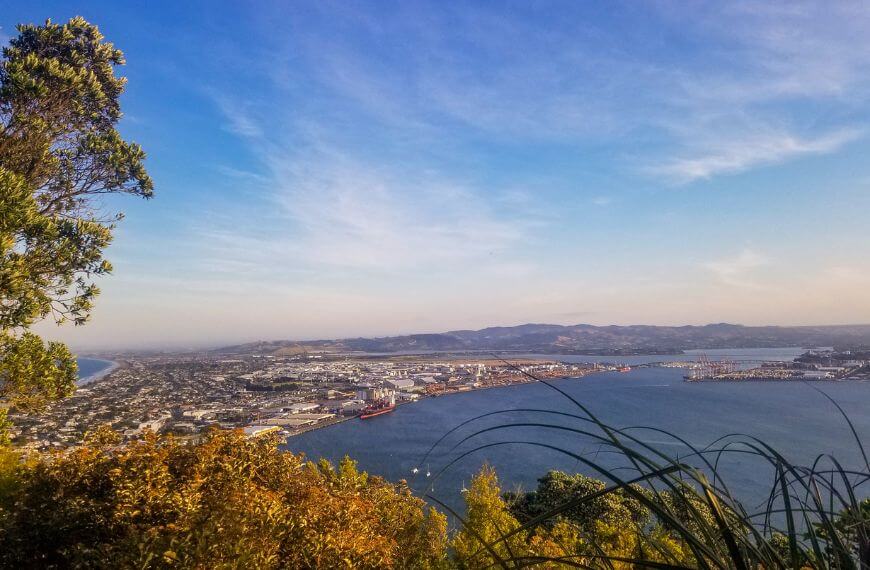 Summary of the Mount Maunganui walk
Want some more volcano hiking inspiration? Check these out from around the world:
If you happen to be in the Tauranga or Bay of Plenty region you'll have plenty of time to walk to the top of Mount Maunganui. It takes almost no time at all, and you'd be silly to pass up on these views.
Have you been to Mount Maunganui yet? If so, what did you think?