LOTR New Zealand tour: An Independent self-guide
Some links in this post are affiliate links. This means if you purchase something through my links I may make a small commission at no extra charge to you. See my disclaimer.
Known as both Lord of the Rings, and simply LOTR, I want to show you how to visit the filming locations on a simply self-guided tour across New Zealand.
The landscape throughout the country couldn't have been better to suit J.R.R.Tolkien's fantasy-based stories. I personally think the location scouts should get a pay rise for doing such a perfect job!
Of course, you're here because you're a LOTR fan, it is one of the most famous trilogies worldwide. And now you want to see what filming locations you can visit for yourself. Well, I want to make this as easy as possible for you by creating a self-drive tour so you can visit each location at your own pace!
I've got some fellow travellers to help me round up our favourite fantasy locations. Stick with us to see how you can visit Middle Earth yourself.
| | |
| --- | --- |
| Country: | New Zealand |
| Currency: | New Zealand Dollar / NZD |
| Do you need a visa to visit as a tourist? | Check here |
Consider getting a working holiday visa to allow you to stay in New Zealand for up to two years! This will allow you maximum flexibility with your travel plans.
---
Rent A Car
In order to successfully complete this road trip, you will likely need a car. It is really easy to rent a car in New Zealand and they drive on the same side of the road as us Brits!
Check out this rental company below, it's one of the main companies I use worldwide.
---
North Island
Hobbiton movie-set
This might be one of the most obvious locations on our Lord of the Rings list. Most of Hobbiton was filmed here. It may be one of the most recognisable places from the movies!
The Hobbiton movie set is the literal home of the Hobbits. It was used for all of the outdoor scenes of the hobbit village. It's the only location where a movie set was built, and not torn down at the end of filming. Featured in the first two Lord of the Rings movies and two out of three of the Hobbit films this is a must-visit for all LOTR fans!
Located a little over two hours from Auckland, this is a fantastic way to dive into the world of LOTR on a day tour and compliments your overall trip across New Zealand. You'll see the green rolling hills of Matamata and understand exactly why this was chosen for Hobbiton.
They regularly hold guided tours here for visitors to feel like they have been transformed into the movies themselves and are accessible for all ages! You can either purchase individual tickets direct with the movie set or if you'd prefer, you can join a group tour from a neighbouring city instead!
You can get from Hobbiton to Piopio in 1 hour 55 mins
Piopio
Located in the Waitomo District of Northern Island, is the picturesque town of Piopio. Enveloped by rolling hills and dominated by tall limestone rock, Piopio is a 'precious' gift of nature.
With only 3 hours of travel time, you can easily visit Piopio as a weekend getaway or a long day trip from Auckland.
Several locations from Piopio were featured in the Hobbit movie. One such is the Denize Bluffs farm where the scenes from the first instalment of The Hobbit movie, An Unexpected Journey were shot at. One glance and you'd instantly recognize it as the Trollshaw Forest from the movie.
It is best to take a guided tour which will take you to all the filming locations but as a cheaper alternative contact a local guide in Piopio. Not just that, Piopio also offers an active vacation to travellers. Cycling enthusiasts will enjoy several of its scenic routes, while hikers can pursue forest walks. A short and easy trek will lead you to the stunning Waitanguru Falls.
If you are in season (Oct-Apr) try some freshly picked berries at one of Piopio Orchards, or indulge yourself with delicious homemade ice creams. While there you can also club your visit with the Waitomo caves, famous for its Glow worms-lit caverns. It takes only 30 minutes to reach there by private transport.
You can get from Piopio to Wai-O-tapu in 2 hours 54 minutes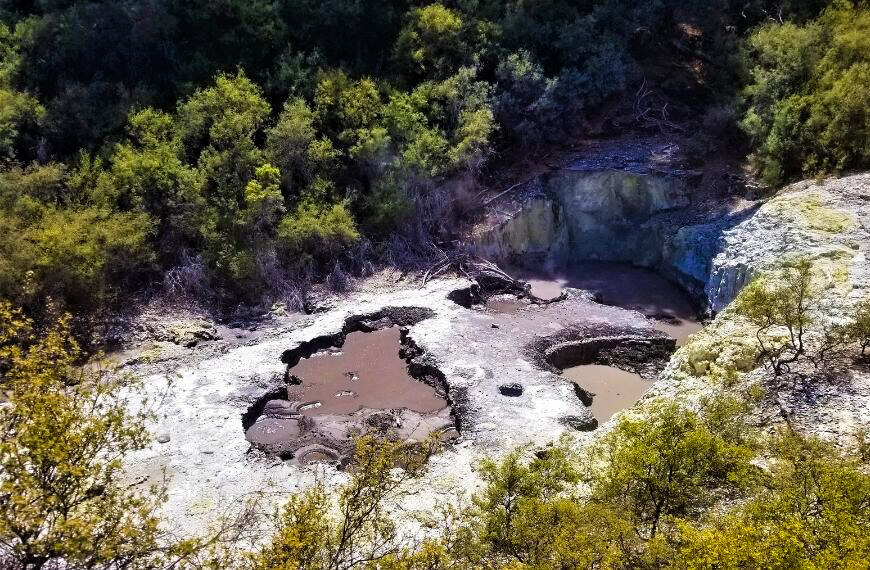 Mordor – Wai-O-tapu
This submission to our Lord of the Rings tour locations is a little, unlike the rest. You see, it's not a place you would necessarily recognise visually from the movies. However, you might recognise the sounds.
The Wai-O-tapu Thermal Wonderland is a volcanic region near Rotorua. It's located in the centre of the north island and was used for many of the movies' sound effects. The mud pools in this volcanic park naturally make a loud bubbling noise due to the heat that rises from beneath the earth's crust.
These noises are used in the trilogy to portray more realistic sounds for the well-known Mount Doom. But you'll know it as Mordor.
But even if you can't see Wai-O-tapu in the movies, this is still worth a visit in its own right. They hold daily self-guided tours with 3 routes available to see the whole park.
You can get from Wai-O-tapu to the Tongariro Crossing in 2 hours 21 minutes
Mordor – Tongariro Crossing
A walk through Mordor, also known as the Tongariro Crossing, is one of the best day walks in New Zealand. But don't let its 'Great Walk' status confuse you – this isn't just a walk in the (National) Park. It's worth every step though!
Over 19.4km (6-8 hrs) you'll discover an incredible volcanic landscape that feels like you're walking on the moon. Climb the Devil's Staircase, cross a dusty crater beneath Mt Doom (Mt Ngauruhoe) and scramble down scoria rock paths to emerald-coloured lakes. This picturesque landscape is like no other place in New Zealand and is an essential stop on a trip around the North Island.
Due to its popularity, it's now necessary to take a shuttle to the start of the track and to pick you up at the end (the parking lot at either end has a 4hr limit, not enough for the hike) through Tongariro Crossing Shuttles, or to use the secure park-and-ride and shuttle available near the end of the trail (Ketetahi) through National Park Shuttles.
The weather is unpredictable even at the best of times, so prepare for changing conditions even if the forecast looks clear, and carry 1-2L of water, food, warm layers, a waterproof jacket, sunscreen & hat, and good walking shoes.
You can get from Tongariro to Aorangi Forest Park in 5 hours and 55 minutes
Paths of the Dead – Aorangi Forest Park
The Putangirua Pinnacles are the next on our list. These unique rock formations that were naturally formed years ago create the perfect landscape of the Dimholt.
Used to film parts of the third film, the Return of the King; Lord of the Rings fans will recognise the tall spires from the "Paths of the Dead". The unique spires of rock that naturally formed here years ago make the perfect location for the ancient road headed towards the dark door.
Only 90 minutes from Wellington in the New Zealand Aorangi Forest Park, this is a fantastic day tour from the windy city for LOTR film location seekers.
Once in the national park, you can either travel up to the popular tourist lookout platform or stay on the flat track and walk in amongst the rocks instead. This really makes you feel like you are on Middle Earth yourself!
You can get from the Pinnacles to Mt Sunday in 16 hours and 15 minutes including the ferry crossing between the two islands. If you prefer, you can fly from Wellington to the south island.
How about a North Island Group tour?
---
South Island
Edoras – Mt Sunday
One of the best things to do in Canterbury is to explore Edoras, aka Mt Sunday. Mt Sunday is located deep in the Ashburton Lakes in the Mid Canterbury region of the South Island.
Edoras, the capital of Rohan, is featured in the second film, The Two Towers. It is where Aragorn, Legolas, Gimli and Gandalf met with King Theoden. It is a large fortress city high on the hill, whose people were farmers and horsemen.
While there is nothing remaining of the set here, it is still easily recognisable to fans of the movie. The walk to the top of Mt Sunday is mostly flat with a small steep incline at the end. It takes 60-90 minutes to return to the summit with incredible 360-degree views and is well worth the effort.
This is somewhere you simply can't miss on your tour of LOTR locations in New Zealand.
You can get from Mt Sunday to Franz Josef in 6 hours and 20 minutes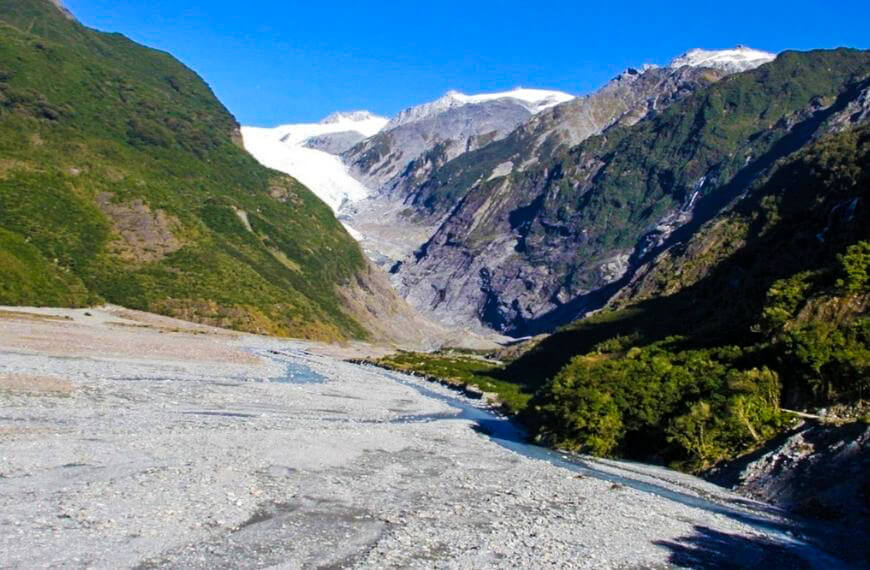 Ered Nimrais – near Franz Josef Glacier
Located on the south island's west coast is Mt Gunn. Also known as Erid Nimrais or the White Mountains, Mt Gunn is part of a mountain range in southeast Middle Earth that lies the length of Gondor.
Featured in the third movie: Lord of the Rings: Return of the King, when the beacons of light were lit in order to raise the alarm in case of emergencies. These beacons are part of an agreement between Gondor and Rohan to know when each other needs aid. At this time, Mordor was the threat. This is an easily recognisable scene!
One of the best ways to visit this filming location is to head over to Franz Josef Glacier and take a scenic flight over the region which will show you just how big this mountain range really is.
If you'd much rather keep your feet on the ground, you can instead walk the Franz Josef Glacier access hiking track or do a heli-hike. The hiking trail is easily accessible for all fitness levels with no incline. In total, it would take no more than 30 minutes to walk there and back.
You can get from Franz Josef to Mt Aspiring in 5 hours and 9 minutes
Misty Mountains – Mt Aspiring National Park
If you're looking for beautiful Lord of the Rings locations, make sure you go to Mt Aspiring National Park.
Mt Aspiring is on the South Island of New Zealand. It's a one-hour drive from Wanaka.
Mount Aspiring is a beautiful National Park that was used for lots of shots for the Lord of the Rings, including being the location for the Misty Mountains. The best way to see the specific Lord of the Rings locations is to do a guided scenic helicopter flight.
If you just want to see the general area (which is beautiful and definitely worth visiting), you can self-drive from Wanaka to Mt Aspiring along Wanaka Mount Aspiring Road.
The views along the road are incredible. Once you get to Mt Aspiring, do one of the short walks to get a better view of the mountains. My favourite walk in Mt Aspiring is the Rob Roy Glacier Walk which has amazing glacier views. Don't miss this on your LOTR tour of New Zealand!
You can get from Mt Aspiring to Lake Alta in 2 hours 50 minutes
Lake Alta – Queenstown
Lake Alta is a stunning lake with a hike that is easily accessible from Queenstown. What's more, it was also the setting for some Lords of the Rings filming.
True fans will recognise the main mountains tucked behind Lake Alta (Single Cone and Double Cone Peak) from the first Lord of the Rings movie. This scenery appeared moments right after the fellowship's exit from the Mines of Moria.
This walk is only accessible outside of winter as the cold brings the snow, at which time this area turns into a ski field. As long as the snow stays away, this walk rewards you with incredible scenery and appeals even to those without a love of LOTR.
This area is also home to a range of exciting activities, making it a favourite amongst many New Zealand travellers and locals. When you're next in Queenstown, we highly recommend you put a few hours aside to head up Lake Alta.
You can get from Lake Alta to Bob's Cove in just 52 minutes
Bob's Cove – Ithilien Lookout
The well-known Ithilien lookout is located just a short 20-minute drive from the centre of Queenstown. You'll probably recognise this scene from the second movie: The Two Towers. This scene backdrop was used to show the large armies of Mordor marching through the land before the Ithilien rangers ambushed them from their lookout.
Our favourite trio accidentally stumbled upon this dramatic scene before continuing on their journey towards Mordor.
Accessing the lookout is simple from Glenorchy-Queenstown road and takes you along the Bob's Cove walking trail. This is a fantastic track for people of most fitness levels and offers a stunning reward of 3 lookouts (Ithilien isn't the only great view here!).
You can complete the trail in around 30 minutes or for more of a challenge you can continue along Bob's Cove track to the Twelve-mile delta which will take between 2 and 4 hours.
You can get from Bob's Cove to Fiordland in 2 hours 45 minutes
Nen Hithoel – Fiordland
Located in Fiordland is the Mavora Lakes Park which is home to the North and South Mavora Lakes. Along the riverbank of the North Lake, a recognisable scene from the first movie the Fellowship of the Ring was filmed.
Known as Nen Hithoel in the movie, this lake is fed by the great River Anduin and is just east of Rohan. The fellowship set up camp on the banks of the lake after travelling along the river from Lothlorien. They spend this time deciding if they want to continue down the west shore to Gondor.
Since Mavora Lakes is located in a conservation zone, there are walking tracks available for visitors to use where they can enjoy the landscape. For those who want to stay in the park a bit longer, there are two campsites run by the Department of Conservation too!
If you want to stay at the campsite, I highly recommend getting your pass in advance here.
Milford Sound – Fiordland
Not only is Milford Sound known as the location for many Lord of the Rings scenes, but it is also one of the wettest parts of the entire world. This fiord is one of the best-known tourist destinations in all of New Zealand so it's no wonder you'll see many familiar landscapes while here.
Many helicopter and drone shots of the Fiordland National Park were used throughout the trilogy. This is the same area the Fangorn Forest was filmed using the real-life Snowdon Forest.
If you want to visit this stunning place for yourself, I'd highly recommend one of the Milford Sound or Doubtful Sound cruise tours. These tours take you through the luscious landscape, up close and personal with the cascading waterfalls. You can also do a scenic flight through this majestic area too if you'd prefer!
You'll be following the trail of the fellowship before you know it on your own LOTR New Zealand tour!
What about a south island group tour instead?
---
That's about it!
These are some of the most recognisable locations from the movies but that's not to say we've covered every single filming spot. Some scenes were created in post-production at the Wellington Film Studio and others were added to the film for a split second.
Some landscapes look similar to other parts of the country so it really is a case of exploring the landscape and seeing how much you feel like you have entered Middle Earth yourself. Let us know in the comments if you have any favourite LOTR destinations in New Zealand!
If you're not headed to New Zealand but want to visit some more Lord of the Rings destinations, consider travelling to Guatemala for the Hobbitenango experience. It's like a smaller version of Hobbiton and you can actually sleep inside the Hobbit houses!
Accommodation in New Zealand
Not wanting to camp like the LOTR characters and need somewhere to stay during your tour of New Zealand? Take a look at these recommendations to find places below:
Hostelworld – This is my go-to website for finding affordable and sociable accommodation in New Zealand. They have the largest selection of hostels and backpacker-friendly properties in almost all corners!
Booking – This is my second option for properties if a hostel is not available in my location, or if I'd rather have a more relaxing stay in a hotel rather than a hostel.