Popular Southeast Asia route for Backpackers
Some links in this post are affiliate links. This means if you purchase something through my links I may make a small commission at no extra charge to you. See my disclaimer.
I want to talk about a popular Southeast Asia route, especially for backpackers. If you are travelling from an expensive Western country, then most of Southeast Asia will seem very cheap and affordable – in comparison to back home.
Then add the hot tropical weather and easy transit routes and you've ticked most of the boxes for the ideal backpacking trip!
The type of route we will be discussing covers much of the "Banana Pancake Trail" which is simply a well-known route that Western tourists have become regular visitors of. It covers many of the popular backpacker locations, hostels and tourist sights to become a well-walked trail.
This is one of the world's most popular gap year destinations!
Need some help with creating your dream backpacking trip? Check out these pages:
---
Where to book transport online
One thing that made our planning process so easy, was being able to book *most* of our ground transportation online. I'll be real with you, as backpackers who would rather travel cheaply so we can travel for longer, we only did overland transport when travelling the southeast Asia route. What a time to be alive!
For this part of the world, Chris & I made sure to use the same website for most of our transport bookings – we found this just kept things much less complicated and easier to find a specific email or ticket if they all had the same name!
---
Where to stay?
Due to wanting to socialise with other travellers our entire trip, Chris & I opted to stay in hostels for most of the places we visited. We often use Hostelworld as we like their filtering system to narrow down to specific features that are important to us, but found that in this region of the world, Agoda had some fantastic & competitive offers too.
Plus Agoda have an "Agoda cash" system that allows you to earn points with each stay, which then allows you to spend the points on free nights accommodation!
---
Thailand
Chiang Mai
Chiang Mai is the largest city in the Northern Thai mountains. With an abundance of old ancient temples and the ruins of the "old city" in the centre of the city, there is so much to see and do in Chiang Mai.
Just like most other Thai cities, you can be sure to find a cooking class to teach you how to make spicy Thai cuisine. Plus, because this city is so close to the jungle, there are many animal sanctuaries nearby which many tourists visit year-round (make sure you only visit ethical locations).
A Sanctuary that is close to my heart is Elephant Nature Park which is only a 1-hour 12-minute drive from Chiang Mai! Check out what it's like to be an Elephant volunteer there for a week!
Highlights: Ruins of the old city, the Sunday Night Markets, Grand Canyon Waterpark, Drag (Ladyboy) shows and animal sanctuaries.
---
This can be purchased through 12Go.Asia
In Chiang Mai, buses leave from Arcade Bus Station (Wat Ket, Mueang Chiang Mai District, Chiang Mai 50000, Thailand). The bus schedules show that they run once every hour between sunrise and sunset. This is a popular route that can be booked up quite quickly so it is advised to book in advance.
---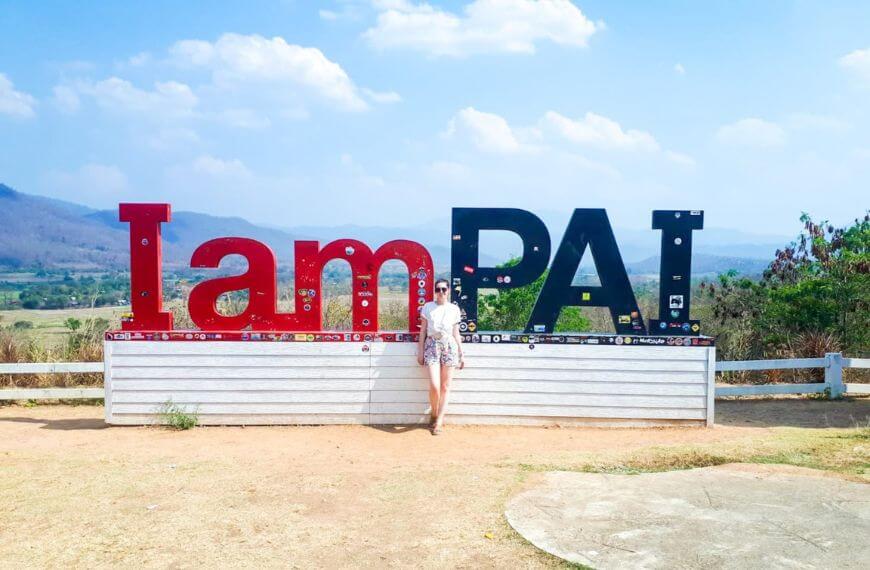 Pai
Pai is a quiet village in northern Thailand that is well-known because of its Southeast Asia hippy lifestyle – that's why backpackers on this route love it!
A picturesque place with lots of Instagram-worthy photo opportunities, so it's no surprise backpackers love it here. Pai has a reputation for a certain type of milkshake and its lively bar scene. For such a quiet place, backpackers arrive here by the dozens and some stay for weeks at a time.
Highlights: Pai Canyon, the "I am Pai" sign, The Bamboo Bridges, Ancient Village as well as countryside views from a high lookout point.
Be aware: The roads to Pai from Chiang Mai are very windy. I don't just mean a little windy, I mean 762 hairpin turns the entire way. If you have travel sickness, the road to Pai might be a struggle.
---
Pai – Chiang Rai
From Pai to Chiang Rai it takes roughly 8 hours. Depending on your wait times for your bus connection in Chiang Mai, this could be extended.
The cheapest option is to travel by local buses even though this usually requires a separate ticket for each part of the journey. The more comfortable option would be to take a minivan but you'd be paying much more.
In Pai, buses will collect you from the Pai bus station (Wiang Tai, Pai District, Mae Hong Son 58130, Thailand). In Chiang Mai's Arcade bus station, you can either book in person since there are multiple buses that do this route for backpackers and locals each day, or you can book online via The Green Bus company in advance.
---
Chiang Rai
Chiang Rai is located in Thailand's most northern province. Best known for its beautiful brightly-coloured temples and slow-paced atmosphere. A common stopover on the way to or from the Laos border. Due to its proximity to the mountains and jungle, there are countless opportunities to join a hiking day tour through these landscapes.
Highlights: Wat Rong Khun (White Palace), Wat Rong Suea Ten (Blue Temple), Long Neck Village & Wat Tham Phra (Buddha Cave Temple)
---
Crossing the Thailand – Laos Border
Chiang Rai to Huay Xai takes roughly 2 hours and 20 minutes by bus. (Add on up to 2 hours depending on the wait at immigration). You can purchase this ticket at the bus station.
The bus station in Chiang Rai is located at Wiang, Mueang Chiang Rai District, Chiang Rai 57000, Thailand
This part of the Southeast Asia route takes you and other backpackers to the Thai border (Chiang Khong) so you can exit Thailand. You will then board a shuttle bus to drive to the Laos immigration centre at the border so you can legally enter Laos. A short tuk-tuk ride after you are admitted will get you into Huay Xai
Pro Tip: Make sure to have some USD on you in cash for your visa! At the time of writing, it cost $35 USD each to buy a Laos tourist visa on arrival at the border. You may already have your visa before arriving in which case you simply show it to the immigration officer.
---
Laos
Huay Xai
Huay Xai is a small town nestled on the bank of the Mekong River. Most visitors are simply passing through before their journey along the river itself.
This is where you come to board your long slow boat for the 2-day journey to reach Luang Prabang. If you are in the area long enough, there are a few other things to see while visiting such as the morning markets and the gibbon experience.
The slow boat was probably our favourite mode of transportation while we were backpackers during our entire Southeast Asia trip route!
---
Slow Boat along the Mekong River
There are multiple ways to travel from Thailand's border town into Laos, but the most interesting (at least to us) was to take a boat. With different types of boats to take visitors along the river, the most common is the wooden slow boat. It takes roughly 2 days with one overnight stay in Pak Beng. You can enjoy the river views the entire way and it's so easy to meet other travellers heading in the same direction.
The boat tickets cost $13 USD and can be purchased on the same day. All you need to do is turn up!
I will be making a detailed post about the Slow Boat experience here to help other backpackers on the same Southeast Asia route.
Be Aware: You will need some bug repellant for the entire duration of the slow boat. Mosquitos love the Mekong River and you'll be on it for 2 days!
---
The Huay Xai border to Pak Beng is 1 day (roughly 4-5 hours) on the river. This half of the journey is included in your ticket.
---
Pak Beng
Pak Beng is pretty much the halfway point between where you crossed the Thai border into Laos and Luang Prabang. A small village on the edge of the Mekong River, this is where most boats stop for the night to allow their passengers to rest.
Even though this is the main stop along the way, you don't need to book accommodation in advance when you stay here. Many of the Bed & Breakfast owners meet the boats as they arrive and try to offer their rooms to the visiting guests. We were able to get a room within just a few minutes of arriving!
---
Pak Beng to Luang Prabang is "1 day" (roughly 4-5 hours along the river). This half of the journey is also included in your ticket.
---
Luang Prabang
The entire city is a world heritage site, it's a city with a connection of two distinct architectural types and many beautiful Buddhist temples. Luang Prabang is often referred to as the "Jewel of the Laos Crown" and is arguably the most visited city in the country.
Early in the morning, you might see hundreds of monks walking through the streets towards their monasteries. You could also visit the famous white stone and creamy blue waterfalls and see the natural beauty Laos has to offer.
Highlights: Kuang Si Falls, Tad Sae Waterfall, Alms giving ceremony, Royal Palace Museum & Pak Ou Caves
---
Luang Prabang to Nong Khiaw takes roughly 3 hours by car or bus
Buses from Luang Prabang normally board from the Naluang International Bus station (13 north Rd Naluang Village, Luang Prabang Province, Laos PDR)
---
Nong Khiaw
Nong Khaiw is a hidden gem in southeast Asia and is most known to backpackers for its easily accessible hiking, climbing and cycling route. Many adventure seekers will head here to climb the numerous hills surrounding the waterside town. It is a very slow-paced and relaxed destination which is perfect for a few quiet days out for a busy backpacker.
Highlights: 100 waterfalls tour, hiking trails and the sunset from the tallest hill
---
Nong Khiaw to Vang Vieng could take roughly 9 hours but you normally have to stop and change vehicles in Luang Prabang.
You can be collected at the Nong Khiaw minivan station and they will drop you at Luang Prabang's Naluang International Bus station. It is here that you can then board the next van that takes you to Vang Vieng Bus Terminal.
---
Vang Vieng
Vang Vieng is located in northern Laos and is surrounded by limestone mountains. In recent times, Vang Vieng has often become known as the adventure capital of the country. They are huge on eco-tourism and many travellers visit here when they are after a thrill. Whether it be rock climbing, tubing down the Nam Song River or kayaking Vang Vieng has it all.
Highlights: Party hostels, river tubing and adventure sports.
Be aware: Vang Vieng used to have one of the worst reputations in southeast Asia when a few backpackers got too intoxicated and sadly died while doing adventure sports along the tubing route. The city has become much more strict and careful, and in recent years has turned its reputation around.
---
Vang Vieng to Vientiane is roughly 4 hours by car
Make sure to be at Vang Vieng's bus station in advance as some of the minibuses have a habit of leaving 10 minutes ahead of schedule.
---
Vientiane
The bustling capital of Laos and somewhere most tourists to the country visit. Another city with a distinct mix of French-colonial and Buddhist architectural styles. Scattered throughout the city you will find endless shrines dedicated to the Buddhist gods that the Laos people worship. You will find many large-scale national monuments here – more so than in any other city in Laos.
---
Sleeper Bus Across Vietnam Border
Ok, so most people who don't have much time would probably fly to Hanoi. We had lots of time to kill so were happy to experience the sleeper bus from Vientiane. The bus takes roughly 19.5 hours and yes, you can sleep on the buses. They have already reclined seats which are like bunk beds and are much comfier than sitting upright the entire journey in a regular vehicle. Some people class this as the journey from hell but we actually found our journey ok.
Just to give you some insight into the cost of this journey if you took a flight, it would cost between £80 and £110 per person. We were able to get the bus for roughly £19 each! When you are travelling long-term, every penny counts!
Are you even really a backpacker if you don't have a stressful experience on a sleeper bus along the Vietnam border route in Southeast Asia?!
---
Vientiane to Hanoi takes anywhere from 24 to 26 hours by bus and you can book directly with many accommodations in the area or online again from 12Go.Asia. In Laos, you will board your bus at the Southern Bus Station and will arrive in Vietnam at the Ha Noi Nuoc Ngam Bus Station.
---
Vietnam
Hanoi
Officially one of the most ancient capital cities in the world, Hanoi is the capital of Vietnam. With countless temples and a bustling old quarter, this city is fast-paced – unlike the rest of the cities we've seen so far. Due to its location, many tourists can easily stay in Hanoi and travel to surrounding areas on day trips. Here you can see Ancient pagodas and unique markets.
Highlights: The old quarter, Hoa Lo Prison & Lotte Observation Deck
---
Hanoi to Sa Pa takes roughly 5 hours and 10 minutes by bus. You can opt for the sleeper bus and arrive first thing in the morning as we did.
This part of the journey takes you to the Laos border so you can exit Laos. You will then need to walk through the Vietnamese immigration office at the border so you can legally enter. After getting your own visa stamped and waiting for your bus to be cleared through customs you will finally be allowed to reboard the vehicle.
Pro Tip: Make sure to have some USD on you in cash for your visa! At the time of writing, it cost $25 USD to buy a single entry 1-month tourist visa on arrival. You may already have your visa before arriving in which case you simply show it to the immigration officer.
---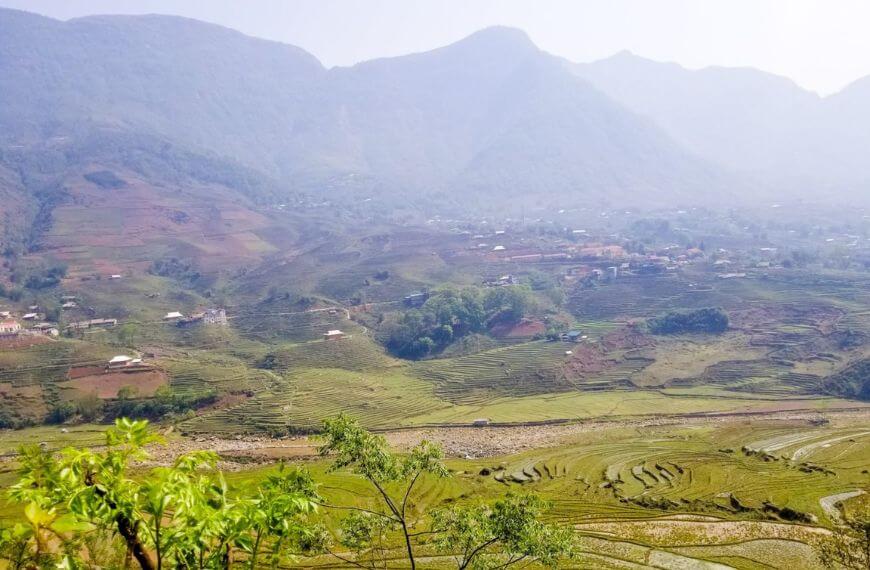 SaPa
The countryside in northern Vietnam is filled with rolling green hills and mountains. A region that has often been labelled the best trekking destination in the country, many people visit to hike along the routes overlooking rice fields.
There are many hill tribes that live in these mountains and you will be sure to encounter some of their farming techniques during your multi-day hike. So many backpackers along this route choose to cycle the edge of rice fields you'll find everywhere here and in the rest of Southeast Asia.
Highlights: The luscious green mountains, adventure hiking trails & the unique hill tribes of Vietnam
Be aware: The town of SaPa itself has had a heavy influx of investors and developers in recent years which has taken over. Many large sections of the town are littered with construction equipment and building sites. These will end eventually, but in the meantime, it has taken a lot of the peace and quiet out of this once-serene town
---
SaPa to Mai Chau takes roughly 7 hours and 16 minutes by bus and usually travels via Hanoi.
In some instances, you may not need to travel independently to Mai Chau valley if you join a tour group. In Hanoi, many tour companies were offering one and two-night excursions to the valley with transport included. It's definitely worth shopping around! If you do prefer to travel independently, then the website below is what I always recommend
---
Mai Chau
Mai Chau is a rural province near the capital of Hanoi. A nature lover's paradise where you can mix relaxation and hiking, all in one trip. The village is located at a high altitude within the northwestern mountains. Throughout the area, you will see the well-known stilt homes made of bamboo that locals live in. We were actually recommended to visit Mai Chau by other backpackers who travelled this exact route and preferred this place to Sa Pa on their Southeast Asia trip.
Highlights: Breathtaking views of the valley, Eco-properties & rice fields.
---
Mai Chau to Ha Long Bay takes roughly 5 hours 20 mins by bus and goes past Hanoi. An easy spot for another day trip from Hanoi.
When travelling from Hanoi on this route, you will be able to board your bus at the CBExpress – Cat Ba Express in the old town located at: (48-66 Nguyễn Hữu Huân, Hàng Bạc, Hoàn Kiếm, Hà Nội, Vietnam). You will arrive outside the Marina at the entrance to Halong Bay at the Tuan Chau Gateway, Quang Ninh (Hạ Long, Hùng Thắng, Thành phố Hạ Long, Quảng Ninh, Vietnam)
---
Halong Bay
Halong Bay is a UNESCO world heritage site located in the northeast of Vietnam. It is a memorable location with rainforests on top of towering limestone islands, scattered through the bright blue ocean. One of Vietnam's most visited destinations where many visitors will enjoy the islands up close from abroad tourist boats and kayaks. This region is renowned for its tropical reefs and scuba diving too!
Highlights: Water activities, Instagram-worthy 360 landscapes
Be Aware: During the high season (December – January) it is BUSY. If you travel during this peak time, don't be surprised that you will be there with thousands of other tourists.
---
Halong Bay to Ninh Binh (city) takes roughly 3 hours 45 minutes by car or 7 hours by bus tour.
As you can see in the table below, there are two main ways to travel from Halong to Ninh Binh. If you want the quicker option then you would pay more for the taxi, and if you want a cheaper mode of transport and don't mind it taking a few hours longer you could take the bus.
---
Ninh Binh & Tam-Coc
Ninh Binh & Tam-Coc are neighbouring towns in the state of Ninh Binh (yes they have the same name!). They are located south of Hanoi and are surrounded by limestone cliffs and endless rice fields. This is a destination that has gradually become more popular with international tourists and it's no surprise why! Many of the towering limestone cliffs contain caves for tourists to explore.
Highlights: King Kong movie set locations (Trang An), Thung Nham Bird Reservation, Mua Cave
---
Tam Coc to Phong Nha takes roughly 8 hours by bus.
One of the most common bus companies to frequent this route is Camel Travel and it's one that we used personally. These semi-sleeper buses have partially reclined seats and (usually) come with AC and wifi. The bus will drop you off in Phong Nha – Ke Bang National Park
---
Phong Nha
Phong Nha is a township in the Natural Heritage Area on the north-central coast of Vietnam. The town is known for having unique animal-related names for each of its many local mountains such as "Lion" & "Kneeling Elephant". This area is a UNESCO world heritage site and is home to the world's largest cave! The cave system brings tourists from all around the world who are keen on adventure.
Highlights: Son Doong Cave, Dong Thien Duong Cave, The Duck Stop
---
Phong Nha to Hue takes roughly 4 hours and 10 minutes by driving.
In Phong Nha, the bus departs from the Central Backpackers Hostel and drops you off at Laurel Hotel / Queen Cafe this is quite a picturesque drive during this route of Southeast Asia. The Car or taxi option normally drops you off at your chosen address so if you are not staying at the accommodations above, you can be picked up by your driver.
---
Hue
Hue is a city in central Vietnam next to the perfume river (yes it's actually called that!) The city has many nods to the city's historical past with the 19th-century citadel being one of its best-known tourist attractions. It has large, thick stone walls, a moat and many shrine replicas of its centuries-old palaces. Plus an old disused water park that looks apocalyptic now!
Most backpackers along this route in southeast Asia share their stories of the water park over hostel drinks and a game of cards.
Highlights: The Citadel & Thuy Tien lake (Abandoned Water Park)
---
Hue to Da Nang is only 2 hours 35 minutes.
Luckily this route is so short there are multiple options available to you. If you would rather try something different and experience the train then it's only £1 less than a minivan. The station in Hue is at (Hue Train Station, Bùi Thị Xuân, Phường Đúc, Thành phố Huế, Huế, Vietnam) arrival train station is at (Da Nang Train Station, 791 Hải Phòng, Tam Thuận, Thanh Khê, Đà Nẵng, Vietnam). If you're all about comfort then the minivan option is probably better and won't break the bank.
---
Da Nang
Da Nang is the third largest city in Vietnam, located on the central coast. It is well known for having pristine sandy beaches and a bustling French-colonial port. Many visitors to this region are here to enjoy the limestone hills and marble mountains which are topped with ancient pagodas.
---
Da Nang to Hoi An takes roughly 50 minutes by bus
Probably one of the shortest journeys on our itinerary but surprisingly not too many options by bus compared to other routes. If you are travelling in the same direction as someone else it's really easy to split a taxi or car rental with them heading this way.
---
Hoi An
Hoi An is a city with one of the country's best-preserved ancient towns. It is known as the "Venice of Asia" due to the many canals that cut through the cities' local markets. The town has a clear separation in its architectural history due to having Japanese and French settlers at different times.
There are traditional landmarks from each era still standing strong around the city. This is also the home of the traditional lantern that has put Hoi An on the world map.
Highlights: Lantern markets, 1700s Japanese bridge & quiet sandy beaches
---
Hoi An to Da Lat takes anywhere from 13 hours to 17 hours by bus. This is a great opportunity to get a sleeper bus once again!
---
Da Lat
Da Lat City is in southern Vietnam and was built around a golf course. The city is surrounded by evergreen pine forests, many waterfalls and rolling green hills. With many beautiful lakes nearby and a temperate climate, this was once a resort for the French during colonial times. The city has many buildings to this day that reminds them of French style architecture.
Highlights: Elephant & Pongour Falls, Da Lat Flower Park & The Crazy House
---
Dalat to Miu Ne is roughly 4 hours by bus
There are a few bus companies that do this common route so depending on your preferences you should be able to find a mode of transport that you like. It's only 4 hours so you don't need a sleeper bus, but if you prefer them then there is still that option!
---
Mui Ne
Mui Ne is a small fishing town on Vietnam's south coast. It is best known for its long stretch of beach and "perfect" conditions for kitesurfing and other watersports. This is a popular getaway for locals from Ho Chi Minh and is one of the last coastal getaways if you are heading north. Mui Ne is a tropical paradise just waiting to be explored.
Highlights: Red Sand Dunes (Doi Hong), White Sand Dunes (Doi Cat Trang) & the Fairy Stream
Check out my post on how you can visit the sand dunes yourself.
Be aware: If you hire a sledge or quad bike at the dunes', make sure you agree to a price & itinerary before you start the tour. Many people will end up getting less time than they expected and subsequently end up disappointed.
---
Mui Ne to Ho Chi Minh City is roughly 4 hours by bus.
Each of these buses below leaves from different locations in Mui Ne so it's difficult for me to give a specific bus station address for this route.
---
Ho Chi Minh City
Vietnam's largest city and home to the largest museums about the Vietnam War. Originally known as Saigon, this is a fast-paced city with a vibrant nightlife for locals and tourists alike. If you are after history as well as traditional Vietnamese markets then this is the perfect place for you. Arguably home to some of the nation's favourite dishes such as pork rolls and pho.
Highlights: The Pink Cathedral (Tan Dinh church) & This might be the best place for Vietnamese cuisine
Be aware: This is a very busy city. It is easy to get lost in crowds. Everyone drives a scooter here and it can be hard to avoid when crossing roads so be extra vigilant here and try not to get run over.
---
Sleeper Bus across Cambodia Border
The Sleeper coaches along this route were much nicer than the ones we had experienced before. The buses have "rooms" which are little compartments – each one big enough for two people to sit or lay side by side. Because you're not wedged into the slim seats of the other style buses, it's much easier to sleep in one of these. Just be aware that if you are travelling solo, you'll be up close and personal with a stranger for the duration.
---
Ho Chi Minh City to Phnom Penh takes roughly 5 hours and 15 minutes by bus.
Although there are multiple immigration points along this border, you'll most likely cross near Bavet/Moc Bai Border. Just like the other border crossings on our itinerary, make sure you have cash (preferably in USD) to pay for your visa. At the time of writing the visa was $30 USD
This part of the journey takes you to the Vietnam border so you can exit Vietnam. You will then need to walk through the Cambodian immigration office and get your visa so you can legally enter the country. After getting your visa stamped you will be able to board your bus again – once it has been cleared too.
---
Cambodia
Phnom Penh
Phnom Penh is Cambodia's current bustling capital city. Built where two rivers meet, this was the centre of the Khmer Empire between the 11th and 13th centuries. Over the years the French colonial style took over some of the ancient Khmer traditions and today you see the divide between the two. Phnom Penh (along with most of Cambodia) has a dark history related to the Khmer Rouge.
Highlights: Tuol Sleng Genocide Museum, Mekong River Tours & the Royal Palace
---
Phnom Penh to Kampot takes roughly 2 hours by bus
A nice short bus journey from Phnom Pehn to Kampot. When travelling by minivan from BookAway below you will likely be picked up from (Ekareach Express, #98A St. 230, Psa Doeum Kor Village, Toul Kok Commune Phnom Penh, Phnom Penh 12159, Cambodia).
---
Krong Kampot
Kampot is a southern Cambodian city located on the banks of the Preaek Tuek Chhu River. The city, with lots of unique things for tourists to do, is best known for producing salt and pepper which are exported worldwide. Many visitors arrive here to see the fireflies along the river; or the neighbouring National Park, Preah Monivong Bokor, where you can see wild gibbons and large cats in their natural habitat.
Highlights: Firefly river tours, "Green Cathedral" Kayaking and the Preah Monivong Bokor NP.
Be Aware: If you stay at one of the many accommodations along the river, be aware there is a high chance that the area could flood during the rainy season (May – October).
---
Krong Kampot to Sihanoukville takes roughly 3 hours by bus.
---
Sihanoukville (Preah Sihanouk)
Sihanoukville was once a popular beach destination with endless beaches to stroll along. There were many beach bars to stop by for that mid-day cocktail. Now it's best known as the gateway to the Koh Rong pair of islands. I'd highly recommend only spending one night in Sihanoukville on the way to or from the islands where you should definitely spend at least a week – at least until the construction is complete.
Highlights: Endless beaches to stroll along – if you find an area not affected by construction.
Be Aware: Many new investors have moved to Sihanoukville to build casinos and mega-resorts. This means there is a LOT of construction which has dirtied the shoreline and ruined the relaxed beach town illusion it once had. Hopefully in the next few years, it will be back to its usual appealing self.
---
Sihanoukville to Koh Rong is roughly 45 minutes by boat
The ferry rides cost between £9 – £10 (49k KHR – 54k KHR) and can be purchased either in person at the Sihanoukville ferry port or in advance online on 12Go.Asia
---
Koh Rong
Koh Rong is often referred to as an island paradise and with good reason. This is the party island of the two and is much more lively than Samloem. Koh Rong is the second largest island in all of Cambodia and home to Long beach which is arguably one of the best beaches in South East Asia.
Not only is the island home to white sandy beaches, but it's also the place for snorkelling and scuba diving on the bright coral reefs.
Highlights: Beach parties, Long Beach & water sports
---
Koh Rong to Koh Rong Sanloem takes roughly 30 minutes by boat.
We bought our tickets to reach the other island in person at the port on the island. This is very easy to do and many hostels/accommodations even have tickets that you can purchase for the boats too.
---
Koh Rong Samloem
Koh Rong Sanloem is the quieter of the two islands. Other than a full-moon party once per month, this is a more sleepy island with lights out much earlier. But you shouldn't see that as a negative, after partying non-stop in Koh Rong, this is a dream relaxing destination just a boat ride away. Most backpackers visit this island along their route after partying on Koh Rong, it's a nice relaxing island in southeast Asia and the beaches are glorious!
Highlights: Saracen Bay Beaches (plus the many other beaches here!) & Ponleu Spa
---
Koh Rong Samloen to Battambang doesn't have a direct route. But if you take the ferry back to Sihanoukville and then a bus to Battambang it will take roughly 11 hours total.
---
Battambang
Battambang is a lesser-known city in Cambodia – even though it is the second largest. It is one of the best places to eat traditional Khmer cuisine in the country, and because it's less touristy, the food is significantly cheaper than that of the more popular cities. There are many quirky and artistic hotels and cafes scattered throughout the city which are great to check out.
Highlights: The Bamboo Train & Phnom Sampeu
---
Battambang to Siem Reap takes roughly 3 hours by bus.
---
Siem Reap
Siem Reap is known as the entrance to the ancient city of Angkor Wat. Unlike much of the rest of Cambodia, this city is more like a resort town with many larger-scale hotels. Here you will have multiple places to learn about the history of the country by day and then party on "the strip" by night.
Check out How to see an Angkor Wat sunrise yourself
Highlights: Angkor Wat temples, The Landmine Museum & The old market.
---
Bus to Thailand
This part of the journey takes you across the Cambodian border to the Thai immigration office. You can get your visa here on arrival so you can legally enter the country. After getting your visa stamped you will be able to board your bus again to continue on the journey
Siem Reap to Bangkok takes roughly 11-12 hours by bus
---
Thailand
Bangkok
Bangkok is Thailand's capital and busiest city. With the many beautiful temples scattered throughout the city, you're always within walking distance of one. This is a place where skyscrapers meet the many markets below. Speaking of markets, you can visit a floating market and one built on a train track. It's usually the first destination international travellers come to on a Thai adventure and it's the official home of Pad Thai!
Highlights: The Reclining Buddha (Wat Pho), The Grand Palace & Khao San Road
Be Aware: Thai roads can be dangerous if you're a pedestrian. There are many scooter drivers on the roads here who will not hesitate to speed. Be cautious.
---
Southeast Asia Route for Backpackers – A Summary to be Continued
Many travellers will continue south from Bangkok and head towards the beautiful southern Thai islands.