Working as a Chiang Mai Elephant sanctuary volunteer
Some links in this post are affiliate links. This means if you purchase something through my links I may make a small commission at no extra charge to you. See my disclaimer.
Thailand is a tropical destination that many people travel to each year, and many of those people want to visit an Elephant Sanctuary as a volunteer. cryint
Although there are lots of parks like this one around the country (and the continent for that matter) many travellers head straight to Chiang Mai to the Elephant Sanctuary in the north to volunteer. Elephant Nature Park.
As someone who loves animals, I always try to find the most ethical places to offer my volunteering services. I believe in travelling in an affordable, yet sustainable way that doesn't harm locals, animals or the environment.
After doing some research by visiting various Elephant sanctuaries. From what I've seen, ENP is definitely one of the best ones I have experienced. They focus on education so that visitors can take what they've learned with them. They're really trying to make a difference.
I have visited Thailand multiple times, but most recently during my backpacking trip through southeast Asia.
Planning on travelling around Asia before or after your placement? I'd recommend looking on 12Go for your overland ground transport needs. They cover the entire region!
---
Location
There are two important locations regarding this Elephant sanctuary in Chiang Mai. The office and the sanctuary itself.
Elephant Nature Park Office
1 Ratmakka Road, Phra Sing,
Chiang Mai 50200, Thailand
Elephant Nature Park Sanctuary
Kuet Chang, Mae Taeng District,
Chiang Mai 50150, Thailand
You are unable to just travel to the Park itself individually. For any trips or visits to the park, you will usually need to go to the office in the centre of Chiang Mai first. This is where they do most of their administration and where all the tours and trips start.
---
Tickets & packages as an Elephant Sanctuary volunteer
I will mostly be talking about the options and packages that take place actually at the Elephant Nature Park.
(There are some packages that take place at their sister parks in other parts of Thailand. You can see the options for these here).
When you want to become a volunteer at this elephant Sanctuary in Chiang Mai, you need to purchase your spot on the program. There are a limited number of spots for day and week packages so you should try to plan ahead to avoid missing out.
There are a few different packages for you to sign up with which I will outline below:
Weekly volunteer – This allows you to stay and volunteer at the park for a full week.
Overnight visitor – Where you can be a volunteer, but just for one night / two days.
Day visitor – This allows you to visit the park for one day as part of a tour group.
Generally speaking, if there is availability you can do back-to-back weeks or multiple days of volunteering, you just need to book in advance and pay the same rate per week you wish to attend.
Elephant Nature Park isn't just for Elephants, you can also volunteer with dogs at their on-site dog shelter!
During our downtime during our week with the Elephants, we were able to go and help the shelter volunteers with the dogs. They were very understaffed so they appreciated any help they could get!
---
What to expect on arrival
From Chiang Mai, it takes a little over an hour to head to the Elephant Sanctuary in the Mae Taeng District. All guests are driven to the park in minibuses by some of the park staff.
Once you arrive, there is a mini orientation so the greater group can get to know each other. Guests are then assigned their rooms and small teams for the week.
Once everyone has taken their luggage and set up in their rooms, you'll all re-group at the upper floor loft for a welcome ceremony and short educational session about the Elephants and the park. The first evening is a chance for everyone to mingle, have some fun and get a feel for the general vibe of the place before the first day of tasks.
Want some more volunteer experience? Check out: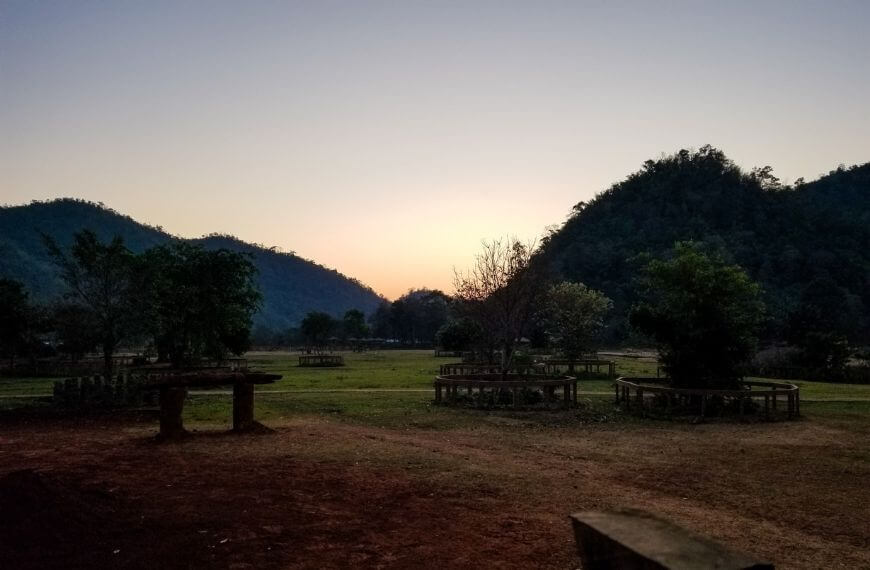 Pro tip: If you are staying overnight, head over to the "platform" and watch the sunset. It is also a great view for sunrise if you're ok with waking up early.
---
Education and importance
One thing that makes this Elephant Sanctuary so much better than many others, is the fact that they care about teaching their visitors and volunteers why these Elephants were rescued in the first place.
They're not kept here just as a tourist trap. They're here because, in many countries around the world, Elephants are mistreated and badly injured so sanctuaries need to take them in to allow them to live in peace.
Elephant Nature Park prides itself on educating people on what not to do for tourism where Elephants are concerned and I can outline some of these things below.
Elephant rides
In order for an elephant to get "domesticated" enough to be able to give humans rides, they actually get tortured and their spirits are broken as babies in order to make them fear humans. This is by no means the same as horses who are actually trained to give rides through positive training.
Circus' & live shows
Animals are often kept in tiny cages and it has been proven worldwide that animals are kept in worse conditions in circuses than they are in zoos.
Elephant paintings
Unfortunately, the painting the elephant created in the city centre for a crowd is not what you think it is. If you pay close attention, you'll see its keeper stabbing it in the back of the ear (the most sensitive part of the animal) with a sharp hook just to make it do what they want.
As well as the ways you can avoid Elephant tourism like the ones listed above, you should be aware of another main reason Elephants end up here. They are often used as workers but get badly injured during the process.
Logging
In an age where large machinery is everywhere, there is no reason to overwork Elephants in this way. Across Asia, there are many landmines left unexploded which many, many Elephants end up stepping on while logging. Not to mention the extreme pressure they are putting on their bodies to pull logs that size.
---
Elephant Sanctuary volunteer jobs and tasks
When you sign up to be a sanctuary volunteer, you can expect it won't be just petting an elephant for a week in Chiang Mai without an ounce of hard work. You will be asked and expected to do some jobs and tasks which help with the overall care of the elephants.
All jobs follow a schedule and the teams(usually 4 ) will be on a rotation so that every team gets to help and experience every job. It's the fairest way and really gives you an insight into the hard work that goes into running a place this large.

Preparing the elephant's food
As you know Elephants are large animals, so they require A LOT of food. This means there is a constant stream of making sure the food is prepped and ready for the Elephants. Preparing the food consisted of unloading the trucks of fruit, washing the fruit to make sure they were not dirty, and finally cutting some of the watermelons.
The typical diet of Elephants is a whole range of fruit since they are herbivores, but some of their favourites are watermelon, tamarind and bananas.

washing elephants
The first time I visited, we would encourage the Elephants to go into the river and wash themselves. We would help by putting some water on them but in recent years that has actually been stopped. The owner of the sanctuary wanted the Elephants to only wash when they want to, and wanted to create a more hands-off experience so the animals are living in the most realistic environment as though they were still in the wild.

cutting down corn
This is actually one of the seasonal tasks for volunteers to do. It only really needs to be done in the rainy season as that is when the corn is growing at its fastest rate. It's advised to wear long sleeves for this task as the corn leaves have a sticky sap which is extremely itchy and can almost graze your skin.
This task requires you to use a small scythe to cut down the corn and then carry the bundles to the truck to be taken back to the sanctuary. You will probably break a sweat during this task!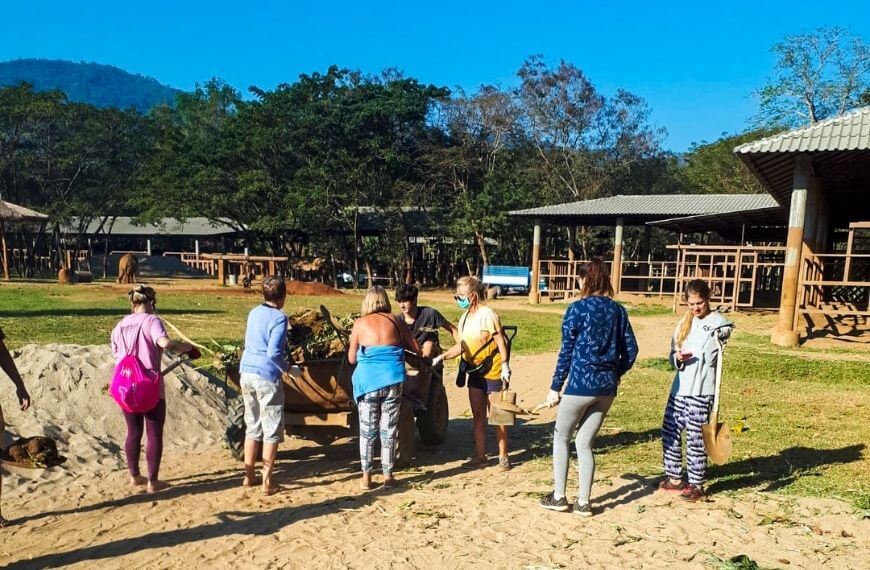 clearing out elephant stables
Like any animal, Elephants need somewhere safe and warm to sleep at night. The sanctuary has "pens" for the Elephants where they are kept overnight. They are similar to stables that horses would have, but bigger of course!
Since the Elephants are allowed and encouraged to walk around the sanctuary grounds during the day and live as if they are free, the pens are only used when they are sleeping. These pens need to be cleaned on a daily basis so that the Elephants always have somewhere sanitary to live.
This task includes using shovels and garden forks to remove Elephant dung from the pens, followed by washing the concrete ground and laying fresh bedding down for them (usually hay). This is a smelly job but goes quickly when the whole group gets involved.

creating a fire break in the forest
Another seasonal job seems to be completed at the end of the rainy season, and before it changes to the hot and dry season. Because the sanctuary is in the thick jungle, there is always a risk of forest fires during the dry months.
In order to protect the forest and most importantly the sanctuary and its animals, volunteers will need to help create a "fire break" by cutting down and removing dead plants that will help stop a potential fire from spreading close to the park.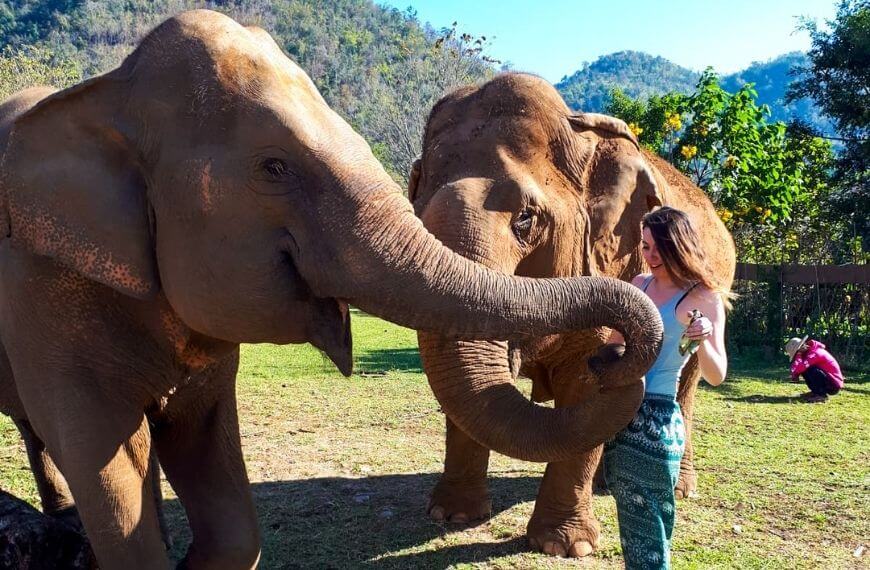 Feeding the elephants
As mentioned above, Elephants eat a lot of fruit. The varying groups or mini herds of Elephants travel to different parts of the park for their respective feedings. Although they are perfectly capable of feeding themselves, sometimes the park staff will allow guests to give the elephants food which is enjoyable for everyone involved.
You can give the Elephants some fruit that they will take from you using their trunk. The park has a strict policy that all guests must wash their hands before coming into contact with the Elephants to make sure we don't make any of them sick.
It's also recommended to wash your own hands afterwards too like you should after touching any animals. This is probably the most rewarding task you'll experience as an Elephant sanctuary volunteer.
---
Where your money goes
So, you might be wondering where your money goes as a volunteer. You might even be wondering why you have to pay to be a volunteer in the first place.
Well, your money goes towards multiple things. Let's break it into categories.
The volunteer:
Your accommodation for the duration of your stay.
Your food 3 times a day for each day you are volunteering.
Accommodation
So, when you are working at the Elephant Sanctuary as a volunteer, you're going to need somewhere to stay. All weekly and overnight visitors get to stay in one of the rooms available, usually sharing a room with just 1 or 2 other volunteers.
If you're travelling with a friend, you can usually be placed in the same room with them. If you're travelling solo, you will normally be paired up with other travellers of the same sex.
All rooms come equipped with a mosquito net over the bed which is especially useful during the wet season when mosquitoes are out in full force. And most rooms have a fan.
In recent years, they have built slightly more upgraded versions of the accommodations but these are usually given to the 1-night guests rather than the weekly volunteers. These rooms come with air conditioning.
Meals
With regard to food, the sanctuary makes sure to feed its volunteers 3 times every day. All food is strictly vegan to follow the values of the staff and their in-house chef is fantastic. You will get a chance to have tofu cooked in about 15 different ways!
Everything is served buffet style so you'll always have a choice. Even if you're a picky eater. The food times are arranged on a set schedule each day around the jobs and tasks you will be doing.
Mealtimes are quite social as it is when all volunteers, across all groups, get to spend time all together.
Your meals are completely free, as in they're included in your volunteer package and you don't need to purchase anything during your stay.
If you would like to buy snacks, drinks or any extras outside of the main mealtimes, then you can do so from a little tuck shop for a small amount of local Thai money. So make sure you have some cash with you!
The Sanctuary:
Food for all the animals. Elephants, Buffalo, Monkeys, Dogs and many more.
The wage for the permanent staff who work there all the time
Medical care for each animal
Food for the animals
There are many animals in the sanctuary which gets expensive when you consider how much food each animal needs. A big portion of the money received from volunteers goes towards buying mass amounts of fruit, corn and other food for the animals.
One way they get a lot of food each week/month is by buying the food that market stalls and supermarkets are getting rid of due to being close to their use-by date.
This prevents food from getting wasted by being thrown out. But it is still safe to consume by animals.
This saves them a lot of money but also allows them to receive more than enough food for the animals without running out!
full-time staff
To help things run smoothly, there are some full-time permanent staff members. Some of them are the personal carers for the Elephants to supervise them from a distance every day.
Others are the on-site veterinarian who does routine check-ups on every animal brought in.
There is also a chef and a leader for the dog sanctuary as well as the staff who manage the 4 teams of volunteers. All together they work to make the sanctuary work like clockwork.
They all need to be paid a liveable wage and that's another thing that the volunteer money goes towards.
Medical care
Many of the animals that come to this Chiang Mai Elephant sanctuary are sick, old or injured. They are always seen by the in-house vet when they first arrive.
Sometimes they need to administer medication or treatment plans. Being a sanctuary volunteer you get to learn all about the treatments and operations an Elephant might need.
What's amazing is how in some cases, they can actually create Elephants' prosthetic limbs when they have lost them due to land mines. Just another item that the volunteer money goes towards to improve the lives of the animals.
---
Local villages
During your stay at the park, you will also get a chance to go and visit one of the local villages as part of a half-day tour. This is where you can take part in a type of school fete at a local school and have the option to purchase things if you choose.
They often have coconut milk smoothies, homemade snacks as well as small bracelets you can make for a small fee.
You might get to meet some of the local workers and school teachers who can answer some of your questions about the local area. It's a great way to learn about the culture and traditions if you're not familiar with them already.
---
Going to sanctuaries has so many benefits for both you and the animals – but you should always go to reputable places that don't exploit the animals or local people. The more hands-off the better. Admiring these animals from a distance can be just as rewarding.
Have you been to Elephant Nature Park?
**Disclaimer: All opinions are solely my own at Brit Adventures**