Things to do in Kampot: 11 unique activities
Some links in this post are affiliate links. This means if you purchase something through my links I may make a small commission at no extra charge to you. See my disclaimer.
Let's talk about some interesting things to do in Kampot. It's a small coastal town in the southwest corner of Cambodia. A place surrounded by green farmers fields and next to the Bokor National park.
This is a place very in touch with nature. It's a town that was put on the map because of the salt and Kampot pepper that is grown here and shipped around the world.
This town has quite the history too as this is home to Cambodia's first international sea port. This is a town that mixes both natural landscapes and old buildings from the French colonial era.
I visited Kampot on my long-term backpacking trip through southeast Asia.
| | |
| --- | --- |
| Country: | Cambodia |
| Currency: | Cambodian Riel / KHR |
| Do you need a visa? | Check here. |
If you need transport options to get around Cambodia and the rest of the region, check out 12Go as they cover almost every route you could want!
---
See the lights on Old Bridge
Every night in the centre of town, this bridge lights up after sunset. By no means is this just for special events. The bridge is lit up every night to add some colour to the river.
Not only is this a bridge full of bright lights, but it's also got an interesting history. It has become known as one of the most famous bridges from the French-colonial era and was built in 1920.
During the Khmer Rouge empire the bridge was knocked down and has since had multiple attempts to rebuild and renovate. It can now be accessed by pedestrians and motorbikes.
---
Visit a pepper plantation
One of the top unique things to do in Kampot is visit the plantations where they grow pepper. This is a destination known around the world for growing pepper – and for good reason. Not only can you see pepper plantations just lining the outskirts of the town, but you can also visit them to get a close-up insight to how they operate. Sending peppers to countries around the world, they have really been put on the world map.
The peppers in Kampot have a distinct smell of peppercorns with a slight hint of apricot and have been given the seal of approval with the French appellation d'origine contrôlée (which basically protects the product and trade name).
Want to experience a pepper plantation with a guided tour?
Option #1: You can visit a plantation, with transfers and food included.
Option #2: A guided tour to a pepper plantation – but on a scooter. More suitable for those who like adventure.
---
Looking for fireflies
Have you ever sailed down a river in a hunt for fireflies? Well in Kampot, that is arguably one of the most popular things for tourists to do!
Every night, visitors have the chance to board one of the small river boats that take them to a designated spot to find lots of fireflies in the trees. For best viewing, go searching for fireflies during nights when there is minimal moonlight.
There are not many firefly trees, however, the boat cruises that specialise in firefly tours are experts and will take you to the right place so you won't be disappointed.
You can easily book a firefly boat tour by asking one of the vendors that walk along the marina and river's edge.
---
Bird watching
Due to how close Kampot is to the National Park, there are many unique bird species to be found in this area. This has made Kampot and its surrounding jungle a hotspot for avid bird watchers. An activity you can do on your own when you wander around near the thick lush jungle that surrounds the town, or on a designated tour. Rest assured, you have multiple ways of birding here!
When exploring the jungle hills you can expect to find some of the following bird species that you won't find at home:
Wreathed & Great Hornbills
---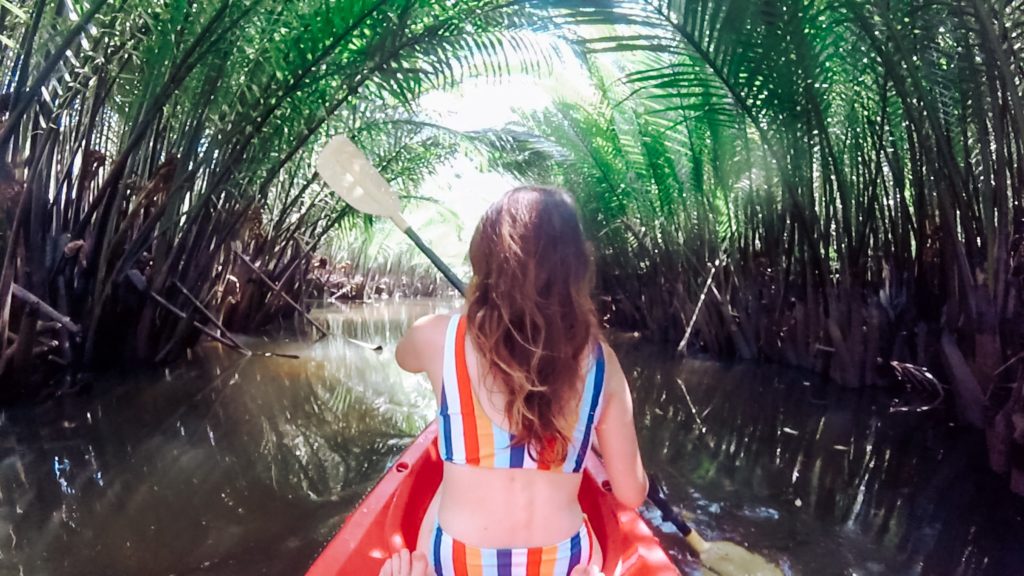 Green Cathedral Kayaking
This was probably one of my favourite things to do in Kampot. You can rent a kayak or paddle board, (or bring your own) to enjoy the Green Cathedral river loop. It is named because of the way the jungle greenery grew upwards to create a natural arch-like tunnel above the narrow waterway.
You can enjoy the area for an hour, half day or full day depending on where you rent the kayaks from. It's a beautiful and unique experience of a popular activity.
I was lucky enough to enjoy the Green Cathedral for my birthday! You can check out my experience here. You can either enjoy this trip on your own as I did, or you can take a designated tour of the riverway.
Check out this group tour of the Green Cathedral here.
---
Enjoy river cruises
Not only can you travel down the river on a cruise to chase fireflies, but you can actually embark on a number of different style river cruises day and night. Many of them will offer drinks, food and allow you to watch the sunset.
River cruises are one of the many great things to do in Kampot because the river travels through the entire length of the city. There are plenty of options to choose from along the banks so you'll be spoilt for choice.
---
Visit the Kampot Salt fields
Next are the well-known salt fields that cover much of Kampot. Another one of the top products to be produced in the city you can easily spot the salt fields when travelling at the edge of the city.
The fields are close to the ocean and have narrow waterways that allow the seawater to fill the fields. Once the fields have been filled, the waterways are shut off so no water can escape back to the ocean and the water gradually evaporates leaving just the remaining sea salt.
The best time to see the salt fields filled with seawater is during the dry season roughly December to April.
---
Hit one of the beaches
When you're in a tropical climate, hitting the beach always crosses peoples' minds. As Kampot is a coastal city, there are a few different beaches to choose from. What's great is that because this town is not a hot-spot tourist destination, it's really easy to enjoy a beach day without feeling like you're at the busy Bondi beach.
Some beaches you can check out are:
Secret beach
Lomhae Kampot Dong Prek
Nataya Beach
Sun tip: It is hot year-round in Cambodia, so it is highly advised to use some kind of sun protection.
---
Watch the sunset over the river
This is a great activity that you can technically do anywhere in the world, but it was probably one of the nicest sunset landscapes we saw all trip. You'll see the sun set behind the magnificent Bokor mountain to the west of the town. There is just something about the view of the Praek Tuek Chhu River, town and surrounding jungle that ticks all of the boxes.
To see the sunset at its best, grab a drink, and get comfortable on a bench along the riverfront. This is an easy activity that everyone can enjoy and best of all, it's free!
---
Bokor National Park
Who doesn't love a National Park!? No matter where you are in the world, they're always a fun way to get back to nature. Bokor National Park has a mountain and a wide range of bird and wildlife species. Not only can you see wildlife in the park but you could also take a day trip to the Bokor hill station which was a holiday village built on the hilltop.
The plan from the investment group who now own the land is to grow the village into a leisure resort for tourists to enjoy. At the moment it is still small but it will be much larger and much busier in the coming years.
Want to visit Bokor National Park on a private group tour? You've got a few options:
Option #1 – a private visit to the hill station, waterfall and a stop off for lunch.
Option #2 – private tour to see all that the park has to offer including the church, views and a waterfall.
---
Look for the sculptures in Kep
Kep is technically outside of Kampot but it's a common stop for visitors to the town. Just a 30-minute drive from Kampot's downtown core, you can easily visit in one day. Kep is a small fishing, coastal town with a popular local market and a long sandy beach.
What's great about the beach here, is the multiple unique sculptures scattered along the seafront. It makes a fun trail trying to find them all. It's a great way to kill an hour or two.
---
When is the best time to visit?
This question partially depends on what you are looking for on a trip. The average temperature is between 20c – 30c for most of the year but the level of humidity can rise to over 80% during the wet season.
Cambodia generally has 2 seasons, the dry season and the wet season.
The dry season takes place between November and April each year and has minimal rainfall which makes this the most popular time to travel.
The wet season is From May to October each year and the country has roughly 140cm of rainfall during this season. If you don't mind mosquitoes or a lot of rain then you can travel during the rainy season with no issues.
Spending some time in Cambodia? Check out these posts:
---
Need somewhere to stay in Kampot?
Kampot River Bungalow – Located in the city centre on the banks of the river. This is a small property with unique rooms. You can stay in a river hut or small tree-house rooms. With dense greenery that fills the walkways of the property, this is a quiet, budget accommodation that lets you stay close to nature.
Monkey Republic – A lively and popular backpacker hostel, Monkey Republic has a large common area for guests to socialise in. With a bar and pool table, you might not want to leave this place during your Kampot visit. A soft-party hostel is a fun place to stay.
Onederz Kampot – Socialisation, a swimming pool and a quiet place to stay. This is a hostel that allows you to soak up the sun without travelling very far. This is close to most things you may need during your stay in the town and is gentle on your wallet.