Hostels vs hotels: Which is right for you?
Some links in this post are affiliate links. This means if you purchase something through my links I may make a small commission at no extra charge to you. See my disclaimer.
When booking a hostel or hotel you need to know what's most suitable for you. You're heading off to a far-flung land for a long time and are not sure what type of accommodation you should book.
Maybe this is your first trip away from home and you don't have much experience with any hotels or hostels.
Maybe you travel a lot but have never been the one to book a place and now it's your turn to choose where you all stay.
Perhaps you are just looking for some alternatives due to travelling in a completely different way.
Because we are focusing on long-term trips, we won't be discussing resorts or 5* luxury hotels today. Travelling for a year usually means you can't budget for that kind of lifestyle (unless you're crazy rich – which I am not). One can only dream!
Whatever the reason is that you're here, you are looking for the difference between hostels and hotels so that's what I'm going to break down for you.
There are SO many misconceptions about hostels. The number of people I meet who have never stayed in one, and who turn their noses up because I have stayed in hundreds.
I honestly believe people wouldn't be as concerned by hostels had the hostel movie franchise not been so graphic (they were terrifying!). People just take the movies way too seriously.
---
Step 1 of Hostels vs Hotels:
Why are you travelling?
First things first, you need to look at your plans for your trip. That is the first step in trying to decide which style of accommodation is your best fit.
What type of trip are you going on?
If you are looking to drink heavily, party and be sociable for 60% or more of your trip, you're probably looking for a sociable option. If you plan to sleep early and want somewhere quiet to reflect without loud noises, you'll want a quieter option.
My general rule of thumb is sociable = hostel and hotel = more private.
Are you likely to need a quiet working space and a desk throughout the trip? Hotel with a private room
Are you travelling solo and looking for people to travel with? Sociable hostel & perhaps a dorm room
Does your group want the opportunity to meet other people? Sociable hostel and private room
Do you prefer your own company and being alone? Hotel with a quiet private room
These are just some examples of the questions you should ask yourselves before booking a hostel or hotel. You need to decide on your accommodation type. Of course, there are plenty of other factors to consider such as location.
Many hostels are in tourist hotspots, whereas a hotel may have an easier route from an airport. These can vary depending on the place and size of the town or city you are visiting too.
---
Where to book your hostel or hotel?
There are countless comparison sites where you can book either accommodation type. Many sites compare the two to each other as well.
Hostels:
Hostelworld. My go-to site for hostel searches is right here! They have an easy-to-use website that lets you check off the amenities and features that matter the most to you.
Hostels focus on a market for budget travellers and a sociable aspect – even the more quiet, non-party hostels aim for the same market.
Hotels:
Booking.com. This is my favourite site for selecting hotels and you can do so yourself here. I like the site due to the easy-to-use layout and having one of the largest property selections. They do have hostels available too, but you can opt out of searching for those if you only want actual hotels as an option.
Hotels are typically thought of as more expensive accommodations and the usual 1st thing people might think of as it's the 'traditional' form of accommodation.
Region dependent bookings
Depending on the region you are travelling to, can also determine which sites I would recommend using to book. If travelling to South East Asia for example. I would probably use Agoda. Their prices came up cheaper for 'more expensive' rooms. Plus they have an Agoda Cash system which allows us to get a few stays for free after spending so much!
---
Age restrictions
Hostels:
Ok so if you're going on a long-term trip and moving to a new place all the time I would assume you're not travelling with children or dependents. The reason I bring this up, is the vast majority of hostels ban any guests under the age of 18 from staying – even if they're travelling with a parent or guardian. This is not the case for all hostels so it's always worth checking the terms.
Hotels:
Hotels, on the other hand, are usually happy to offer family facilities and very rarely have an age restriction on guests. The only time they might have an age limit is if an underage guest tries to rent a room alone without an adult on the booking. All rooms need to be purchased by an adult.
---
Hostels vs Hotels on Budget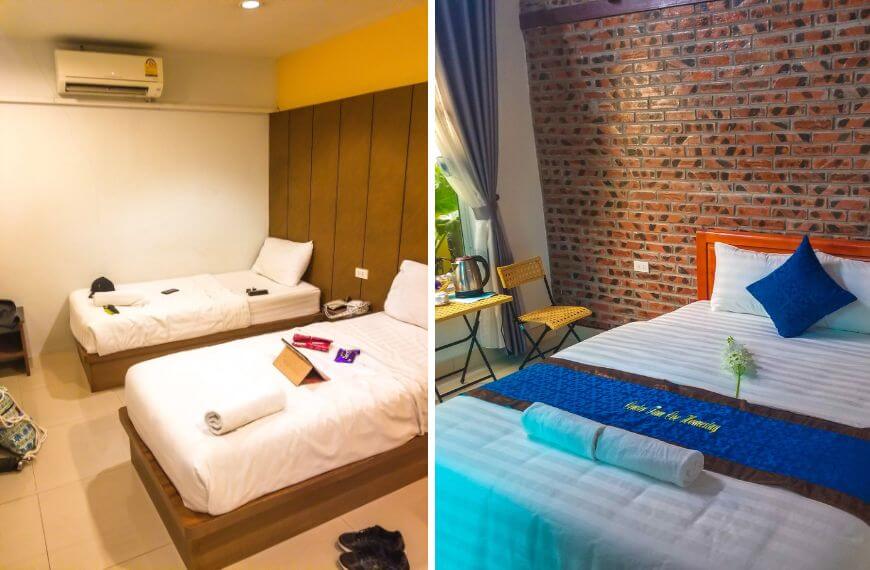 Hostels:
Hostels are known for being budget travellers' go-to due to their low prices and basic necessities. A Hostel would focus less on star ratings, unlike a hotel which can really vary depending on the rating they have.
Hotels:
Make no mistake, hotels can sometimes be similar prices to hostels, but I typically find that they're more expensive overall. A hotel star rating is a clear indication of their price. The lower the star, the cheaper the accommodation price.
As you can see above, the commonly agreed 'nicer' room on the right most people would assume is the hotel. This is such a misconception that people have in the battle of Hostels vs Hotels. They can both be equally as nice!
---
Cooking facilities
Hostels:
Depending on where you are in the world, hostels often have a communal kitchen that guests can use on a self-catering basis. In South-East Asia, the opposite is true. For example, pretty much every hostel I visited in south-east Asia did not have a kitchen to use.
This is generally because it is so cheap and affordable to eat at restaurants or street vendors here that you won't save any money by cooking yourself. In more expensive countries you will almost always find a kitchen for guest use.
This means you can buy groceries and cook for yourself which is significantly cheaper than ordering a takeaway – every day.
Hotels:
This is another amenity that is very different between the two accommodation types. Hotels usually have no kitchen for guest use.
Sometimes they will have an onsite restaurant for guests to order from which can add up if you're on a budget, although not having to cook for yourself is much more convenient. I find hotels are fairly consistent on this front regardless of what country or region you're staying in, although the lower star-rated hotels are sometimes a room and nothing else.
This is also true for the occasional kitchenette that is sometimes found in a hotel but would never be found in a hostel private room.
---
Hostels vs Hotels on Room Types
Hostels:
Many hostels have a few different room types. Dorms are the most common which can have anything from 4 to 8 beds in. Quite often these are bunk beds, but not every time.
There is often the choice for a private room at a higher cost for those visitors who are completely not ok with sharing a dorm with strangers. And for people who don't mind a dorm-style room, but only want to share with the same sex as them, there's usually an option for this too!
Hotels:
Hotels have many different room types but I have never seen a hotel offer a dorm. Usually, the various room types are about the size or layout of the room such as family, twin or adjoining rooms. Practically every hotel room will be a private one, you just may have the option to have joined rooms if you're travelling in a large group and you need to be split across two rooms.
---
Laundry
Hostels:
Most times I have stayed in hostels, there has been a laundry room in which guests can take some money in coins and do laundry themselves using the facilities provided. Only occasionally have I found a hostel that offers a laundry service that the staff will do for you.
This could be region dependent as many times in Asia we stayed at places that offered laundry for guests and you just needed to collect your clothes within 48 hours.
Hotels:
I find hotels rarely have a laundry room for guests to use themselves. If you must have laundry cleaned during your stay, you're much more likely to find a laundry service where you give the staff your clothing and they return it to you within 48 hours.
In higher budget hotels this is an inclusive service, but for the lower priced accommodations you will usually need to pay for it separately.
---
Amenities
Other added amenities are almost impossible to compare. The comparisons between Hostels vs hotels can be completely on-par with added extras, just as much as they can be completely opposite. It can be hit and miss if places have things like parking, a bar on site, or a pool.
Many amenities are down to preference and with such a straightforward way to narrow down your search, it's so easy to find the exact properties to suit your needs.
If you are on a road trip or have a rental car during your trip, I would always suggest either checking the accommodation website or calling ahead to see if they have parking available – and whether or not it is free.
If you are travelling long-term and need to wash your clothes, it's worthwhile to narrow down your search to places that have laundry facilities.
---
Hostels vs Hotels on Security
I don't find security features too different in a hostel or hotel if both are within a similar price bracket.
Hostels:
Often have a locker to store your valuables. You may need to bring or purchase a lock to close the lockers, but those are very easy to get. In dorm rooms, I find it common to have lockers large enough for a travelling backpack rather than just a tiny safe for a few small items.
With regards to the safety of hostels overall, it is not uncommon to have a door code for guests to let themselves in without the concern of non-guests getting in through just an unlocked door.
Hotels:
Are more likely to have a security guard on duty to keep watch, although normally only on higher-rated properties. You will always have a key card or room key for your private room as well as a small safe inside the room itself.
The safes normally only fit small items, phones, papers, passports etc so your main luggage will just need to be left in your room. Depending on the star rating also determines if you have a 24-hour reception/ check-in desk or whether you only have the desk manned for a few hours.
---
Swimming pools
Things like swimming pools, or gyms. No blanket term says one definitely will or definitely won't have these things. It depends on the property size, location (is the property just the 3rd and 4th floor of a tower block or an entire 4-storey building) as well as place in the world.
I have stayed in many hostels that have a pool, and many higher-rated hotels with a pool and spa. In a hotter climate, you'd be more likely to have a pool outside in a hostel, compared with a hotel that would probably have a pool inside – if they have one at all.
---
Hostels vs Hotels: The differences
One main feature of a hostel is that many people who use them are solo travellers or groups of people who would like to meet other travellers.
Whether this is because they would like to find people to travel onward with, or whether they'd like to take advantage of the social aspect most hostels offer. If you compare it to a hotel, you normally have a lobby where you can check in, but it isn't very sociable. So you have your hotel room and that's it. Unlike a hostel that might have a tv room, a beer garden, or a sociable common room.
If you are the type of person who would like to stay somewhere sociable then my #1 choice is always a hostel – whether travelling alone or with someone else.
If you are looking to stay somewhere with no distractions and like to be left to your own devices then sure a hotel is probably the correct choice for you.
There really is no right or wrong answer, it is all down to preference!
What's great is these days, both accommodation types are listed next to each other on the comparison sites.
---
And there you have it. Once you have decided on your type of trip, and the things that are important to you, you can start comparing the accommodation options. There are countless websites for accommodation selection so you should have no problem finding the perfect place for your trip!