Why you should visit Shamarra Alpaca farm in Akaroa!
Some links in this post are affiliate links. This means if you purchase something through my links I may make a small commission at no extra charge to you. See my disclaimer.
The Shamarra alpaca farm in Akaroa could quite possibly be one of my all-time favourite destinations in New Zealand. A complete highlight of our trip to the South Island!
A farm where you can tell the staff really love their animals.
I visited here during New Zealand winter on my working holiday visa. If you've never been to the islands, New Zealand is stunning. Even in the winter, it's much nicer than a British one!
As someone who prefers spending time with animals over humans, I jump at the chance to visit locations where I can see animals (even if that means from a distance).
But don't worry, I take ethical animal tourism very seriously.
| | |
| --- | --- |
| Country: | New Zealand |
| Currency: | New Zealand Dollar / NZD |
| Do you need a visa to visit as a tourist? | Check here |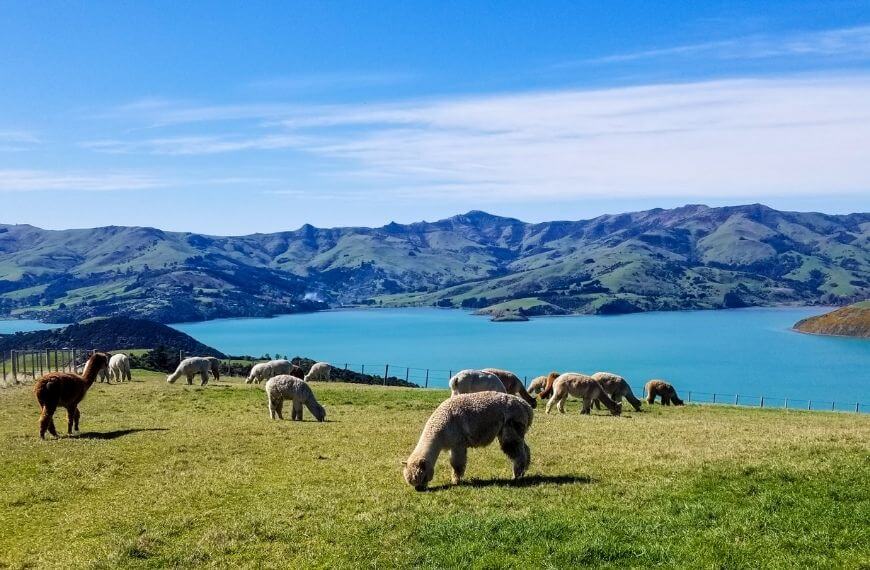 I cannot recommend visiting Shamarra alpaca's enough. Their staff are very knowledgeable about the many alpacas they care for but also about the surrounding area they have chosen to build their farm.
One of the most beautiful locations in all of New Zealand and I'm sure when you visit you'll agree! Because we both know you're going to visit eventually.
So let's jump to it, and let me try and show you why you too should visit this adorable alpaca farm in Akaroa.
---
Alpacas are cute
Maybe I'm biased because I find all animals cute. But they really are renowned for being friendly and lovable. They have a calm temperament which makes them easy to keep as pets (some people have them at home!) as well as on a farm.
That's not to say they don't have different personalities. When you visit you will meet some that are sassy, and some who like to steal the limelight. No two alpacas will act the same.
---
On the slopes of an extinct volcano
Being British, I am fascinated by volcanoes. We don't have anything like them back in the UK. The closest ones to home are Vesuvius in Italy and Öræfajökull in Iceland. Neither of them is exactly close by!
So, another reason you should visit Shamarra Alpaca's farm is that it's located on the slopes of an extinct volcano. Not everyone can say they've cuddled alpacas on a volcanic cone, can they?!
If you like volcanoes you should hike up Mt Eden in Auckland!
---
Private farm – not open to the general public
What's so nice about Shamarra farm not being open to the general public and instead holding private tours, is they're able to limit the number of people visiting at any one time.
This means they can make sure their Alpacas are not in distress and can supervise the entire time visitors are present. This makes for happier guests who can really learn about the animals and the farm, happier staff, and most of all safer Alpaca's!
Spending a lot of time in New Zealand? Check out these:
---
Totally affordable
I've been to many alpaca farms and they all seem to have a fairly similar price for their entry tickets. What I loved about Shamarra Alpacas, is you're not just enjoying the alpacas but the view too. To me, this is a two-in-one ticket price and I'm totally ok with that.
---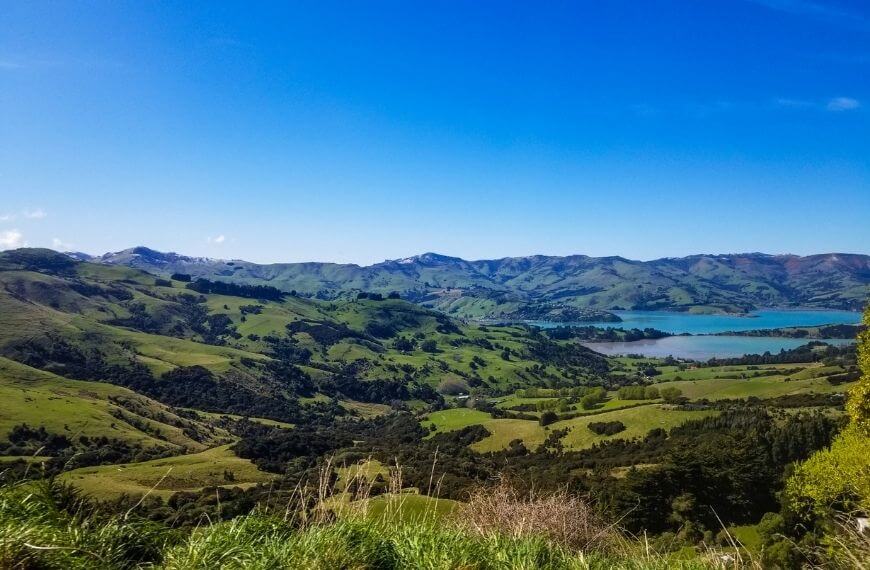 You'll see incredible Views
The farm is located on a high elevation. Because of the elevation, you are surrounded by panoramic views of the harbour and the valley below you. From here you can see the few small seaside villages and the bright blue water that has filled each of the bays.
Not only does this give you a beautiful location to enjoy the scenery, but it really adds to the atmosphere along with the alpaca's company.
---
Four tour times for flexible schedules
10 am, 12 pm, 2 pm, 4 pm. Each tour lasts for 1 hour. During this time you get to learn about the farm, and the types of wool the alpacas produce, take photos, enjoy the panoramic views and of course, have a meet & greet with the fluffy residents as well!
You can purchase your tickets directly from the farm's official Shamarra Alpaca website.
---
You can buy alpaca fleece
Ok, so some people don't agree with using or purchasing animal products and that is completely ok. However, the difference between alpaca and sheep's wool, in comparison to other products made from animals, is that these animals need to be sheared. They do not shed their winter coats like dogs, so they must be sheared annually to prevent overheating in the summer.
So with that being said, if they're producing the wool anyway, and the sales go back into the care for the alpacas, you may as well get a new scarf out of it. It's a win-win!
There is a small store they have on the farm in which they sell many alpaca wool products from scarves, blankets, hats and wraps.
---
They have over 160 Alpacas
So you'll be spoilt for choice with which ones you take a picture with or get to pet. Some of them love attention and will come to you.
Others will watch you from a distance if they don't want to play. But even just watching these adorable farm animals from a distance is enjoyable. Seeing how they interact and learning from the staff their names and personality traits is fun in itself.
---
Did I mention Alpacas are cute?!
It just has to be said again. But the owners know how cute their fluffy friends are so they have given an option for people to purchase an 'addicts pass'. This allows a visitor to visit three times in one year. I know if I were still living locally, I'd definitely get one!
---
How to get to the Alpaca farm in Akaroa
If you are arriving from Christchurch (the closest large city to the farm) it will take 1 hour and 15 minutes by car.
If you're already in the historic seaside village of Akaroa, it is a 20-minute drive.
What's great about this location is they also have dedicated onsite parking (including space for campervans) if you're one of the many van-lifers wanting to visit!
If you are already in the Akaroa region and do not have a vehicle, the farm offers a tour that includes pickup and drop-off from the Barry Bay Cheese Factory. You can book this at the same time you order your ticket online.