A trip to Virgin Falls near Tofino on Vancouver Island, BC
Some links in this post are affiliate links. This means if you purchase something through my links I may make a small commission at no extra charge to you. See my disclaimer.
Virgin Falls is one of the best-kept secrets of Vancouver Island in Canada's BC province and is easily reached from 3 small towns in the area Tofino, Ucluelet and Port Alberni.
A towering waterfall hides in the thick forest that covers practically all of the island. It really shouldn't be missed when visiting the region. In fact, I visited the region JUST for the waterfall and planned the rest of the trip around it.
Vancouver Island is such a beautiful destination for outdoor enthusiasts. Perfect for those who want to be one with the natural world. With just a few towns on the island and plenty of untouched lands, this is just the tip of the iceberg of Canada's west coast.
| | |
| --- | --- |
| Country: | Canada |
| Currency: | Canadian Dollar / CAD |
| Do you need a visa to visit as a tourist? | Check here |
---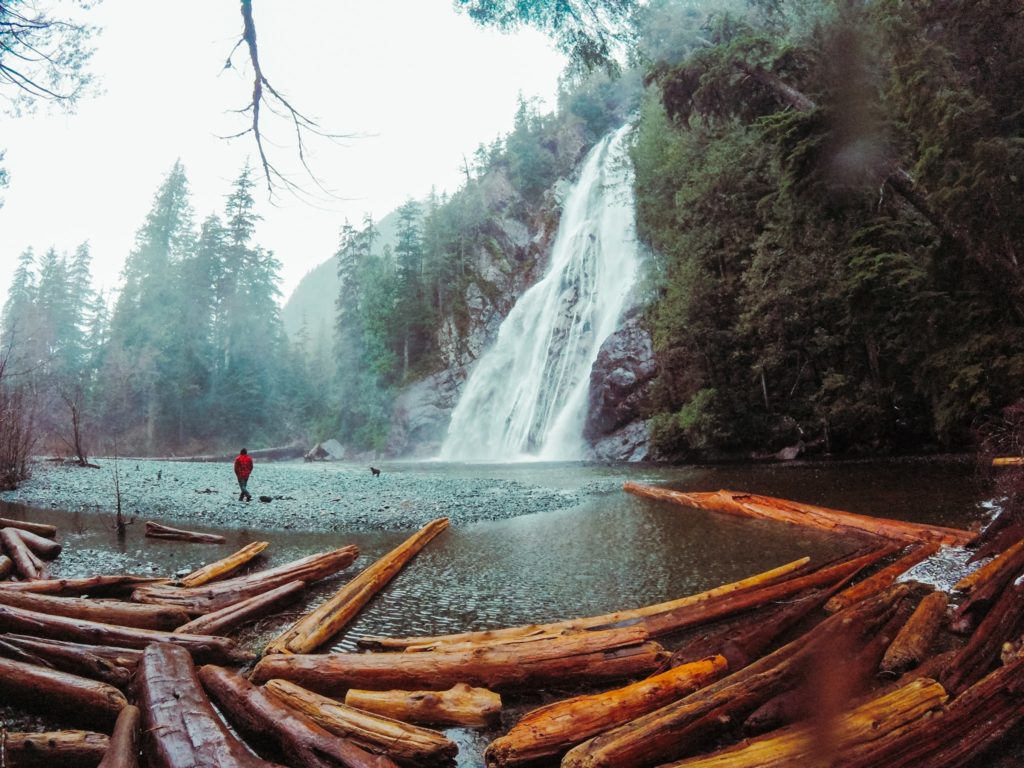 Pacific Rim National Park
Located in Pacific Rim National Park, you are spoiled for choice by the natural landscape all around you. Dense rainforests, long beaches, and wilderness trails cover this park and are just waiting for people to explore.
Throughout the entire park, you'll find water cascading down from the hills and small mountains that are scattered throughout the area. You'll notice more mini waterfalls in the spring here when much of the winter ice has started to thaw out.
Previously there was a walking trail but in recent months there seems to have been a rockslide so much of the trail is blocked for walking access. That's not to say you can't still visit, however. You will just have to drive in!
If you want the reward of seeing Virgin Falls without much physical effort, then the easiest way is to drive in through the BC landscape and you can do this from Tofino or Ucluelet.
You'll only be able to access this park by car as there are no public transport options out here. Get a rental car below and remember that in Canada, they drive on the opposite side to the UK!
---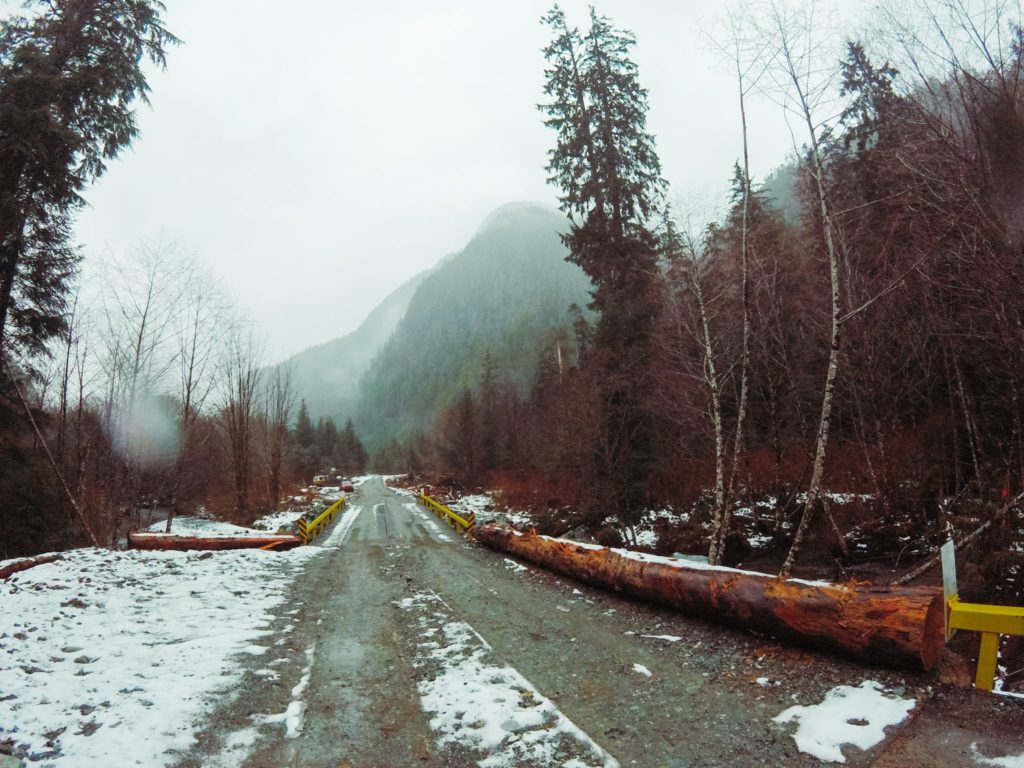 Driving to Virgin Falls on Vancouver Island
Tip: Be prepared that it could take MUCH longer than written below. Flooding, rough terrain and bad weather can all drastically impact the length of time to reach this little-known waterfall.
From Tofino
If driving from Tofino, BC, the drive takes a little over an hour to reach Virgin Falls. Head southeast out of the town along Pacific Rim Highway. Chesterman Beach and Long Beach will be on your right-hand side. Turn left onto Alaska Pine Road.
From Ucluelet
When travelling from Ucluelet the journey is slightly shorter at just under one hour. Head northwest out of the town so that Florencia Bay and Wickaninnish Beach are both on your left-hand side. Drive along Pacific Rim highway until you reach Alaska Pine Road and turn right.
The rest of the journey is the exact same regardless of which town you started from. You continue down the Alaska Pine highway towards Port Alberni for just over 10km. Eventually, you will find West Main Logging Road which is not well marked, but you can't miss it. You will stay on this road until you cross the metal bridge over Kennedy River.
After the bridge make sure to stay to the left of the junction and then it's just over 30km to reach the falls from here!
The falls are so large they can't be missed and you'll definitely hear them long before you see them!
---
Arriving at the Vancouver Island Virgin Falls
You can park along the side of the road across from the treeline that separates you from the falls. The road is surprisingly wide enough for you to park here without being in the way of logging trucks.
Virgin Falls, stands at 53 metres (or 173 ft)
It's a jaw-dropping waterfall that just has to be seen.
The base of the falls has created a small pool of icy cold water that leads out of the forest clearing into a small flowing creek. Brave locals who are climatised will take a dip in the summer and think nothing of it.
But don't be fooled, even in the summer months when the province is at its hottest, this water will still send a chill through your entire body. Only take a dip if you're prepared for the cold!
The water was only around knee deep (probably slightly less in summer when it had time to evaporate) so it's hard enough to actually swim in.
Tip: Not only should you bring a towel and spare clothes if you plan on getting in the water, but you should consider bringing one regardless since it rains almost all year here. It is a rainforest after all.
The falls stand in the centre of a forest clearing surrounded by thick trees. This clearing is easily wide enough for 2 to 3 average-sized tents to pitch up without being too cramped. There isn't an official campsite to check into here, but freedom camping is legal and allowed – as long as you leave no trace!
---
Be prepared for back-country driving
You should bear in mind that the roads to reach Virgin Falls are not the best maintained (something you can expect to find with most logging roads in BC).
They are narrow logging routes with large portions of the road with uneven gravel. It is highly advised to travel through this area with a 4×4 as would be much easier to navigate through the rough terrain.
Things to bring to be prepared for the drive:
Paper map – Yes they're old fashioned, but many GPS and SatNav's lost signal in this area so it's safer to have a backup to find your way there and back.
Satellite phone – There are many parts of the national park that have little to no mobile phone service. If you happen to break down or get into trouble, you'd be much better off using a satellite phone to call for help than your regular phone.
Blankets – If you get stranded, you may as well be comfortable while you wait for help. Plus it's Canada, so it can get cold!
Spare tyre – Due to all of the rugged terrain it's very easy to get a puncture. Better take one with you so you can replace it if need be.
General car toolkit – Tyre jacks, jumper cables, coolant and antifreeze. Anything that could get you out of a tight spot if something happens to your vehicle on these awful roads.
Many of the roads are still used as active logging routes, so listen out and keep your distance from those large vehicles. Some sections of the road are only just about wide enough for one vehicle at a time so try and keep an eye out for places you can pull in if you happen to come face to face with logging trucks.
---
Don't end up like us – Breaking down in the backcountry
When I visited Pacific Rim National Park and Virgin Falls from Tofino, I was travelling with my friend who was born and raised on Vancouver Island. As a true local, he knows these roads and the hidden gems like the back of his hand!
So even though my friend and I have individually been on countless road trips, luck was not on our side when we navigated to the falls and we broke down. Twice.
This happened to us in March so you can imagine our frustration considering how cold it was. When the first tyre burst, it was actually on our way back out of the park after spending some time at the falls. Unfortunately, it was in the middle of a huge rainstorm.
After changing the first burst tyre and getting the spare on in the rain, we thought it would be smooth sailing. But no, the second tyre also burst on the rocky terrain only a few km up the road. It didn't even matter that we were driving very slowly.
To make matters worse, when we found an area with service to call for a tow truck, it was a very long wait for one. You see, both Tofino and Ucluelet have such small populations that there is generally just one car breakdown recovery person – per town.
So that's two to cover the whole area. On this day though, one of the men was on holiday so just one man was servicing both towns and the region. We had a 4-hour wait in the early spring rain before we would be rescued.
Places to stay nearby
Due to its remote location, it is practically untouched by people. You can pretty much guarantee to have no crowds and would be lucky to see anyone at all during your visit to the trail and Virgin Falls – something quite rare at such beautiful sites in BC.
Camping by the falls
As mentioned above, you can easily camp right by the falls without breaking any rules. It's technically free camping since it isn't an official campsite but there are still rules to respect within the national park including not littering, leaving the place how you found it and not feeding the animals.
Tip: There are wild bears, cougars and wolves that live in this national park and can be extremely dangerous. If you choose to camp here, make sure to always follow animal and bear safety in this area.
Tofino
Tofino Paddlers Inn – a small property on the water in the centre of the town. A cosy place that is just a 15-minute walk to the closest beach if you don't want to kayak behind the Inn. Each of the rooms has a homely feel and it's perfectly affordable for those travellers on a budget. Tofino is where we began our journey to Virgin Falls!
Ucluelet
Reef Point Cottages – This property is right by the water and only 200m from the beach! They are situated so that each cottage has a natural forest view. The town centre is only 1km away so you're only a short walk from all the restaurants, cafes and tourist sites of the town!
---
Want to head to Canada on a working holiday visa? Check out these posts to help get prepared!
Have you been to Virgin Falls?