EEOR Hike in Alberta – The East End of Rundle
Some links in this post are affiliate links. This means if you purchase something through my links I may make a small commission at no extra charge to you. See my disclaimer.
The EEOR hike in Alberta, (The East End of Rundle trail) is a popular out-and-back hike up Rundle Mountain. This hike has it all, views of the bright blue lakes that scatter the region, a summit overlooking the town below and countless mountains in the distance.
Ok, so maybe I have listed the 3 features most Rocky Mountain hikes have. But isn't that what we love about them?
I don't know about you, but the ONLY reason I hike is to be rewarded with a great view. I hate being physical (I'm a couch potato) and am not fond of strenuous hikes if there is no 'visual reward' at the end.
Plus, hikes are basically free! Depending on whether you need specific safety equipment or not, you can hike at a very, very low cost!
| | |
| --- | --- |
| Country: | Canada |
| Currency: | Canadian Dollar / CAD |
| Do you need a visa to visit as a tourist? | Check here |
Quick EEOR Trail Stats
2,590m
elevation at summit
6-7 hours
to complete hike
This is a heavily trafficked hiking trail, popular with both locals and visitors to Banff and Canmore. During the summer you will almost always guarantee to see other hikers enjoying the route with you. I went solo during October and met maybe 25 other people during the day.
Want some more hiking inspiration?
How to get to the East End of Rundle hike in Alberta
From Canmore, it is either a 15-minute drive or a 2-hour walk if you're brave enough. (For context, I stayed at the Canmore Downtown hostel in downtown Canmore)
From Banff it will take you 30 minutes to drive or .. well that's it. You wouldn't walk to the trailhead from Banff as it would take you over 5 hours.
The majority of the trail is located inside Banff national park. Regardless of which direction you are travelling from, it is a hike everyone should try at least once.
The road to the EEOR trail also passes the very popular Grassi Lakes which I highly recommend you check out if you're in the area!
If you are arriving by car to the East End of Rundle trail, you can drive straight to the Goat Creek parking lot a little past Whiteman's pond. This is easy to navigate via google maps. During the summer, this can fill up quickly so if you are hoping to hike in the busy season, it's always better to get there early.
---
Please note: Since 2021, it is now mandatory for all cars that travel through the Bow Valley Region or Kananaskis County to have a conservation pass. Make sure to book yours in advance before your journey so you don't miss out. Get your pass here. You do not need a pass if arriving any other way than by vehicle.
---
Where to find the trailhead
If like me, you are arriving on foot, you don't need to walk quite as far as the car park. The trailhead is actually next to the Whitemans pond I mentioned above. It is not signposted at all so if you arrive before sunrise, it might be a little harder to find in the dark.
A few locals told me that the entrance to the trail sometimes has rocks spelt out on the floor in the shape of EEOR since there are no signs, but unfortunately this was not the case when I visited.
This could be worth keeping an eye out for if you can't see the trailhead.
You start the walk by having your back to the pond looking at Rundle Mountain and you will simply see a well-walked route going up the side of the mountain.
There is a lamp-post with a sign a few minutes into the trail but it does not have the trail name on it. Rest assured – if you are now travelling upwards, you are going the right way!
---
Finding Your Way
There are two ways to follow this trail:
Following the orange ribbons on the trees that show the direction of travel (pictured above)
Downloading the AllTrails app
If you are experiencing this hike for the first time, I'd advise downloading the AllTrails app before you go. You can download the app below:
What I love about the app is, because so many users can actually route the way they take, it helps to keep the trails as updated and accurate as possible. This is great for when the landscape starts looking the same and you can't determine the right way to go.
This is also useful when it looks like you have multiple routes to take. In the instance that one route has been blocked or needs to be maintained for safety, it's always best to refer back to the app to see if the second route you are seeing is actually a route.
---
First the EEOR forest
Once you have walked uphill for about 5 minutes you will start to turn back on yourself heading into the tree line.
Be careful travelling here if trying to climb before sunrise as bears have been known to hang around in the area. Bears typically come out at dusk and dawn but can occasionally be seen in daylight.
When exploring the East End of Rundle trail in Alberta (or any backcountry hike in Canada) you should always practice bear safety.
Travelling through the forest is all uphill, but it's fairly gradual. This is definitely the easiest part of the entire trail. It probably takes no more than 15 minutes to reach the first clearing. After zig-zagging a few times into the trees and back out to different clearings, the trails start to level out.
Want to visit Canada for longer than a few weeks? UK citizens on a working holiday visa can visit Canada for up to two years!
What is a working holiday? Read this for all you'll need to know about WHVs.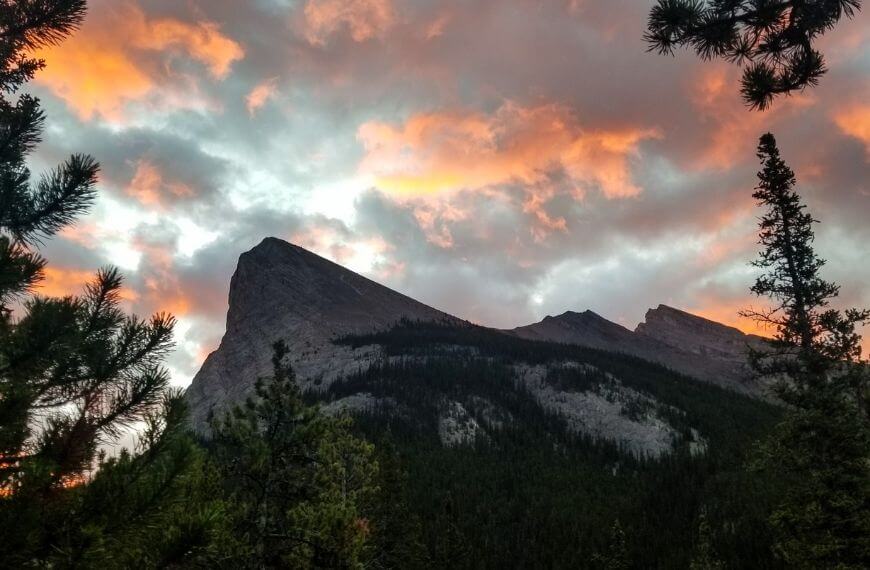 The landscape of the trail changes a few times throughout the trek. When you reach the clearing you will have the treeline to your right with the summit of Ha Ling peak poking out over the top.
To your left, you'll see panoramic views of the surrounding mountains to your left. If like me you take a lot of breaks during a hike, this is a good spot for a quick stop and water break before the terrain becomes more difficult.
As you get past this clearing you will find parts of the trail that require you to climb over rocks.
---
Scramble
A little further up the EEOR mountain it starts to get steeper and becomes more of a scramble.
If you don't know what a scramble is, it's walking up steep terrain while also using your hands to support yourself.
It's a natural progression for mountaineers who start as simple hikers and gradually increase the difficulty of their hikes. It is more technical than hiking, but not as complicated as rock climbing.
Take precaution. This part of the trail can be dangerous if you're not careful.
One thing that makes this hike difficult is the loose rocks on the steep terrain. Even on a dry, clear day, this trail can be slippery. It is very easy to lose your footing on this route when the rocks become unsteady which is why it's so important to wear appropriate footwear.
I have hiking boots with ankle support and I definitely think I would have injured myself if I just had trainers.
These two pictures above don't look very steep but I promise you it is. It can be tricky to stay on the trail when there are no longer trees with orange ribbons to follow.
---
Viewpoints
For me, my favourite part of the East End of Rundle / EEOR trail is getting to a 'viewpoint'. Technically there is no official viewpoint, however, there are enough safe places you can stop at to get a great view of the pond/lake below.
In order to see the pond you need to be towards the right side of rundle mountain.
You don't need to stray off of the trail too much (it is also not safe to do so), just make sure to keep your eye out for clearings in which you can see the pond.
It's pretty much all uphill from the halfway mark. This is where I really noticed the thigh burn. With the trail getting harder to follow the further up the mountain you get, it's highly advisable to keep referring back to your AllTrails app. This really can help you stay on track.
---
Safety
One major downside to hikes in Alberta (compared to many other places I have hiked) is how windy it is. When I checked the forecast on the day I did the EEOR trail, everything was safe and in practically perfect condition.
About 3/4 of the way up the mountain trail, the winds picked up out of nowhere. As this was during my steep scramble to the summit of the trail it became very unsafe.
When it got so windy that I and other hikers had to shield ourselves behind large rocks, I knew it was getting dangerous. I hung around without pushing forward up the climb to see if the wind would pass. After about 20 minutes I started seeing people turning back due to the weather change.
We were SO close to the summit (about 80% of the trail) but trying to get there in strong winds just wasn't worth the risk at that stage.
One day I hope to go back and complete the trail in better conditions.
Remember: Always try to avoid the dangers attached to hiking by staying alert and aware of your environment. You can never be too safe.
Check out some other great hikes here!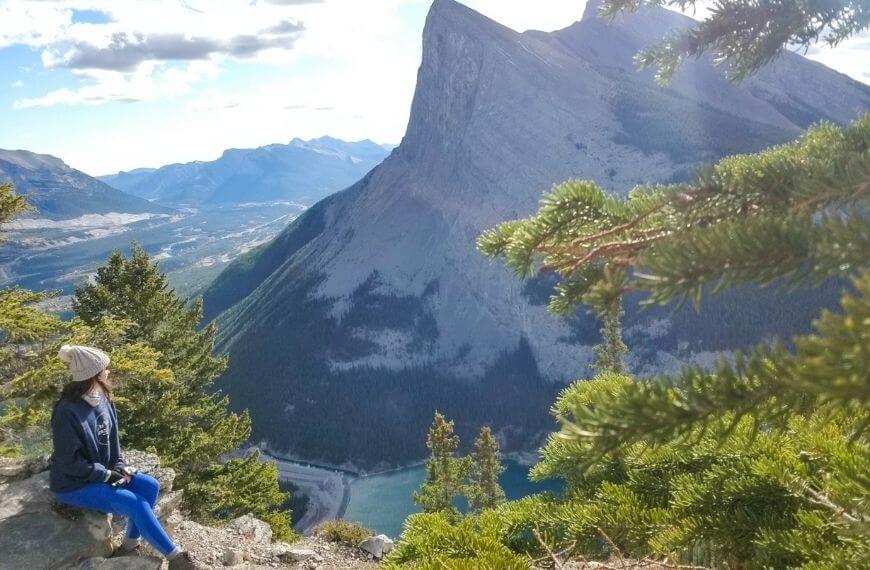 ---
Don't overdo it on the EEOR
The number one rule in hiking (or any physical activity for that matter) is never to push yourself further than is deemed safe.
The East End of Rundle hike in Alberta, along with so many other mountain trails in the province (and worldwide) have casualties and in some extreme cases, fatalities.
No hike, picture or view is worth risking your life if the conditions change or are dangerous. It is 100% ok to turn around and head back at ANY time. You don't owe anyone an explanation if you choose to keep yourself safe rather than complete a hike.
---
Things to pack for the EEOR hike
Hiking Boots – Lots of slippery and uneven terrain with loose rocks. Much safer to have proper boots.
Gloves – even in summer gloves can help protect your hands when scrambling up or down.
Hat – baseball hat for summer or winter hat for winter.
Water Bottle (I would even suggest 2 to be safe).
Waterproof/Windproof Jacket – it can be extremely windy from the halfway point & upwards.
Layers (base layer and jumper for example).
Hiking Poles – They can give you extra balance when battling steep terrain.
Satellite Phone – great for contacting help in an emergency if you have no phone service
Mobile Phone – fully charged in case of emergency.
Portable battery pack – in case your phone battery dies.
Bear Spray – can be bought or rented at local accommodations for a fee.
Tripod – It's how I was able to take photos of myself while alone!
Have you climbed Mount Rundle? What did you think?