Kayaking the world's highest tides at Hopewell Rocks, NB
Some links in this post are affiliate links. This means if you purchase something through my links I may make a small commission at no extra charge to you. See my disclaimer.
Today I want to talk all about how you can kayak on the world's highest tides at Hopewell Rocks in New Brunswick.
What many people don't know is that this small province on Canada's eastern coast is home to the world's highest tides. Tides that can reach a whopping 46 feet from ground level in as short as six hours. Mighty impressive if you ask me.
New Brunswick is never the first place people think of when discussing Canadian destinations. But it is a place well worth a visit when travelling to this beautiful country.
| | |
| --- | --- |
| Country: | Canada |
| Currency: | Canadian Dollar / CAD |
| Do you need a visa to visit as a tourist? | Check here |
Location of Hopewell Rocks
Hopewell Rocks Provincial Park is located on the southeast coast of New Brunswick in Maritime (or Atlantic) Canada.
It's a park dedicated to the stunning rock formations created by the highest tides in the world. Located in the Bay of Fundy, it's a large inlet between the south coast of New Brunswick and the north coast of Nova Scotia.
The closest town to Hopewell Rocks Provincial Park is the town of Hopewell. From the centre of town, it is just a 15-minute drive to the entrance of the park.
The park is located at 131 Discovery Rd, Hopewell Cape, NB E4H 4Z5
Planning on spending some time in the local area? Check out the Fundy Trail Parkway before your visit ends!
Parking
If you are arriving by car then you have lots of opportunities to park your vehicle. There is a large car park close to the entrance for regular visitors and vehicles. There is also a large section for tour buses and coaches a little further back from the entryway.
Parking is free for visitors.
Entry fees – general admission
You can easily purchase your park ticket at the counter on arrival
There are multiple tickets that visitors can purchase. Below are the costs of general tickets. Each ticket is available for two consecutive days. Meaning if you buy the ticket on Monday, the ticket is valid for Monday and Tuesday for no extra cost!
| Ticket Type | Cost (CAD) |
| --- | --- |
| Children under 4 | $0 |
| Children 5-18 | $8 |
| Students (19+ with student card) | $12 |
| Adults (19+) | $14 |
| Seniors (65+) | $12 |
| Families (2 parents + their children -18) | $30.43 |
Entry fees – season tickets
| Ticket Type | Cost (CAD) |
| --- | --- |
| Per person | $40 |
| Family (2 parents + their children -18) | $65 |
Walking the sea floor
Did you know: The highest tide on record here is 46ft from the ocean floor. The seasonal average is 36ft!
Before you embark on the kayak adventure here at Hopewell rocks you'll likely want to see the rocks from the seafloor at low tide.
From the southern side of the park, you can head down the metal staircase at the entrance to the first cave. From here you will see the most famous 3 rock formations that create the "Hopewell rocks".
During low tide, you can follow the beaches through caves and rock structures to see the natural landscaping these high tides have created.
As you walk along the seafloor you'll notice just how high the Atlantic ocean reaches on the rocks as there are distinct lines to show where the water reaches and stops. Every rock shape has been carved over time from the aggressive water patterns that take place here.
Pro Tip: Wear shoes that you don't mind getting dirty. The mud gets EVERYWHERE.
The mud you'll see on the ground is actually part of the local ecosystem so there are signs in place requesting that you do your best to avoid walking on it.
Although not always possible, it's always advised to walk around the mud piles instead of through them.
Although you can expect to get dirty from the mud, there are shoe-cleaning stations scattered around the park for when you are finished down by the rocks.
However, even with these stations, I'd still recommend wearing shoes that you don't mind getting dirty & maybe don't wear your brand new white ones.
Kayaking at Hopewell Rocks
Arriving at the tour
When kayaking at the Hopewell Rocks park you can only do so during high tide. The kayak office is located near the entrance of the beach, but about 15 minutes walk along the trail from the park entrance.
You can purchase your tickets for a kayak tour directly on the Baymount Adventures website. It is a privately owned company that has permission to operate within the provincial park grounds.
Your park ticket is not included in your kayak tour price. You will need to purchase each individually.
The tour consists of getting checked in, signing a safety waiver and then being assigned your equipment. All equipment is included in the tour price. This includes:
Water bag to keep your items safe and dry
A kayak "skirt" to keep you reasonably dry out on the water
Adjustable life jacket
Seat in a double kayak
Double-ended paddle
The staff of the tour will do introductions, and safety demonstrations and then show you how the equipment is used. This means if you are a total beginner with kayaking, they've got you covered!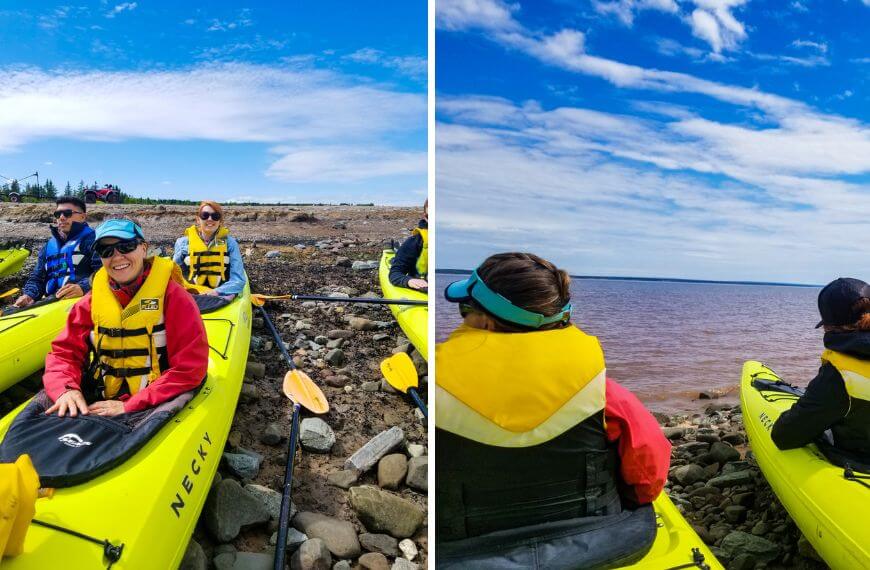 Places you'll visit while kayaking Hopewell Rocks
You'll be taking your kayak towards the famous rocks that have been shaped over time. You'll get to see the group of rocks that create "Hopewell rocks" including Diamond Rock, Castle Cove, Big Cove, Cut-off cove and the Flower Pot Rocks.
But that's not all, you'll also get to see Demoiselles Beach and North Beach during your tour!
Each of the coves has its own recognisable rock formations. Most of these structures are named after what their shape resembles. Take part in the fun and see if you can locate the following rocks:
Mother-in-law
Dinosaur Rock
ET
If you did the low tide beach walk before your Hopewell Rocks kayak tour then you should recognise all these stop-off points along the water – it's the same rocks just at a different tide time!
At the last official cove before you head towards Demoiselles Beach you'll notice a large metal staircase. This was put here in case people get stranded by the incoming tide and can't make it back to the official way off the beach.
Cut-off Cove is named so because it fills up AFTER the other coves have. This can cause people to believe that they still have plenty of time before high tide. This can be dangerous.
This is a security precaution so you can be off the ground when the towering tides come in. They can reach the shore extremely quickly and catch people off guard.
Safety tip: No matter what cove you are at, always pay attention to the incoming tide in the neighbouring coves.
When to visit Hopewell rocks
Not only will you want to plan the date you arrive but you'll also want to consider the times too.
Hopewell Rocks is a seasonal destination so you'll want to plan ahead before visiting. The park is usually closed between October and May of the following year. The park is quite dangerous during the winter seasons so it is not open to the public.
| Date Range | Open times |
| --- | --- |
| 20th May 2022 – 24th June 2022 | 9 AM – 5 PM |
| 25th June 2022 – 20th August 2022 | 8 AM – 8 PM |
| 21st August 2022 – 17th September 2022 | 8 AM – 6 PM |
| 18th September 2022 – 10th October 2022 | 9 AM – 5 PM |
The whole point of visiting this destination is to experience the provincial park during high tide and low tide. Since these tides change every day, the tides you want to see can be outside of park hours.
This is why general admission tickets allow you access for two days. So no matter what the current tide times are, you can still experience both high and low tides to truly experience what the region has to offer.
If you want to check the tide times before visiting you can use this link one of these two links: Tideschart & Tides forecast.
Where to stay near Hopewell rocks
Luckily for visitors, New Brunswick is such a small province that it is very quick and easy to get around. You can stay locally in the Hopewell Cape or you could stay in the local larger town of Moncton which is only 30 minutes away!
I normally always recommend hostels as a sociable accommodation but New Brunswick doesn't have any on Hostelworld. So for this occasion, I would recommend finding accommodation using the well-known Booking.com.
Final thoughts
Whether you decide to take to the water and kayak along Hopewell rocks or just walk along on foot, it's a destination you should definitely add to your New Brunswick bucket list.
British citizens can get a whv in Canada for up to 2 years. This is one of the easiest ways to live and work here for a prolonged length of time and explore the Hopewell Rocks and other natural landscapes in the country.
If you're not sure what a working holiday is, it is a great way to live abroad and make money at the same time!