10 Stunning hikes in Canmore you can walk to
Some links in this post are affiliate links. This means if you purchase something through my links I may make a small commission at no extra charge to you. See my disclaimer.
There are so many hikes in Canmore you can walk to. This may be my favourite destination to date. Am I allowed to be biased? I'm going to be biased. The Rocky Mountains are stunning. Change my mind!
Hiking is probably the only form of exercise I actually enjoy. During the warmer months, there is nothing I enjoy more than walking in the fresh air to see a great view (except maybe drinking margaritas of course!)
| | |
| --- | --- |
| Country: | Canada |
| Currency: | Canadian Dollar / CAD |
| Do you need a visa to visit as a tourist? | Check here |
---
Let's Walk
When travelling, the one thing I often find frustrating is being in a location where you MUST have a car to reach interesting places. In a major city like London, Paris or New York you can easily use their public transportation system. Which is never too expensive.
But not every location has that option.
When you visit the rocky mountains, there are only a few buses available to the public and even then, a lot of them don't go in the direction of good hikes on the rural roads! This means unless you can afford an expensive rental car, you really need to focus on places you can access by other means – walking.
This way, I can still do a lot of the hikes and visit landmarks I want to see, but also make it more realistic if a car rental is out of the question.
I don't know if you've noticed, but car rentals can be:
Expensive if booking at the last minute
Expensive if renting one alone
This isn't always a feasible option due to the cost of travelling on a budget.
---
AllTrails
If you are going to start hiking, your best bet is to download and use the AllTrails app. It's a great app with popular trails around the world which allows hikers to update and map their own route.
This is great for staying on track during badly signposted walks, and often they are updated when access is compromised or blocked – which could save you a wasted journey.
---
British citizens can visit Canada for 2 years. Why not get a working holiday visa?!
Planning on visiting Canmore? Check out how to stay safe in Bear country & how to avoid dangers while hiking
So, if you are unable to get a car rental and don't want to break the bank getting taxis everywhere for big bucks, then read on to see my top hikes in Canmore you can walk to – all within a reasonable amount of time from the central shops!
This was one way I saved a lot of money and stuck within my budget. Walking is good for you too!
---
Policeman creek / Spring creek boardwalk
You can find directions for this trail here
The easiest walk to get to, and one of the shortest too! This is one of the adorable short hikes right in the middle of Canmore town near the tourist shopping area – Main Street.
This trail starts next to the Springcreek boardwalk sign opposite the famous "giant head" sculpture. You take the boardwalk across a flat, wet marshland and it weaves you through some trees and tall bushes.
What's great about this hike is how picturesque it is – regardless of which direction you take it! You can see the mountain landscape from almost any direction during this short trail which gives you a great photo op when you see the contrast between the yellow plants.
Although it is in the town centre, it was never busy the 3 times I walked the route so it never feels too crowded.
Distance from downtown: 10 minutes to the trailhead
Length of trail: 4.2km which takes about 40 minutes
Elevation: 81m so not very much at all
Photography Tip: My favourite viewpoint is when you reach the 1st set of wooden railings. This is best seen when travelling from the policeman creek bridge TO the Canmore main street (rather than the other way around as described above).
Check out my post about the trail here.
---
Benchlands ridge
This trail can be reached in just 14 minutes from downtown. You need to cross the highway via an overpass, but don't worry there are appropriate pavements the entire way to keep you safe. The trail takes you uphill past some local homes and through some forests.
You will come to a few small clearings at the top of the trail which give you clear views of Canmore down below. Some of the trails were closed recently due to construction but there are many other routes that can pass by that it is easy to walk around.
Distance from downtown: 14 minutes to the trailhead
Length of trail: 4km loop
Elevation: 81m so not very much at all and you barely notice it
---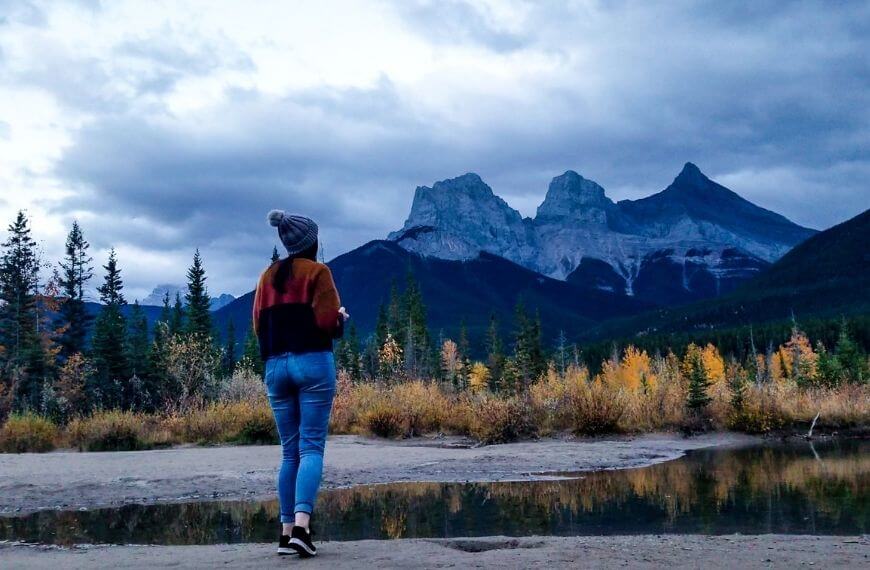 Three Sisters Viewpoint
You can find directions for the trail here
Possibly one of the shortest hikes in Canmore you can walk to and almost everyone I met in Canmore had walked this route before. From the Canmore shops, this is just a short walk to the viewpoint. You don't get a picturesque view until the last 5 minutes of the walk as the rest of it is along a main road.
You walk to the off-lead dog park, cross the road (being extremely careful as there is not a crossing here) and walk underneath the railway bridge.
Follow the grey, gravel road around the bend until you reach a small trail leading through the forest. It's an obvious trail having been walked by many people before and only takes a few minutes from this point to reach the viewpoint. You will find a small pond/lake with the Three sisters (Hope, Faith & charity) overhead.
Distance from downtown: 15 minutes to the trailhead
Length of trail: 5 minutes from the off-lead car park
Elevation: none! This trail is completely flat
Photography Tip: This is a fantastic spot to be at for sunrise or sunset. Probably my favourite spot at the end of my hikes in Canmore. On a slightly cloudy day, the sun peeks out and you'll see the mountains under a pink sky. This is also a common spot for photographers so don't be surprised if you see a few tripods taking time-lapse videos!
Check out my post on the Three Sisters' viewpoint here.
---
Bow River Loop
You can find directions for the trail here
You should start this trail at the engine bridge. Cross the bridge and follow it through the forest, past the water dam and along the river to your left. From every side, you can see the many mountain peaks surrounding the Bow river. From Mount Lady MacDonald, Grotto Mountain and Mount Rundle to name a few.
The walking trail takes you in a full loop across the bridge on Bridge road, and back to the engine bridge. All the while keeping you next to the river surrounded by the mountains.
Distance from downtown: 25-minute walk to the trailhead
Length of trail: 2.1km from start to finish which takes 30 minutes
Elevation: 54m but it is so gradual you would barely notice.
Safety tip: This route is very popular for cyclists as well so make sure you share the trail so there are no accidents.
Check out my detailed post on the bow river loop here.
---
Bow River trail to Three Sisters viewpoint
You can find directions for the trail here
Ok, so this trail starts off the same way as the Bow river loop trail above. Starting at the Engine bridge, instead of crossing to the west side of the bridge, you stay on the west side (closest to Canmore). This trail instead walks along the riverbank and winds through the trees, travelling southeast in an almost straight line to the Three Sisters' viewpoint.
This is a much longer trail and does not loop back. So once you reach the Three sisters, you would need to turn around and head back the way you came (unless you want to walk along the highway instead) which is not part of the official trail.
Distance from downtown: 25-minute walk to the trailhead
Length of trail: 6.1km from start to finish which takes 30 minutes
Elevation: 131m but very gradual so it feels flat
Safety tip: This is still a part of the bow river trail which cyclists frequent. Remember to be safe and share the trail.
---
Larch Island
You can find directions for the trail here
This is another one of the short hikes in Canmore you can walk to which takes you around what they call Larch Island. It is located in the northwest of Canmore, just on the north side of the Bow river. It is not on the AllTrails app but is a known walking route on google maps. It's a narrow path that loops back to the start of the trailhead.
The trail takes you through some tall trees surrounded by shallow swamps and marshland. This is not one of my favourite trails simply because there are a lot of restricted views of the mountains.
If you are looking for something easily accessible from the town that is easy for the whole family, then this is the perfect trail, just expect only partial views of the mountains due to the tree line.
Distance from downtown: 35-minute walk
Length of trail: 3.4km which takes roughly 40 minutes to loop back
Elevation: 6m elevation
---
Quarry Lake Loop
You can find directions to the trail here
This was one of my favourite trails. It takes a little longer to walk to the trailhead compared to some other trails but honestly, it was easily accessible so the 45 minutes did not seem too long at all.
Coming from the Canmore shops there is an incline before reaching the lake (the walk TO the lake was more of a hike than the lake loop itself). You can either cut through the residential areas which take you up 3 flights of stairs, or you can take the longer route which is just a gradual hill. Once you are at the lake itself you have fields to your left and 2 mountain ranges to your right.
If you visit during autumn the orange leaves will really pop in all of your photos! People do swim here, but it is not advised since quarries often have a huge drop and some discarded machinery beneath the surface. Take precaution.
Distance from downtown: 45 minutes walk
Length of trail: 1.1km 15 minutes loop around the lake from the car park and trailhead
Elevation: 40m
Photography tip: If you walk to the opposite end to where the trail starts you'll have the best view of the mountains and trees reflecting off of the water.
Follow my experience of the Quarry lake trail here.
---
Rundle Forebay Reservoir
You can find directions to the trail here
Not one of the official hikes in Canmore you can walk to, but I really enjoyed walking around the edge of the water here. I discovered this route accidentally while I was walking to the Grassi Lakes trailhead.
Starting at the Rundle forebay reservoir you can follow the road towards Grassi lakes and then take it around in a loop. You will keep the water on your left side the whole time. The main highlight of this "trail" on my list is the amazing view you'll get from across the water.
The body of water here is the main source of drinking water for the town of Canmore so there is a strict "leave no trace" policy here – this includes people visiting, camping or on hikes. I mean, they have this policy everywhere but they take it more seriously here. If you would like to swim in the water, it is preferred that you visit another lake that the town doesn't drink from.
Distance from downtown: 45-minute walk
Length of trail: 1 hour 7 minutes
Elevation: 55m, the south side is lower than the north side of the lake
Photography tip: After about 5 minutes of walking along the road with the water to your left, you will reach an opening in the trees. When you look across the water here, you'll see what all the fuss is about. A fantastic view of the mountain peaks across the still blue water – it looks just like a postcard.
---
Grassi Lakes – The two trails
Upper Grassi Lakes
You can find directions to the trail here
Arguably the most popular one of two hikes in Canmore you can walk to, the upper Grassi lakes trail takes you from the car park on the LEFT route to the waterfall and lookout points.
I would say about 70% of this trail is easily accessible for any fitness level. However, the last 30% of the trail between the waterfall and the highest viewpoint is trickier. There are slippery stairs heading up on the right side of the waterfall and some of these are quite steep. The top of this trail brings you out to the Grassi Lakes which are two small clear-water lakes at the top of the mountain.
The viewpoint has outstanding views over a large blue lake which is the same body of water as the rundle forebay. Combining this route with the Lower Grassi Lakes trail you can turn this into a loop.
Distance from downtown: 1-hour 7-minute walk
Length of trail: 4.3km which takes roughly 40 minutes to loop back
Elevation: 233m elevation which only really increases towards the end of the trail
Safety tip: It is much easier to take this route up from the car park instead of taking this route down due to how slippery the stairs can be after rainfall.
Check out my detailed post on the Grassi Lakes trails.
---
Easy Grassi Lakes
You can find directions to the trail here
This is the "easier" of the two trails to Grassi Lakes. The main difference is that this trail is a more gradual incline to the top if heading up from the car park and it does not pass the huge waterfall at all. This is definitely the easier option if you are not as physically able as there are no steep stairs to climb.
A common walk for families, this is a heavily trafficked trail on most days. Don't be surprised if you have to wait a short while for a photo from the viewpoint.
Distance from downtown: 1-hour 7-minute walk
Length of trail: 4.3km which takes roughly 40 minutes to loop back
Elevation: 203m elevation which is very gradual
Safety tip: If combining the two trails as a loop, I recommend taking the steeper option on the way up, then you can take a casual stroll on the way back down with the easy route.
---
East End Of Rundle (also known as the EEOR trail)
You can find directions to the trail here
Ok, so this one is a bit further away from Canmore and definitely the hardest of the trails on my list, The EEOR is a real thigh burner. If you can make it to the trailhead you'll find a lake to your left and a small car park. The trail does not have a sign, but it is a clearly walked path on the ground heading up the hill opposite the car parking area.
You start the trail in the forest until you reach an opening that overlooks a mountain range on your left. From here the incline gets significantly higher and is hard to follow the trail. A lot of scrambling is involved too. All in all, the main features of this trail are the lake view below the mountain and the summit – if you make it that far!
Distance from downtown: 1 hour 45-minute walk
Length of trail: 5.6km out and back trail which can take between 5-8 hours total (depending on how many times you stop to catch your breath)
Elevation: 872m which you can really feel in your thighs.
Photography tip: A little over halfway through the trail if you head to your right you can see the Whiteman pond below. Find a safe, flat part of the mountain and take your pictures with the water below. This pond, in my opinion, is a better view for your photos than the summit itself.
Check out my detailed post about the EEOR trail here!
---
Kananaskis Conservation Pass
Planning on driving yourself around the Rockies instead? Make sure to get yourself a Kananaskis Conservation pass for your vehicle. Since 2021 they are now mandatory for all vehicles travelling through the Bow River Valley and Kananaskis regions. Get your pass online here.
Need some recommendations in Canmore? Check out these accommodations!
Canmore Downtown Hostel – A cosy low budget hostel with a modern interior and a range of shared rooms available. Right in the centre of Canmore town where most Calgary airport transfers pick up and drop off passengers. Even with luxury options, this is my favourite place in Canmore!
Solara Resort – If a hostel just is not for you and you would rather stay in luxury, the Solara is a 4* property with an on-site spa, and gym and only a 5-minute walk away from the downtown shops area.
Of course, there are many other hikes and trails in the area and throughout the Canadian Rockies, but I've tried to focus on hikes in Canmore that you can walk to specifically. I have a huge list of trails for the next time I'm in the mountain town which I cannot wait to try out – watch this space!
---
What to pack:
Daypack/backpack – You'll need something to carry all of your items in.
Water Bottle – You should always make sure you have water with you on these long walks.
Hiking Boots – Although most of the hikes above are relatively easy with safe terrain, I'll always recommend getting hiking boots to protect your ankles.
Charged mobile phone – You may need to contact someone in an emergency or need directions.
Waterproof/Windproof Jacket – A lightweight jacket can help you if the weather turns at the last minute.
Layers – This could be a long-sleeved base layer, a jumper, or a thicker jacket. You can always take layers off if you're too hot.
Tripod – Much easier to take great photos with when travelling alone or don't want only your face in a shot.
Portable battery pack – I never leave home without mine! These are great if your phone dies mid-trip.
Stay safe, and keep hiking!