How to make friends in a new city
Some links in this post are affiliate links. This means if you purchase something through my links I may make a small commission at no extra charge to you. See my disclaimer.
So you want to know how to make friends in a new city? Maybe you're on a study break and will be on your course for a year. Maybe you're going on a working holiday visa and want someone to travel around with.
There are so many different reasons that a person might move abroad. Sometimes it's just to travel for a while and other times it's to immigrate. But many people worry about the same thing – how to make friends in a new city when you finally make that move.
It is typically assumed that it's harder to make friends as an adult, but I haven't found that to be the case. Humans are generally quite sociable beings and enjoy interacting with other people. So it isn't as hard and scary as you might think!
---
5 key features
In my opinion, there are 5 key traits to make your friend-making task easier and more enjoyable for everyone.
#1 Confidence – a top tip for making friends (at any age) is to be confident. I know that can be a bit harder said than done for those who are more introverted, but it is key. People are naturally drawn to confident people.
#2 Positivity – Nobody really wants to hang out with a negative-nelly all the time – even if they don't admit it. By being positive and smiling, you'll be giving off positive vibes which people will feel more comfortable around.
#3 Open-mindedness – So you might be out of your comfort zone but that's not necessarily a bad thing. If you're in a new place there's a high chance you meet people that are completely different to you. You should embrace it! If you're not open-minded you will miss out on so many amazing unique people that could be amazing friends.
#4 Friendliness – You're not going to make friends if you snap at people all the time. If you insult someone straight away, it's unlikely you'll become their friend. Be polite, ask questions and give them some of that nice charm we all know you have.
#5 Listen – When getting to know someone, listen. This is one of the best ways to communicate with new people. When you listen, you can actually learn about them, their life, and their interests. Who knew it would be that easy?!
Check out all 8 countries Brits can get a work visa here!
---
Meet your friends' friends
This one doesn't really fit into any of the below categories, so I'll start with this. Many young backpackers head straight to Australia for their first long trip. This means there's a high chance that someone you know, knows someone also in Australia.
By asking your friends to put you both in contact with them before you arrive in the new city, it means you may even have a new friend before you arrive.
Plus, having someone you know and trust vouch for this new person, will give you peace of mind that they're probably alright.
Moving abroad a need to exchange your money? I highly recommend Wise and have used them myself since 2015. They have low fees and a great app. You can use my link here: Transfer money using Wise.
---
How to make friends in a new city:
Accommodation
Say hi in a hostel
More often than not, when you head overseas for a long trip, you'll be in some form of paid accommodation when you first arrive.
Regardless of your opinion of hostels, they're a great way to make friends while you find your footing in the new city while looking for a rental room or property.
I will always opt for a hostel over a hotel because they're WAY more sociable. You're likely to be in a similar position to many other guests staying at the hostel, so you're probably all wanting to meet people. Say hi and I'm certain it'll work in your favour.
If you are looking for a fun hostel to stay in, head over to Hostel world. They have a filter system where you can narrow down properties based on things that are important to you. (Free parking, Bar, or a pool etc)
Live in a houseshare
As much as I enjoyed living alone, I believe everyone should try to live in a houseshare at some point. When overseas, as much as you might want your own space, this is a really quick way to meet people.
When you live in the same house and have to see each other every day, you'll quickly be able to learn about each other and 99% of the time you'll become friends.
If your housemates are locals, then great, you now have a local opinion on all the best places to visit in town. If they happen to be foreign like yourself, you can both explore this new city together!
Host a mini-party
What if you are a student living in university accommodation you ask? Well, most people attending that university are probably looking for friends too. If you are living in student housing, chances are you're sharing a floor with a few other people of the same age.
Get the word out to the people on your floor that you're willing to host a few drinks to get to know people and I'm sure they'll attend. Uni students are known for not turning down a party.
Making the move overseas and you need to exchange your money? My recommendation is Wise (formerly Transferwise) due to its ease of use and low fees! You can sign up here: Transfer money using Wise.
Check out my other posts about living as an expat:
---
How to make friends in a new city:
Work or Education
At your job
Probably one of the easiest ways to make friends is at work. Some of the friends I made in workplaces abroad I am still very close to today (even though we live on other sides of the world now)!
You're both there for one main reason – to make money. Most people cannot afford to not go to work so you kind of have to be there. You may as well bond with the people you see 8 hours every day. Besides, a lot of the time, your colleagues are the best thing about the job (besides the money of course)!
Volunteer
If you're volunteering and meeting people there, chances are you have at least this volunteer project in common. The fact that volunteering isn't forced and everyone that does it, chooses to (unlike a regular job) you'll probably end up having a lot more in common than you think.
Example: You could volunteer on programs like Workaway, WWoofing, or at charities in the local area
Language Exchange or classes
It doesn't really matter what country you're in, there are always language classes somewhere. Whether you want to learn the language of the country you're in, or just want to dive right into a new language.
By finding and going to a language exchange (sometimes found online or on Meetup), you'll be offering your language as well as learning from someone else. It's a fantastic way to make friends in a new city.
In order to find language classes and exchanges, it's normally worth checking the local colleges or universities in the city. In some instances, a language school could be standalone.
Join a local society
There are societies for SO many topics. You could be in a society of pet lovers, or a specific nationality of expats. The possibilities are endless. By joining a society, you'll probably have an interest in the society and therefore have more to talk about with the other members.
An example: I worked as a bartender at an event for "the society of Chinese in Jamaica" while living in Toronto!
---
How to make friends in a new city:
Physical Activity
Join a Gym
Whether you hit the sauna (like me), or treadmill or book yourself into a class, there will always be other people in and out of the gym. If you're a little introverted and not sure how to strike up a conversation, you could ask someone how to use a machine properly or if they recommend a class.
People love to show that they know what they're doing at the gym and you may find a class you end up loving! Check out the local gyms in the area, find one that you like and that's pretty much it!
Take up a sport
I'll be honest, I am such a couch potato and hate sports. But that's not to say I haven't joined the one-off game as a stand-in to try and meet some new people.
Most places these days have local sporting teams. Some may be gender-specific but most sports welcome everyone! Just make sure it's the right season for the sport you want to play (volleyball might not be available in the winter).
Sports teams can be found in a number of ways and each city is different. Sometimes they are listed on a pin board in a local sports centre, and others are advertised online (Facebook, gumtree, and craigslist are all examples)
Join a tour group
So, this one is not quite as physical as the other two. Something that is often overlooked is how great tour groups and free city walks are at making friends.
Yes, many tours are attended by tourists to a destination, but I've also met many locals on tours in a new city. Strike up a conversation with some others in the group – even if it's just about the tour itself. Also, tours can teach you about the destination so you might get a locals insight into the city's best spots!
Tours are very easy to find, many hostels and local businesses will advertise free walking tours. If you want something a little 'different', then two sites I use to find all of my tours are Viator and get your guide.
They have thousands of tours of all types around the world. If you're not sure what type to search for, just type in your city and see what catches your eye!
Attend lots of events
You might hear of a bar holding a live music gig, see leaflets for an event, or walk past the farmers market every weekend. Whatever the case, you should try to attend as many of these events in the early days.
By going to different events, you're automatically putting yourself into situations where it's easy to meet others. Step out of your comfort zone and be sociable!
---
How to make friends in a new city:
Apps & Social Media
This is the biggest category purely because let's face it, 90% of people are on social media these days, and almost everyone knows how to use the internet.
It's such an easy way to keep people connected and to meet new people. New apps are constantly being created to compete against what we already have, but that just gives us more opportunity to meet that new BFF!
---
Facebook expat groups
Social media and Facebook especially are the holy grail of meeting friends online. Pretty much immediately after moving to a new city (and sometimes before arriving), I go onto Facebook and look for any expat or newcomer groups for the city I'm in.
To this day, I have never visited a city that doesn't have at least one group for me to join – it's so easy to make friends.
To find groups, simply log into Facebook and search for your city and see what pops up!
An example might be "Brits in Auckland" or "Expats Stockholm"
Facebook Hobby groups
Similar to the expat groups on Facebook, there are also groups for specific hobbies on Facebook too. As a solo female traveller, I wanted to do some hiking while living near the Rocky Mountains.
I was a bit apprehensive about making friends with male strangers to travel into the wilderness with (I watch a lot of true crime so this is a concern).
I ended up typing in "Hiking" and "British Columbia" my province at the time and was able to find specific groups of other people interested in hiking around BC and Vancouver. It was a group for all genders, but I felt much safer joining a group of other people for my first few hikes.
An example group would be: https://www.facebook.com/groups/thehikingbc
Bumble friends
This is a relatively new one I learned about after being recommended by a friend. I assumed bumble was just for dating (similar to tinder) so I had no desire to use it. After moving to my latest city in Canada, I finally joined the Bumble BFF side of the app and it's very easy to use.
It is a freemium app so you can match with other people looking to make friends in the area for free. If you wish to see all the people who swiped right on your profile before matching with them you will need to upgrade to Bumble BFF premium.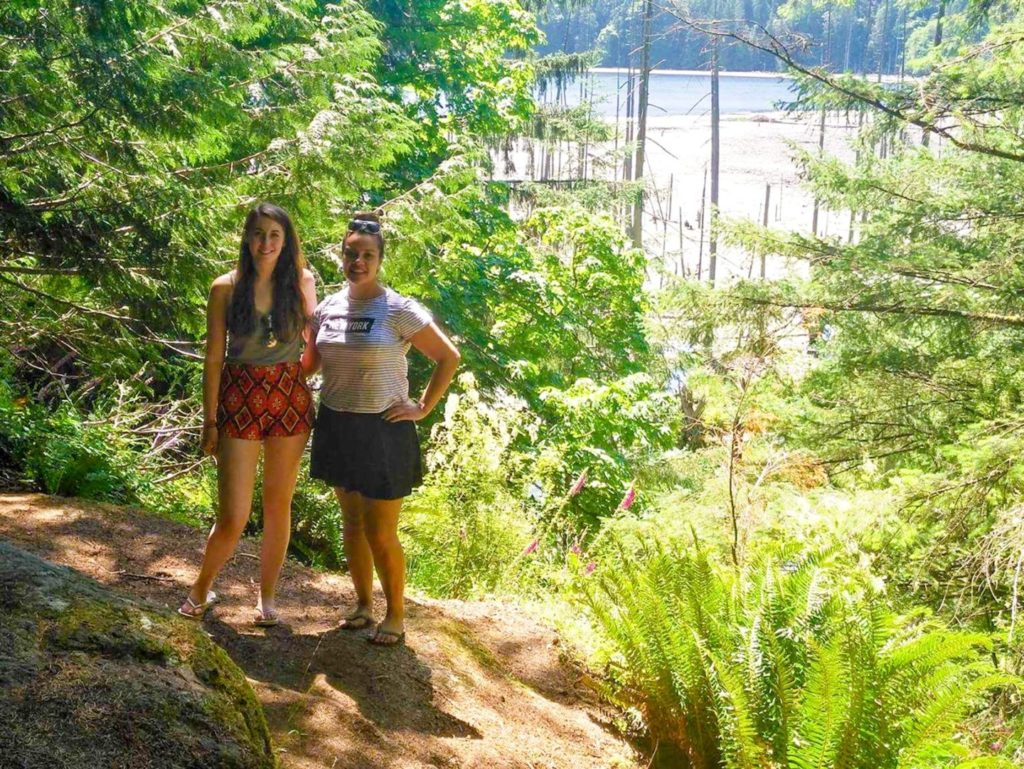 Meetup
An app I actually discovered in my hometown, but it serves its purpose in many cities around the world. A simple app that connects people with groups that match their interests list. The app allows you to create your own groups and meetups, or invite yourself along to one that is already set up.
You can manually search for the type of hobby or group you are looking for or scroll through the endless options listed. Once you start attending the meetups in your city, you'll easily make new friends as you can bond over your chosen hobby.
Girl crew
Originally I found this option while living in Vancouver, Canada. Girl crew is an organisation with Facebook groups in lots of major cities around the world. The premise is simple, they wanted a place for women to safely and comfortably meet other women when they arrive in a new place.
The group said they preferred 25-year-olds and up, but I was 22 and never got rejected. To find their groups you can either visit the Facebook groups section and type in 'Girlcrew' and your chosen city.
An example would be: https://www.facebook.com/groups/girlcrew.vancouver/
Girlfriend Social
This was one of the first websites I came across when trying to figure out how to make friends in a new city. The site is very outdated and has a very basic interface, but it does the job.
Similar to the more modern Bumble app and Girlcrew above, you can 'match' other females and then start safely talking on the website. Once you have been talking enough and become comfortable, you can arrange to meet face-to-face.
You can easily make an account (and you will need to verify who you are) on Girlfriend Social here
TagMe App
This app has similarities to Meetup in the way that you find groups and hobbies. By typing in your location, selecting the age group of people you'd like to hang out with, and listing your interests; the app will find you some like-minded people that best suit your preferences.
The recipients of the app's selection then have the chance to reply to the notification or not.
Example: "London, UK" plus "24 to 30 years of age" plus hiking and dancing
Backpackr
This one is a great app for finding travel buddies. So you might not get the most luck if you're looking for friends and plan on staying in one city. The app is straightforward in its layout.
You can create a profile about yourself listing the number of countries you have visited and places you've been. You can then create "posts" stating where you are headed using hashtags that get added to a public feed.
Other travellers can then reply to your posts, or you can reply to the ones you see. If you are both heading the same way then great! you found yourself a travel buddy.
Example: I'm travelling around #Germany for 1 month 3rd May – 3rd April in #Cologne
Reddit
When I first joined Reddit years ago, I only followed subreddits about tv shows I watched. I didn't know I was already using a great app for making friends abroad – just in the wrong way.
If you search subreddits for your new city you will likely find many different groups available to you. Join them, answer questions, and post your own. I'm confident you'll find some other Reddit users to hang out with.
Example: Reddit – then search for subreddits like r/auckland then join & participate
Meeting people in a new destination is one of the best ways to make that new place feel like home. Plus, by having a new social circle and a group of friends you grow to love you can fend off homesickness during your time abroad.
Have you found any other ways to make friends abroad? Let us know!