Gap year advantages: 12 reasons why you should go
Some links in this post are affiliate links. This means if you purchase something through my links I may make a small commission at no extra charge to you. See my disclaimer.
Ok, so you're considering taking a gap year and want to know what advantages that would bring. Two weeks a year to go on holiday just isn't enough for you anymore. You want more.
I know EXACTLY how you feel. Nothing can beat that feeling of freedom and wanderlust. Once you get the travel bug, there is no cure. That's why I have been travelling non-stop since 2015.
My obsession with travel started at a very young age. I would look through my atlas' and maps in primary school and always put a post-it where I wanted to go. It was a long time before I could actually make that a reality.
Over the years there have been many topics about the "hard truths of travel" and the worst things about travelling long term, not to mention why so many people think travelling alone is a terrible idea. But I like to focus on the positives of what could go RIGHT. Because let's face it, so many things can go better than you imagine!
Below are some of the main reasons I love to travel and why I will continue to do so (and none of them involves Instagram!)
Need to exchange some money for your trip? My go-to company is Wise (formerly Transferwise) due to their competitive exchange rates and easy interface. You can check them out here: Transfer money using Wise
---
You'll make amazing memories
If you are not making memories, then why do you do anything? Of course, you will make unforgettable memories. Some of the best of your life in fact! Everyone has something they would love to do. Maybe learn something new, try new food, or do some wild dare-devil activities (if you're brave enough).
Travelling gives you the opportunity to tick many of those things off. Even things you might not have access to at home. This is one of the first advantages I think of when thinking about a gap year opportunity.
Not sure where to start with long-term travel? Check out these useful posts:
Need help planning your own long-term adventure? Check out how to plan a trip abroad for the first time.
You have more to talk about with family
When you are home and see your family all the time, there is an element of routine there. Doing the same things each day gives you less to talk about unless you like to repeat yourself. When people do things out of the ordinary it gives you new topics for conversation.
Also, being away from home for an extended period of time means you'll miss each other. This means you'll just be thankful to chat and catch up when you do have the opportunity.
Being grateful to spend time chatting with your loved ones can help you appreciate your relationship more too. This can be seen as a positive when travelling alone too since more communication can strengthen the connections you have with each other.
Meet new friends
The people you meet when you have no choice but to come out of your shell, end up being some of the best friends you'll ever have. These are people who may also be travelling. Or maybe they are locals in a place you are visiting. Either way, the memories you will make and the friendship that will be created, you'll never forget.
I made some of my closest friends during my first gap year, an extended trip of 12 months. Now, even though we remain on different continents we still speak most days – many years later!
Check out how to make friends in a new city
Sometimes it's cheaper than being at home
This is usually dependent on where in the world you travel to. But take the UK for example – it's quite expensive. Let's compare the UK and almost anywhere in South-East Asia.
One month's outgoings in England could last you 3, maybe 4 months in other parts of the world. Regular short holidays require you to pay for your rent at home as well as your accommodation abroad.
In many places, it's illegal to sublet your place short term. If you end your lease and then travel, you don't even need to find your UK rent! You would only need to cover your accommodation while overseas.
Also, have you seen how places like Hostelworld will sometimes offer lower rates for a week or longer compared to single days?
Saving money overseas has to be the best on the list of advantages for a gap year. Why? Because most people say they don't have enough money to travel. Yet travel can be cheaper than being at home and paying western rates…
Learn about yourself
It's hard to learn everything about yourself when you are in a simple routine at home away from anything that tests or challenges you. Only by putting yourself into an unknown situation and experiencing new things will you start to learn more about yourself. Your likes and dislikes.
You might realise you actually don't like that band your friends kept asking you to see and instead find a lot of new loves instead. This is honestly one of the best things you can do for yourself that allows you to grow.
You'll get better at budgeting
There's nothing quite like stretching your money so that you can do every little activity you want while abroad. At home, you might always feel broke, yet you are able to live like a king in another country on the same amount of money.
This is one of the most overlooked advantages of a gap year but it's also one of the most useful for the future. Being independent and knowing you can't rely on someone else to cover your drinks for the night really makes you careful with money.
It gives you a real sense of pride to see how far your money stretches. You'll look back and be so pleased you did a round-the-world trip for only a few thousand pounds!
Appreciate small things
When you have been on an 18-hour bus with broken air conditioning in the Vietnamese summer, a quick pit stop and a chocolate bar can feel like the best experience of your life – for a short moment.
Travelling has so many perks but when you take an extended trip you start to miss those small home comforts. It could be your favourite snack, a favourite movie, or your huge fluffy blanket you use in winter. This is why you appreciate the tiny things when travelling.
You are always learning
Whether it be a language to help you get by, or a recipe to recreate that AMAZING foreign dish. You will always be learning while on the road. What is great about this is it means you are always growing as a person.
You might need to learn a new safety measure to protect yourself if travelling solo, but how is that a bad thing? There is almost nothing you can learn that will negatively affect you! Make the most of it & embrace it!
Become less ignorant and open-minded
You might not realise it, but most people are closed-minded to some extent. Not in a negative way, but when you are not familiar with something it can be harder to understand it. When you have no choice but to face new cultures, customs and ways of life it truly opens your eyes.
This can in turn make you a kinder, more patient person by becoming more understanding. Education is so important and you can learn about almost anything during your gap year travels and use those advantages for yourself.
See the beauty in things you didn't before
I'll be honest, I started travelling VERY far away from the UK. I didn't see any beauty or excitement at home – until I went around the world. It's so common for people to want to travel because they find their home town boring. But there is beauty EVERYWHERE.
I can guarantee you, once you see national parks, and popular sights in other places, you'll start to find the beauty at home as well.
You learn to say no
You hate saying no to people and are a bit of a people pleaser. This can be exhausting, let alone expensive. When you travel there are countless reasons to say no. None of these should make you feel bad. If you feel unsafe, you don't want to spend money that day or even if you just want to do nothing.
THAT IS FINE! You're there to enjoy your trip as much as they're there to enjoy theirs. Saying no because you want a break and some time just for you is perfectly fine. You don't owe anyone anything (and it doesn't make you rude!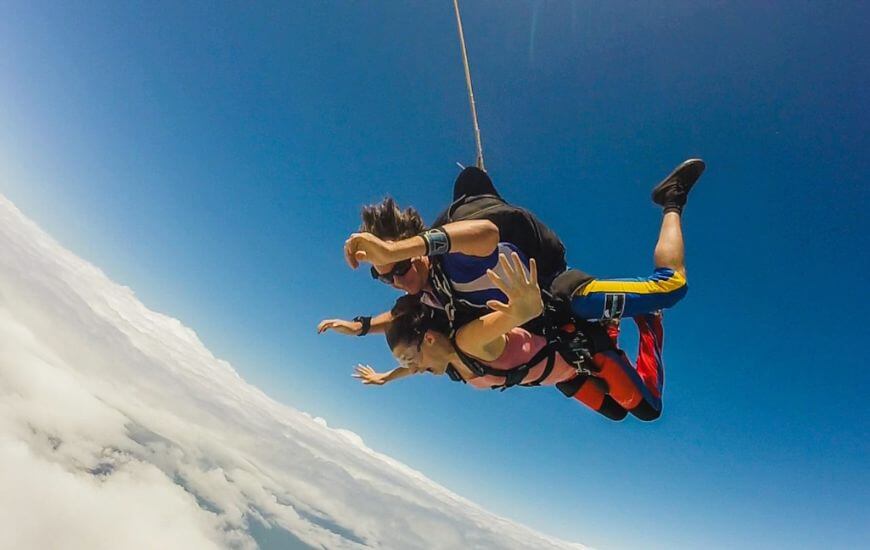 It gets you out of your comfort zone
Introverts might find this to be a negative, but I think this is a great thing! If you always stay in your comfort zone, you won't learn about new things you might love. Just think, if you didn't take this first step into researching travel you probably would never go.
You've had to do many scary things in your life like start school, maybe move house. Some of these things turn out wonderful. Trying new things can be scary but you might be so thankful and wonder why you didn't do it sooner!
---
What are you waiting for?
These are just some of my favourite reasons to travel. Of course, there are many, many more. Nobody's travel experience will be exactly the same as someone else's but that's part of the fun! Hearing all the different reasons people enjoy taking extended trips makes me so happy.
Are there any other amazing reasons you enjoy travelling long-term that I haven't thought of?