Canoeing Lake Louise: 7 simple ways to prepare
Some links in this post are affiliate links. This means if you purchase something through my links I may make a small commission at no extra charge to you. See my disclaimer.
Lake Louise is a beautiful turquoise lake in Canada. It is one of the most photographed lakes in the country. You've probably seen the familiar landscape on a travel brochure or a postcard.
No trip to Banff National Park is complete without visiting this glacier lake and making the most of all it has to offer. Having planned to visit Banff for a while, we just had to experience the Lake Louise Sunrise canoe for ourselves!
The Rocky Mountains road trip was one of the first tourist activities I did after moving to Canada and I loved it.
On the edge of Lake Louise is the famous Fairmont Hotel where you can experience a luxurious nights stay. They have many amenities to really make your Lake Louise experience special. Come summer or winter, this is a year-round destination offering different activities dependent on the season.
| | |
| --- | --- |
| Country: | Canada |
| Currency: | Canadian Dollar / CAD |
| Do you need a visa to visit as a tourist? | Check here |
Check out these other posts:
Plan travel ahead of time
So, although this glacier lake is a year-round destination, canoeing on Lake Louise is only available in the summer. That's because in the winter the lake freezes over.
This means between October and May you won't be able to get onto the lake except for ice-skating as the boats won't get very far!
Weather Tip: Consider the season while planning your route as parts of British Columbia and Alberta can be affected by forest fires during a hot summer.
A few of the roads we planned to take had been closed due to fires so we had to take a detour. The lake itself was nowhere near the danger but the lake was affected by all of the smoke.
This is why our photos look foggy and hazy. If you travel at a better time you won't have to worry about smoke!
Book in advance to enjoy the Lake Louise Sunrise Canoe
It is no surprise that this is one of the most popular lakes in Canada. For this reason, it is SO important to book in advance.
The boat house staff only allow a handful of guests on the lake at any one time. This is to maximise the experience for everyone and not over-crowd the lake. If it is too busy, you wouldn't be able to enjoy the lake as much as you'd like. Canoeing on Lake Louise is an extremely popular activity that you could easily miss out on – if you don't plan ahead!
Fairmont Hotel Discount
The staff normally prioritise guests who are staying at the Fairmont Hotel, and they normally get a slight discount. Here is an example of the regular rental prices as follows:
| | |
| --- | --- |
| For Fairmont Guests: | For Day Visitors: |
| $95 +GST for one hour | $135 +GST for one hour |
| $85 +GST for 30 minutes | $125 +GST for 30 minutes |
This is a great benefit if you are already planning to stay at the hotel as not only is it right on your doorstep, but it'll save you some money! Who doesn't like to do that?
If like us, you are staying elsewhere because you're on a tight budget (we stayed in a campsite closer to the town of Banff) you can still experience canoeing on Lake Louise, you just need to pay that little bit extra for the boat ticket. Is the price still worth it? 100% Yes!
Are you looking for other accommodation options in the area? If you like waking up in nature, you could try camping within Banff National Park. One company that I like is HipCamper. They have campsites all across Canada and you can stay in anything from:
Simple Campsites
Electric Campsites
RV/Campervan hookups
Cabins
Glamping sites
If you find a camping experience that ticks all the boxes and fits your travel needs, you have one less thing to worry about with regard to planning your visit to Lake Louise! Plus, If you use my referral code you will get $10 (cad) in HipCamp credit to use on your own booking!
Referral Code: BRITADVENTURES0122 (enter during sign-up!)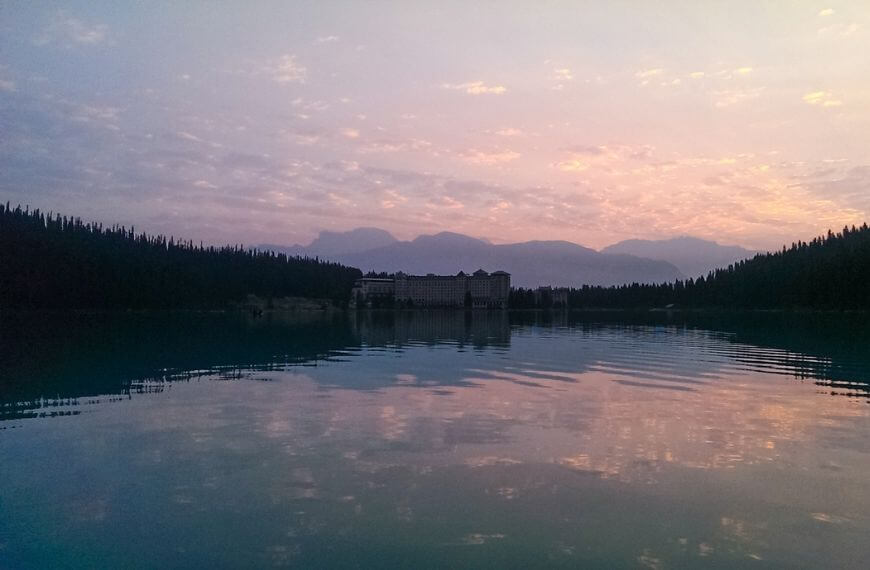 When canoeing on Lake Louise you need to wake up EARLY
You can canoe anytime between the hours of 8.30 am and 7 pm on Lake Louise. Most tour buses start arriving after 9 am, so this is when it can get VERY busy.
For this reason, I highly recommend getting up early to do the Lake Louise sunrise canoe experience instead. In order to do this you will need to arrive between 5.30 am and 6 am – depending on the sunrise time that day. This can be checked on this site here.
Breakfast is included on the sunrise booking. Pastries, Muffins and fruit!
If arriving by car, you may have some competition to find a parking space if you arrive too late. Another reason the sunrise is such a good option is nobody arrives that early except people with booked tickets!
You are allowed to be on the water for 1 hour. This gives you 30 minutes on the water before sunrise, and 30 minutes after.
The sun rises from behind the Fairmont hotel. This means you'll have your back to the stunning mountain backdrop. But who doesn't love a sunrise?
Bring Layers to keep warm
You are at a high elevation, on water, in the mountains. Plus you are in Canada. Even in the summer, it is COLD here before sunrise.
This is why it is so important to bring layers. However, it doesn't need to be a huge, thick winter coat you might wear in -30C weather. Besides, since canoeing on Lake Louise is only available during the summer anyway, it can get warm quickly after the sun comes up.
I highly recommend something warm, and multiple layers of them. This way you have the option to remove the layers as it gets warmer, but you won't freeze your butt off in the dark!
All guests are required to wear a life jacket and keep it on the entire time they're in the boat. This is one little bonus that helps keep your body warm as it is another layer! Life jackets are armless though so again, bring some long sleeves!
Bring a waterproof bag on the Lake Louise Sunrise Canoe
If you don't want to leave your belongings on your tour bus or in the car, make sure your camera is protected. Don't be that one tourist who drops your valuables in the water.
If leaving your items behind isn't an option because you must get that picture-perfect shot, do yourself a favour and look into getting yourself something to keep your items dry.
A few types of bags to consider are the dry bag and water pouch set. Both are waterproof but they have a few differences.
A dry bag is exactly that. A bag that keeps your stuff dry. What's good about these is that, depending on the size, you can usually keep multiple items in there. Camera, phone, wallets etc. You just put them in. You roll the bag up. Then you clip the two ends which will hold it all in place.
A water pouch on the other hand is a smaller-sized clear bag usually big enough for one item. Maybe a phone, or a camera. They normally have a lanyard or strap to put around your neck and a clear coating so you can take photos while the camera is inside.
We swear by waterproof bags for any water-related activity we do where we cannot store our things on dry land.
Be prepared for the worst
One thing to always be prepared for here is the weather. Although the lake is open between June & October, it can snow at any time of year due to the altitude!
Coming from the UK this is wild to me. We definitely don't get any snow in the UK in the summer months!
Sometimes the lake is frozen over for longer than expected in a bad winter. So the 'June to October' is a loose guide to follow. I had my sunrise canoe booked for the first week of September and I was extremely lucky as this was the last day they would allow guests on the water.
If the weather changes, they could close at a moment's notice
The next day it would be deemed too cold and they were closing for the season. If I had arrived a day later we would have been refunded and turned away. Talk about luck! So that's why it is so important to keep an eye on temperature dips during your trip.
Be prepared that at a moment's notice, your experience may be cancelled if the weather isn't on your side.
---
So there you have it. If you follow each of these steps you can be prepared for the best and worst of the experience.
An easy, fun activity that can be done by almost any age group, this is one bucket list item that should be on everybody's list!