8 Phone apps to keep you safe while travelling
Something I'd like to talk about is safety and the phone apps to keep you safe while travelling.
As someone who started my long-term travelling as a solo, 22 year old female. I needed to take my safety seriously. I left the UK on my own to travel to South-East Asia and Australia, and thought I was invincible.
Luckily for our generation, we live in a time where technology and science has come SO far. There are so many benefits to the technological age including keeping in touch with loved ones, to contacting the emergency services during a crisis.
---
Safety is important
Being a solo traveller, safety is something we always need to think about. You could be followed on your way home from a bar. Or you could be trying to get a taxi home from a bad tinder date. Maybe you just get a bad feeling in an unfamiliar area and want to make sure you cover your bases.
Whatever the reason, safety should never be taken lightly. ESPECIALLY if you are on your own (regardless if you're at home or abroad)!
Before I dive right in, I want to mention 2 very basic apps that have safety features built in which are often overlooked.
Facebook Messenger & Whatsapp
Both apps I use to keep in contact with people. But they can also be used to track your location. When I was travelling around solo, I would either give friends, or a family member back home a location pin of where I was until I was home safe. Even if they are far away, they atleast have a 'last location' of me if something were to happen.
Below, I've listed some tried and tested phone apps to keep you safe. Some were tested more recently than others. Take a look and see if one of these will help you when you take your next trip. I've tried to focus on apps that can be used in multiple countries since you'd be wanting to use them overseas.
---
Shake2safety
You can set your emergency contacts, choosing if you would like a message or a call sent to them and how you would like it to be activated.
Choose to either shake the phone or press the power button 4 times. This will automatically send an emergency text message to your contacts with a google maps link to your location.
Pros: Works with no internet connection and when phone is locked. It also works Worldwide.
Cons: It doesn't seem to retain your preferences at present, which means each time you are heading out you need to reset them. Once this bug is fixed it will be a much better concept.
---
What 3 words
Someone came up with the idea of dividing the world into 3m squares, each with a completely unique combination of 3 words. These 3 words are used similarly to gps. They can be told to the emergency services and they will understand where you are.
I like the fact that on my travels I regularly visit off-the-beaten track locations where a postcode doesn't help. They normally take you to the closest building or house. This app can take you to the exact 3 word square – even if that is in the middle of nowhere.
You can use this app offline if you need to identify your exact location. Once you have a phone signal you can then tell the dispatch handler your exact location if you need help. This is probably my #1 choice of apps to keep you safe while travelling.
Pro: The app Can be used in 143 countries.
Con: You cannot send your location to others without a data connection.
---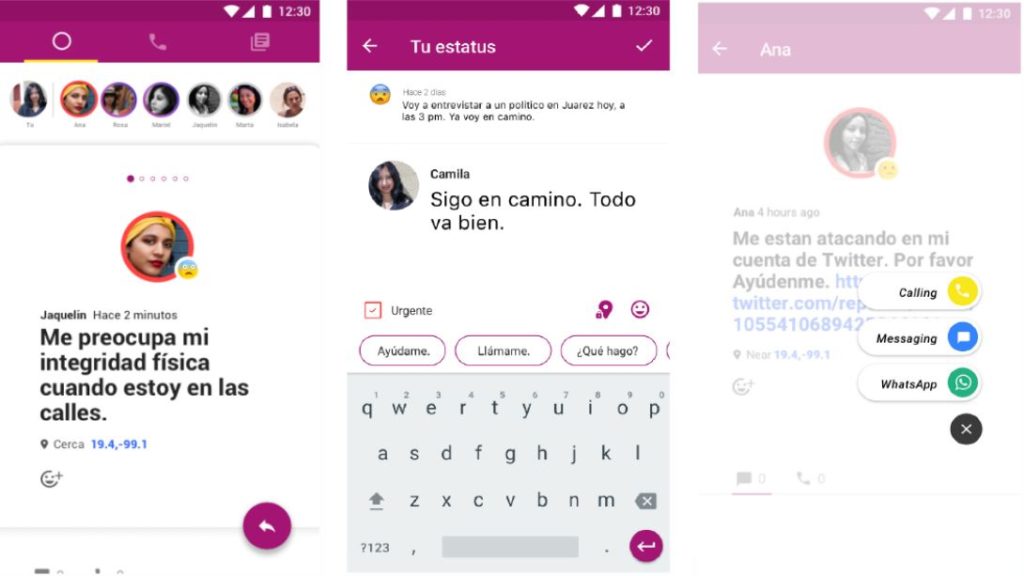 Circulo (was Circle of 6)
Originally created to prevent sexual violence on university campuses, this app is actually useful to many more groups of people. This app was previously named Circle of 6, but they recently merged it to become Circulo. They decided to make it available in both English and Spanish (hence the screenshots above).
You can select your 6 trusted contacts and have 3 ways of contacting them. You can either request they call you for an interruption so you can get out of a tricky situation.
They can be sent your location and an automatic text that says you need help to get home safely. On top of that, the app also has national helpline numbers built in.
Pro: This app is active in 36 countries and counting, and it is easy to update your circle of contacts if you move to a new place or travel abroad.
Con: Currently only available on Android, but they have plans to make it available for iPhone soon.
---
Silent Beacon
This one is slightly different as it is both an app, and a wearable device. By connecting this clip-on speaker to your smartphone via bluetooth, you can get help in an emergency discreetly.
By simply pressing the buttons on the device (not your phone) you can be connected with emergency services (in the USA) as well as your chosen trusted contacts and send them your location.
You can disable the sounds on the device to be even more discreet. This can be used overseas but only with the emergency alerts notifying your contacts back home. They can then try to help you get in contact with the local emergency services – it does not connect to services in other countries like it does to North America's 9-1-1.
Pro: Wearable and discreet so nobody needs to know you have a smartphone on you.
Con: The wearable device is quite expensive and cannot use the full service abroad. This probably bumps this one down to my least favourite apps to keep you safe – I specifically need some for use overseas.
---
Bsafe
This is a phone app that can be activated using your voice – even if your phone is in your bag or pocket.
Like most safety apps, you can choose your trusted guardians, and when you are in a bad situation and activate the SOS feature, they will receive an alarm and your exact location.
What's good about this app is your chosen contacts will receive audio and visual recording of everything that is happening from a live stream. Plus, the data is stored in the cloud which could come in handy if your phone is damaged.
Your guardians can live-track your location and you can even send them a notification at the end of your trip to let them know you made it safely.
Pro: Can be used in every country (except China) so you can be sure it will work on your holiday too.
---
Red Panic Button
This is a very simple app which will simply send your exact gps location to your chosen emergency contacts. Used as a screensaver widget, it allows you to take a picture or a short video of your location which can help speed up emergency contacts finding you if you're in distress.
One unique feature of this app is it's twitter panic message. If you are in a dire situation and a simple message to your regular emergency contacts isn't enough, the twitter message will send your panic message and GPS coordinates to your entire following.
This means you can let a large number of people know you're in danger which could mean you get helped quicker too.
Pros: The contact who receives your message can access the app remotely to track the last known location of your device in an emergency too. Can be used while your phone is both locked and unlocked.
---
Watch Over Me
This app allows you to shake your phone in order to notify someone you are in danger. This is helpful if you are unable to physically make a call.
Once activated by a shake, the app will send your contacts an alert as well as turn on your phone's alarm and video camera. What makes this app slightly different to the rest of the apps to keep you safe, is the fact that it will notify you when you enter a high-crime area. The app uses official crime data to give individual streets a crime-level rating.
The app was built to act as a guardian angel. You can request that they watch over you for a chosen period of time. If you do not check in to let them know you are safe within that time, they again, send your contacts an alert.
Pro: Free for the basic, non-international version
Con: There is a small annual fee of $4.99 if you want unlimited texts including if you are overseas!
---
Zich
This app can keep you safe as it can send SOS messages using just your voice. This means if you have a fall or are in a situation where you cannot physically handle your phone you are still able to ask for help in an emergency.
You can customise the two 'circles' of contacts you use, your heart circle (maybe a housemate/partner/parent) or your life circle (people close to you but don't necessarily live with).
You can also create custom alerts for any situation varying from orange alert (low severity only sent to your heart circle) to red alert (high severity sent to both circles) situations. As soon as help has arrived using your live GPS tracking, and you close your case, your privacy is protected and the tracking is disabled.
Pro: The app works in many developed countries
Con: There is a small monthly subscription fee
Whichever ones you choose to try out, each of these apps to keep you safe have their own unique features. Depending on whether you are looking for something with a lot of features, or something more basic – one of these apps should be able to tick the boxes!